Our place is cozy, unique, clean and comfortable within walking distance to quaint downtown areas. You are welcome to build a fire and enjoy staying put to relax and stargaze. We offer guided private tours to our guests: please contact us for more information. We can also customize your tour with 4WD options! You receive a 25% discount.
Peaceful, tranquil getaway close to Death Valley National Park.
Eclectic, quiet, simple pleasures such as no traffic, desert strolls, stargazing and sitting outside by the fire.
If you're planning to visit Death Valley for multiple days (which you should - there's plenty to see here), lodging is expected to be very expensive for a hotel room. Luckily, there's this place which provides all the amenities of a simple house (more than a hotel) for a fraction of the price. There's a kitchen, a nice living room, and a comfortable bed. What more do you need in the boonies? Wi-Fi quality could be better, but it's in Death Valley, so it can be said it's pretty impressive they have Wi-Fi at all.
Han
2017-02-15T00:00:00Z
Barbara's place was the perfect getaway from our day in Death Valley. There was everything you could think of - from shampoo/bath gel to a stovetop to cook hot meals to a water dispenser that had hot and cold water. Also, VERY budget friendly. Can't wait to stay here again!
Annie
2017-02-27T00:00:00Z
Exactly as listed. We had a great stay. Would recommend to anyone looking for a death valley getaway.
Jibin
2017-02-05T00:00:00Z
My wife and I had an anmazing time. We really could not have asked for anything better. The location is rural and rustic, but you are in prime location to visit Death Valley and the surrounding areas. We were a quick drive from ghost towns, ATVs, campsites, etc. The location itself was serene and peaceful. I was hoping to see some wild burros, but we had no such luck. The house was superb. It was stocked with bits of food, drinks, and amenities that really made us feel welcomed. Barbara and Dee were communicative, without being intrusive. PLEASE do yourself a favor and talk to them about their private tours. Dee took us on a great tour around the area for a reasonable price. There is so much history and so much to see. He is easy-going, knowledgeable, and we enjoyed spending time with him. I honestly don't think that we could have chosen better.
Nick & Ashleigh
2017-01-20T00:00:00Z
We first booked Barbara's place because of the proximity to Death Valley and Furnace Creek. In the past we had stayed in Pahrump, but the drive seemed quite long for day trips. We loved being closer to the park by staying in Beatty! We arrived at Barbara's and the check-in was easy. Directions from our hosts were clear and we had no problem finding it (although the GPS did). Barbara, herself, was very communicative and quick to respond to any questions we had. We particularly loved the greenhouse with the lights strung about. It was a nice touch! They had coffee, books, and lots of pamphlets and suggestions of things to do. We would definitely request to stay here again on a future trip to DV!
Jeannine
2017-03-02T00:00:00Z
Perfect for a stopover, the place got a really personal touch :)
Samy
2017-02-10T00:00:00Z
Amazing stay! Beautiful home in a lovely area outside of Death Valley. Would highly recommend staying here if you are visiting the area. Fast communication, lovely home with everything you need for a desert vacay! Do yourself a favor and book this desert oasis. And don't skip breakfast on the porch, amazingggg!!!
Jacob
2017-02-26T00:00:00Z
Amazing place to stay. It is incredibly cozy. I regret not staying a bit longer than one night.
Dominik
2017-02-09T00:00:00Z
Art der Unterkunft
Ganze Unterkunft
---
Objekttyp
---
Unterkunft für
5
---
Schlafzimmer
Beatty, Nevada 89003, Vereinigte Staaten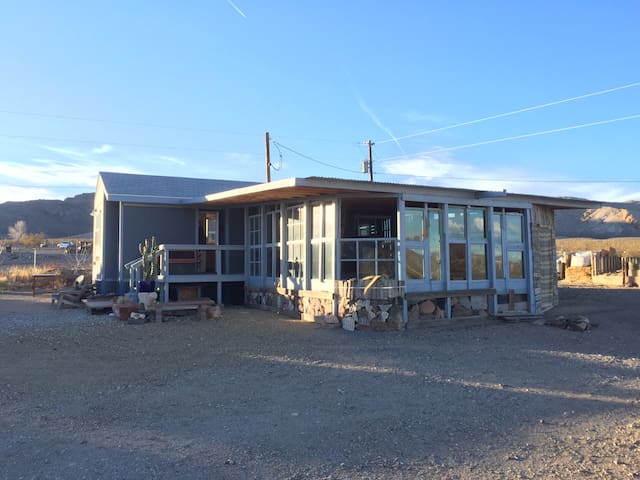 My place is close to great views and restaurants and dining. You'll love my place because of privacy, fenced yard, clean and cozy, front deck to have coffee or cocktails while enjoying the peaceful desert. It is just miles from Rhyolite ghost town, Death Valley, hot springs and more.. My place is good for couples, solo adventurers, business travelers, families (with kids), big groups, and furry friends (pets).
Our space is 8 miles to the entrance to Death Valley through Daylight Pass. You can enjoy breathtaking stargazing due to the lack of light pollution. It is quiet and peaceful, lending itself to walking, hiking and solitude.
Our neighborhood is eclectic and peaceful. You will love that you can go for long walks at sunset or sunrise and have clean air, quiet, and little traffic. Be advised that there are wild burros that wander around town. They are harmless, but not very traffic-savvy and they don't wear reflectors, so be on the lookout!
Very lovely and clean home. And, close to Death Valley NP. Andrea provided everything we needed, and even sent a text to remind us to get groceries before arriving Beatty. We had a wonderful time there.
Kevin
2017-03-04T00:00:00Z
We loved our stay at Andrea's house. It was clean and comfortable, and we felt very well cared for. The neighborhood was just right for our early morning walk, and the full kitchen was a delight. We were able to prepare our own breakfast before we headed out to Death Valley for the day and could have easily prepared our own dinner if we had chosen to do so. Andrea was readily accessible and available if we needed assistance but totally respected our privacy. We will certainly return to Andrea's place the next time we're in the area.
Dean
2017-02-24T00:00:00Z
A comfortable home that is easy to find and is only about 45 mins from Death Valley (Furnace Creek Visitor Centre).
Cathy & Terry
2017-03-02T00:00:00Z
Andrea's place exceeded our expectations in terms of value, cleanliness and amenities. It's one of the best places you can find to stay outside of the park. It was a lovely house with all amenities you can hope for.
Asheesh
2017-02-21T00:00:00Z
A wonderful place to stay to explore Death Valley. Especially if you'd rather have a kitchen and a spacious place. The house was very clean, had everything we needed. Our host communicated everything very clearly. I would definitely recommend staying here. It was a great value!
Prema
2017-02-10T00:00:00Z
Andrea's place was great - my friends and I were running a race in Death Valley and so booked this spot. It's perfect distance from the park, very clean and cozy. Andrea was very easy to communicate with, I would definitely book this place again if returning to Death Valley!
Alex
2017-02-05T00:00:00Z
We really enjoyed Andrea's place for our trip to Death Valley. The fenced yard was perfect for our dog, and the location is awesome! Communication is great, check in is easy and the description is accurate. Andrea went out of her way to stock her place with the little things that make a stay enjoyable. I highly recommend!
Jeff
2017-02-05T00:00:00Z
Highly recommend this spot! Even better than it looks in the pictures and very convenient to Death Valley. It's spacious and great for unwinding after a day of hiking or exploring.
Krista
2017-03-06T00:00:00Z
Art der Unterkunft
Ganze Unterkunft
---
Objekttyp
---
Unterkunft für
6
---
Schlafzimmer
Beatty, Nevada 89003, Vereinigte Staaten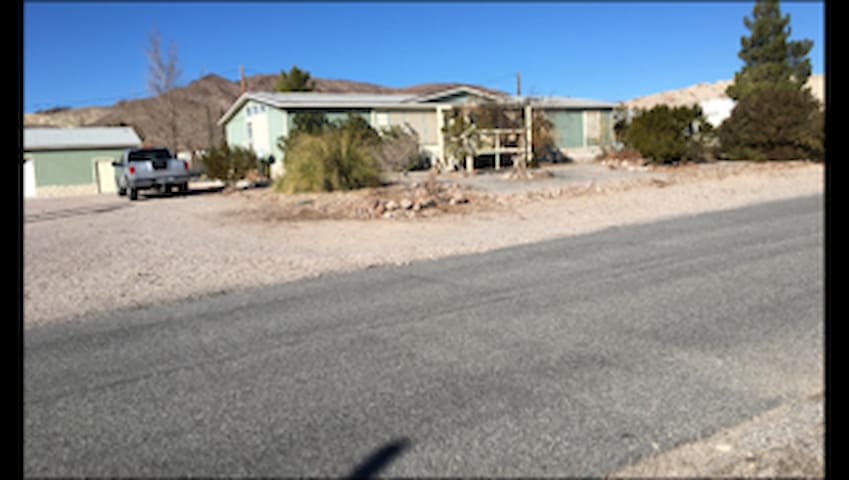 This apartment is a clean, comfortable, light and airy haven to relax in. It has a private entrance and fenced back yard to enjoy outside, vaulted ceilings, comfortable beds, and a great room including full kitchen inside. Just minutes from Death Valley National Park, it provides the perfect spot from which to explore the area. A front deck gives a panoramic view of our small town, the surrounding mountains and exquisite stargazing.
Our place is 8 miles to the entrance to Death Valley through Daylight Pass. You can enjoy breathtaking stargazing due to the lack of light pollution. It is quiet and peaceful, lending itself to walking, hiking and solitude.
Our neighborhood is eclectic and peaceful You will love that you can go for long walks at sunset or sunrise and enjoy clean air, quiet and little traffic. Be advised that there are wild burros that wander around town. Generally harmless, they are not very traffic savvy and they do not wear reflectors, so be on the lookout!
Art der Unterkunft
Ganze Unterkunft
---
Objekttyp
---
Unterkunft für
6
---
Schlafzimmer
Beatty, Nevada 89003, Vereinigte Staaten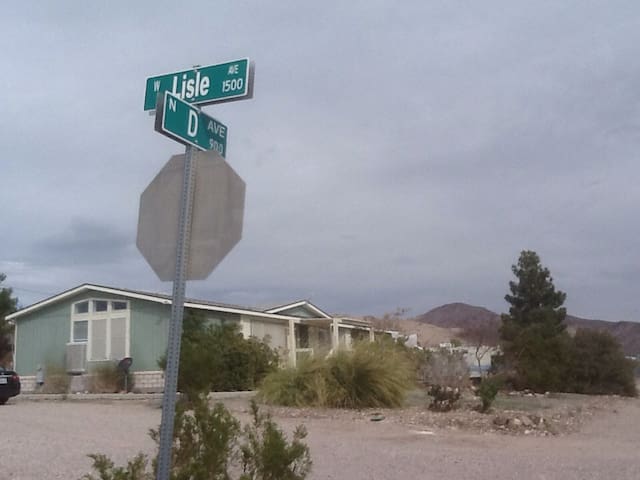 My place is close to family-friendly activities swimming, horse back rides(seasonal), golfing, hiking.. You'll love my place because of the location! I am located in the middle of the park, the views are amazing and star gazing is a must!. My place is good for couples, solo adventurers, families (with kids), and furry friends (pets).
Es ist schwer in Furnace Creek eine Unterkunft zu bekommen. Hanks Trailer Home liegt super zentral und hat alles (sofern die Wasserversorgung funktioniert), um hier einen Zwischenstopp einzulegen. Und sogar noch mehr: einen wahnsinnigen Sternenhimmel und einen unglaublich gastfreundlichen und kommunikativen Gastgeber. Es ist ein Erlebnis, Hank kennenzulernen. Und er kocht dazu auch noch wirklich ganz hervorragend!!! Gerne wieder!
Silke
2016-12-23T00:00:00Z
Very welcoming, made us hand made gifts for our arrival. Lovely gentleman who offered to cook dinner for us. Location spot in regards to the death valley viewing points was excellent however we didn't expect to be on a campsite. Nevertheless it was an experience and Hank is very accommodating.
Hollie
2016-08-28T00:00:00Z
A new Airbnb location that will offer something different from the standard accommodation in Death Valley. Hank is very friendly and knowledgeable host that likes to share his insights.
Christelle & Job
2016-10-11T00:00:00Z
Hank's place is unlike no other! It truly is one of the more unique places I stayed at. He was on top of communication and even cooked dinner for us. His stories were great! He had the unfortune of being cut of water temporarily, but that allowed us to check out the pool at Furnace Creek and swim under the stars!
Nam
2017-01-25T00:00:00Z
Hank has a great home, and is very cheerful and welcoming. He cooked us a nice dinner and breakfast. Everything was comfortable and to our liking - we would recommend Hank's place to anyone looking to stay in the area.
Adlai
2016-08-12T00:00:00Z
Hank was a 5 star host. He is very sweet and personable. We really enjoyed all his stories. He worked very hard to make our stay enjoyable. His place is very centrally located, in Furnace Creek. Using his house as a base, we hiked to Darwin Falls, Mosaic Canyon, Titus Canyon, Dante's View, Zabriskie Point, Badwater, Artist's Pallet and more. We would certainly stay with Hank again.
George
2016-12-17T00:00:00Z
Absolute unique experience in the middle of nowhere.
Vincent
2017-01-02T00:00:00Z
The host canceled this reservation the day before arrival. This is an automated posting.
Maxime
Art der Unterkunft
Privatzimmer
---
Objekttyp
---
Unterkunft für
3
---
Schlafzimmer
Furnace Creek, Kalifornien 92328, Vereinigte Staaten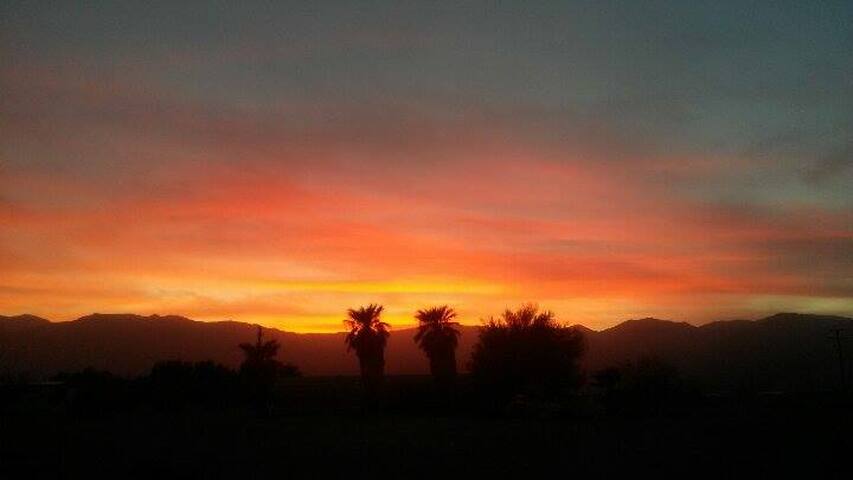 Hello! Thank you for visiting! A friend and I are exploring a new idea. Here is how it works . . . 1) You want to go to Death Valley! Camping is the best way to experience our beautiful parks, but you don't have all the necessary gear. 2) Book our Camp Crates for the dates you want to camp. 3) We ship all the gear to your home or hotel for free. 4) Enjoy your trip! 5) When you're done, attach the included, pre-paid shipping label to your crate and drop off to the nearest UPS store.
Each Camp Crate contains the following items. Each piece of gear was selected for its durability, comfort, and ease of use. We have personally tested each item, and never go camping without them. Original Camp Crate (Guests = 1) x1 Tent x1 Sleeping Bag x1 Sleeping Pad x1 Camp Stove x1 Headlamp x1 Backpack x1 Water Filter The Couples Crate (Guests = 2) x1 Tent x2 Sleeping Bag x2 Sleeping Pad x1 Camp Stove x2 Headlamp x2 Backpack x1 Water Filter To accommodate additional campers, we will combine Camp Crates and Couple Crates so that everyone has a sleeping bag, pad, backpack, and headlamp.
Art der Unterkunft
Ganze Unterkunft
---
Objekttyp
---
Unterkunft für
4
---
Schlafzimmer
Furnace Creek, Kalifornien 92328, Vereinigte Staaten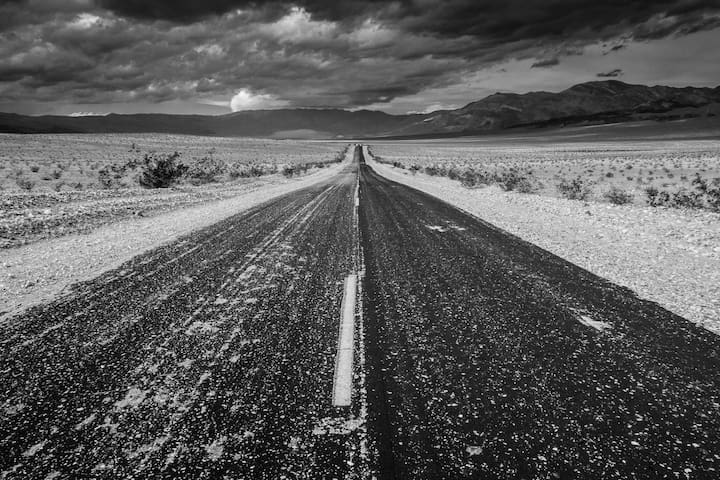 A little house deep in the desert. A wonderful design house in the middle of nowhere, 20 miles off the Death Valley National Park boundaries, with 80 acres of land and unobstructed views to the desert and the mountains. Weekly+ rentals preferred
The site is an isolated piece of land in the Nevada High Desert near Scotty's Junction and is far from any infrastructure or for that matter any neighbor. This vacation home in the middle of an isolated stretch of high desert, designed by Peter Strzebniok ((URL HIDDEN) San Francisco) incorporates the vistas by visually expanding into the surrounding landscape, providing stunning views, while also making the desert part of the interiors – merging the inside with the outside. The house itself measures 1,200 sf, has 3 bedrooms, two bathrooms, an office, a storage and utility room as well as a large open kitchen, dining room, living room area that can extend onto the deck when the large sliding doors are opened. A large 900 sf deck with a sunken-in hot tub connects the two building modules while creating a transition zone between the inside and outside that through the use of large full height glass sliding doors can be completely opened so that the outside and inside of the building seamlessly merge if one desires so. The building sits on a large concrete plinth elevating the building above the desert floor so that it appears to float above the ground while lifting it out of the flash-flood water level. Passive cooling concepts such as cross and stack ventilation, shading, building orientation were used throughout the project. The house is oriented in such a way as to take advantage of prevailing winds that, through cross and stack ventilation, maintain a comfortable temperature in the house, avoiding the need for an highly energy intensive air conditioning system. The windows facing south are shaded by the large trellis on the deck while all the bedroom windows are facing north in order to prevent heat-gain. The large crawlspace under the house double functions as storage space as well as a climate buffer as it is filled with gravel that helps to maintain a low average temperature below the house throughout the year. Enjoy! (URL HIDDEN)
Basically, this house is for desert lovers. If you are reading this listing, you already know what I mean. (URL HIDDEN)
This was an Airbnb experience to rival none other. Fabrizio was a charming and informative host.... always spurring his guests on to really take advantage of his wonderful abode so that they may relish their time and the house as much as he clearly does. Fabrizio's enthusiasm for the desert and the folklore/stories about the surrounding areas are evidenced in his exquisite library of books to both educate and entertain the inquisitive mind. What a magnificent stay. What a magnificent property. What a magnificent host. The sound of nothingness and the expansive horizons were bliss. I would return in a heartbeat.
Kim
2016-04-21T00:00:00Z
Art der Unterkunft
Ganze Unterkunft
---
Objekttyp
---
Unterkunft für
6
---
Schlafzimmer
Beatty, Nevada 89003, Vereinigte Staaten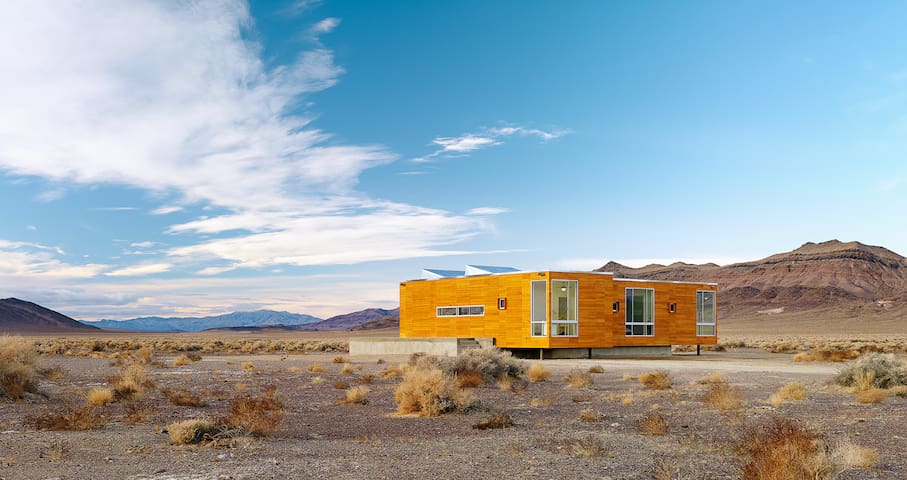 This experience is now fully booked! Thanks to all the Audi super fans out there - we only wish this desert home had space for all the enthusiasts who messaged us! Please note that there is no waiting list and should a guest cancel, we will revisit requests in the order of receipt. In the meantime, keep living to drive! Sincerely, Audi Concierge
Welcome to the ultimate full-throttle driving fantasy. An adrenaline fueled retreat, where you can live out your land speed dreams in the place where cars have come throughout history to prove their mettle – the dry lake beds of the American West. You are cordially invited to book a once in a lifetime experience that includes one day of driving - all under the masterful eye of some of our best driving instructors. This is, quite possibly, the world's fastest overnight in more ways than one: an Airbnb two night stay powered by the most powerful production model Audi has ever built – The Audi R8 V10 plus. With an engine and chassis derived 50% from the R8 LMS racecar, and a powerful 610-hp V10 that has the potential to hit 0-60 in a mere 3.2 seconds, the Audi R8 is one beautiful beast of engineering. And it's waiting for you on a remote stretch of land near Death Valley, Nevada, miles from anyone or anything. A home with no address, only coordinates on a map. But that's not all. That stunning, modern home you see behind the Audi R8 comes with the rental, and you'll have plenty of downtime at home to relax and take in the epic scenery.  Guests will receive the full Audi treatment from VIP transport, meals prepared by your own personal chef, and curated experiences such as stargazing.   Guests must also be able to stay during one of the following dates: Stay 1 (released 9/18): Oct 10, 2016 – Oct 12, 2016 Stay 2 (released 9/19) Oct 13, 2016 – Oct 15, 2016 Stay 3 (release 9/20) Oct 16, 2016 – Oct 18, 2016 Stay 4 (release 9/21) Oct 19, 2016 – Oct 21, 2016 Stay 5 (release 9/22) Oct 24, 2016 – Oct 26, 2016 Stay 6 (release 9/23) Oct 27, 2016 – Oct 29, 2016 Stay 7 (release 9/24) Oct 30, 2016 – Nov 1, 2016
This experience was nothing short of amazing. Our hosts pampered us like we were VIPs throughout our trip, and the house itself was beautiful (we'll miss those views). Driving the Audi R8s was thrilling to say the least, but it was much more than just experiencing the raw power of these vehicles. The adventure of driving through the desert, on winding roads and straightaways, is something our group will never forget.
Patrick
2016-10-24T00:00:00Z
You love Audi. You love R8. Let us think about your next short getaway. You rent a house on Airbnb. It's in the desert. Views are spectacular. It's remote. Outskirts of Death Valley National park. Its vacation, you don't want to worry about anything. Audi Concierge is there to make everything as comfortable and organized as you can possibly expect from 5-star experience. You are chauffeured to your house from Vegas. The chef is there to cook and serve your meals. These two professional drivers show up and have nice dinner with you. Next day they show up with two brand new Audi R8 V10. You go exploring Death Valley national park. Driving superb car on semi-deserted roads. Stopping every now and then to see the sights and have lunch. A professional photographer is along for the ride to document your experience. Amazing day already, right? But Audi wants to make it a little more exciting. They secure permits and set up a racecourse on a dry lakebed in Nevada desert. Why? Why not??? Why not take a 610HP supercar and see how fast you can get going on a 2-mile straight run? How about drifting? That should be fun, right? Let's do some of that too, while we are at it. It's all organized, safe and there are support crews and professional drivers to help you. What more can one wish for? Thank you Audi and Airbnb for an amazing, once-in-a-lifetime experience! #LiveToDrive
Yan
2016-10-19T00:00:00Z
Amazing location and house. Thank you Audi and Team for the wonderful experience. It has been the best vacation I have ever had yet. And the R8's were absolutely fantastic. Let's not forget the stars as well. I haven't seen a clearer sky and I still cannot shake the feeling of drifting in an R8. Looking forward to the next time :)
Bhargav
2016-11-05T00:00:00Z
One of the best experiences of my life. From start to end everything was well planned and taken care of. The location was great, I have never experienced such a remote location before and the star gazing at night was amazing. #LiveToDrive #WantAnR8
Derek
2016-11-02T00:00:00Z
Thank you Audi! Our stay was incredible, a dream come true. Our expectations were far exceeded. We are very lucky to have received this opportunity. We thoroughly enjoyed every minute of it. A big thank you to the Audi Concierge team and everyone else involved! #LiveToDrive #WantAnR8
Spenser
2016-10-15T00:00:00Z
Art der Unterkunft
Ganze Unterkunft
---
Objekttyp
---
Unterkunft für
4
---
Schlafzimmer
Beatty, Nevada 89003, Vereinigte Staaten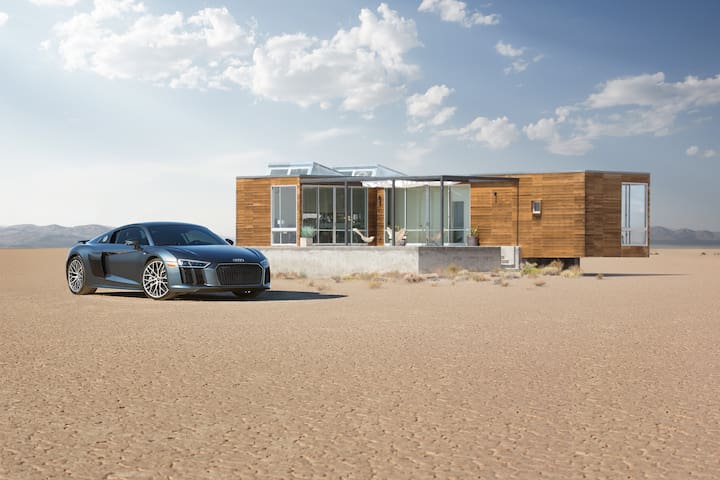 Gib deine Reisedaten ein, um den aktuellen Preis zu sehen. Es können zusätzliche Gebühren und Steuern anfallen.