33 Ferienhausvermietungen
Die warme und einladende Ferienhaus, verfügt über eine original Kaminecke mit Festbrennstoffofen und ausgesetzt Stein. Die Wände sind mindestens einen Meter dick und das Haus schon vor der irischen Hungersnot.
Dieses einzigartige Haus ist 5 km vom Dorf von Baltimore. Es gibt Musik und Künstlerateliers vor Ort und die Gastgeber bieten eine Reihe von kreativen Möglichkeiten, wie Aufnahme, Songwriting und Video. Es gibt keine Lichtverschmutzung, also Sterne gucken ist fantastisch. Das Anwesen mit Blick auf den Atlantik und Umgebung kennen ist für Wal- und Vogelbeobachtung.
Frieden und Ruhe mit der zerklüfteten Landschaft verheiratet macht Spanien, Baltimore einzigartig. Dramatische Küsten zusammen mit Ruinen der alten Hütten und atemberaubenden Klippen Ansichten sind unerreicht. Lough Hyne, Irelands erste Meeresschutzgebiet und Salzwassersee, mit dem Meer verbunden durch Stromschnellen ist auch in unmittelbarer Nähe.
Wir hatten eine tolle Woche an einem sehr idyllischen Ort. Das bezaubernde Cottage entsprach absolut den Versprechungen! Wir wurden herzlich empfangen, imformiert und beraten, was den gesamten Aufenthalt betraf. Täglich wurden wir abends mit einem perfekt vorbereiteten Feuer im Kamin verwöhnt - Wohlfühlen pur! Das Cottage, Aisling, ihre Hunde und der ganze Ort samt Umgebung sind absolut eine Reise wert! Vielen Dank, liebe Aisling!!
Eva
2016-07-19T00:00:00Z
Wier haben die Ferienwoche im Cosy Seaside Haus sehr genossen. Aisling und ihr Mann waren sehr aufmerksame Gastgeber. Bei der Ankunft wurden wir mit einem selbstgemachten Brot verwönt und jeden Tag würde das Feuer im Kamin vorbereitet so das wir am Abend es schön warm hatten.Die Umgebung ist traumhaft und es giebt viel zu erkundigen. Wen man Ruhe sucht ist es der richtige Ort dafür.
Karin
2015-08-01T00:00:00Z
Wir verbrachten tolle,ruhige Tage in Irland. Das Cottage war genauso, wie die Bilder zeigen: gemütlich, sauber und sehr gut ausgestattet! Die Gastgeberin legte Handtücher bereit und begrüßte uns mit einem selbst gebackenen Brot und Feuer im Kamin. Auch die beiden Hunde Milli und Elsa begleiteten uns auf Erkundungstour durch die schöne irische Landschaft! Einfach ein rundum gelungener Urlaub!
Katharina
2016-10-31T00:00:00Z
Es waren sehr schöne Tage bei Aisling in Baltimore. Wir können den Aufenthalt sehr empfehlen!
Jan
2017-03-22T00:00:00Z
Unseren Urlaub bei Aisling und ihrem Mann, zusammen mit den zwei wundervollen Hunden hat uns total beigeistert und sind mehr als 5 Sterne wert. Direkt an der Südwestküste Irland gelegen. 5 Minuten entfernt zur Küste. Das Cottage ist liebevoll eingerichtet. Das Kaminfeuer brennt bei Ankunft und ein selbstgebackenes Brot liegt auf dem Tisch. Wir hatten viel Freude mit den zwei Hunden spazieren zu gehen und haben uns stets wohl und willkommen gefühlt. Sehr gerne kommen wir wieder und haben unsere Tage in dieser Unterkunft sehr genossen. Es war einfach fantastisch und nur weiter zu empfehlen!!! Vielen Dank für alles. Katja & Ulf
Katja
2015-10-17T00:00:00Z
Sehr freundliche Gastgeber . Die Unterkunft ist sehr schön und in einer tollen landschaftlichen Umgebung. Wir haben uns dort sehr wohl gefühlt.
Koch
2016-09-04T00:00:00Z
Wir haben eine sehr schöne, entspannte, traumhafte Woche in Cosy Seaside Cottege verbracht. Die Gastgeber waren sehr nett, hilfsbereit, zuvorkommend. Die Gastgeber waren jederzeit für jegliche Fragen ansprechbar. Angefangen bei der Anreisebeschreibung, dann auch bei der Ankunft mit Basisverpflegung wie frischem Brot, Milch etc. Auch wir kamen in den Genuss des "berühmten Grill-Abends", worüber auch schon andere Gäste berichtet haben, den wir sehr genossen haben. Die Krönung des Abend war der Vollmond über dem Atlantik. Das Haus entspach vollkommen den Beschreibungen und den Fotos. Das Haus mit sehr schönem, altem, irischem Flair. Mit großem Garten Draußen. Es ist Alles vorhanden: wie Waschmaschine, Bügeleisen, Wlan, Fernseher mit Sky, Die Tage haben wir am Kamin zur Ende gehen lassen, der jeden Tag von den Gastgebern fertiggestellt wurde. Die Gastgeber besitzen zwei süße Labrador-Hündinnen, die uns jeden Tag besucht haben und mit uns auch spazieren gegangen sind. Nicht zu vergessen ist natürlich auch die schöne Landschaft,eine sehr schöne Klippen-Landschaft. Man kann stundenlang die fantastische Aussicht betrachten, lange Spaziergänge machen. Fazit: Genau der richtige Platz um Irland näher zu erleben und neue Kraft für den Alltag zu tanken.
Irina
2015-07-07T00:00:00Z
This was an amazing stay. Extremely scenic. The house was clean, modern and had a lot of character. Aisling and her partner were very helpful and so friendly . High;y recommended.
Patrick
2017-04-02T00:00:00Z
Art der Unterkunft
Ganze Unterkunft
---
Objekttyp
Haus
---
Unterkunft für
4
---
Schlafzimmer
Baltimore, Cork, Irland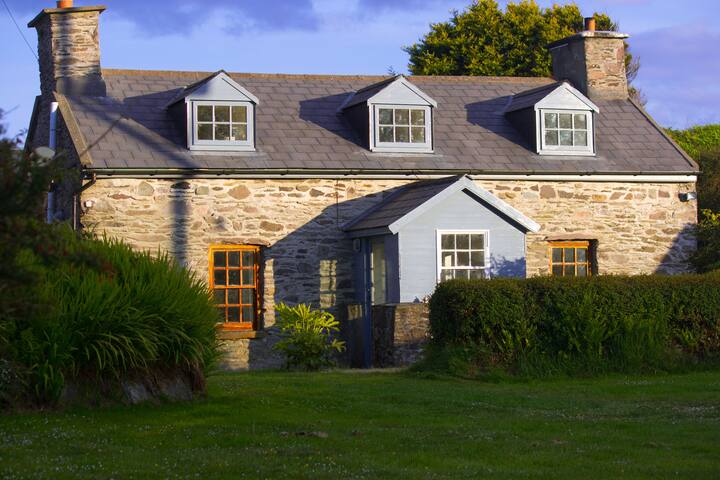 Modern house. High standard bedding and linen and hygiene. Wonderful area including sea views, walking, sailing, top restaurants, cycling, hiking . Home baking and preserves provided for a healthy breakfast. King size Bed with en suite (URL HIDDEN) will be available in 2017.
Kathleen is an excellent host and has a lovely house. The room was gorgeous and the bed and linen was one of the nicest we have ever slept in. Kathleen was so welcoming of us into our home and gave us a superb welcome and sent us on our way with a top class breakfast after a long chat over many cups of tea, it was Ireland's hospitality at its finest. We cannot express how happy we were to stay there and would recommend anyone to stay here!
John
2016-07-03T00:00:00Z
I couldn't recommend staying with Kathleen more. The room is beautiful with one of the most comfortable beds I've ever slept in. It is the perfect distance from the centre of town. Kathleen and her husband were very warm and welcoming. The breakfast alone was worth the trip.
Mary
2015-07-11T00:00:00Z
I can't recommend this accommodation highly enough. Kathleen couldn't have been more helpful and friendly. The room was quiet and very clean with an extremely comfortable bed..very important! I was made so welcome it felt like a home from home. In the morning, over a delicious breakfast, I had such a wonderful conversation with Kathleen's lovely cousin that almost two hours slipped by in the blink of an eye and I came away much richer for the experience.
Morag
2015-08-24T00:00:00Z
We had an excellent stay at Kathleen's place in Baltimore. Within walking distance from the village and a couple great restaurants. The place was very clean and warm and Kathleen made an excellent breakfast for us in the morning. She's a great host and knows the area very well and was very helpful for our cycling and hiking tour.
Brendan
2015-10-04T00:00:00Z
That was our perfect airb&b in Ireland. Kathleen is a perfect host. We just has one night but we wished it would be more. Everything was absolute brilliant. We highly recommend Kathleens house to stay.
Andrea
2015-07-26T00:00:00Z
Kathleen is an excellent host and we were delighted with this accomodation. The bedroom and bathroom was lovely and breakfast was a real treat. We really appreciated Kathleen's hospitality. Highly recommend to stay if planning on staying in Baltimore or wishing to go out to nearby islands of Cape clear and sherkin.
Elizabeth
2016-07-06T00:00:00Z
We had a wonderful time with Kathleen and John. Great conversations, lots of laughs and briliant self made bread. We felt like home just within seconds and can highly recommend staying with tuen of you get the chance.
Max
2015-07-13T00:00:00Z
We absolutely loved our stay with Kathleen at Baltimore, we really couldn't have been made anymore welcome and felt very at home. The room and bed were very comfortable and the breakfast that Kathleen provided was amazing..we especially liked the homemade jams. Baltimore itself is such a beautiful, magical place. We will definitely return. Thank-you Kathleen for a wonderful stay.
Rachel
2016-07-03T00:00:00Z
Art der Unterkunft
Privatzimmer
---
Objekttyp
Haus
---
Unterkunft für
2
---
Schlafzimmer
Baltimore, Cork, Irland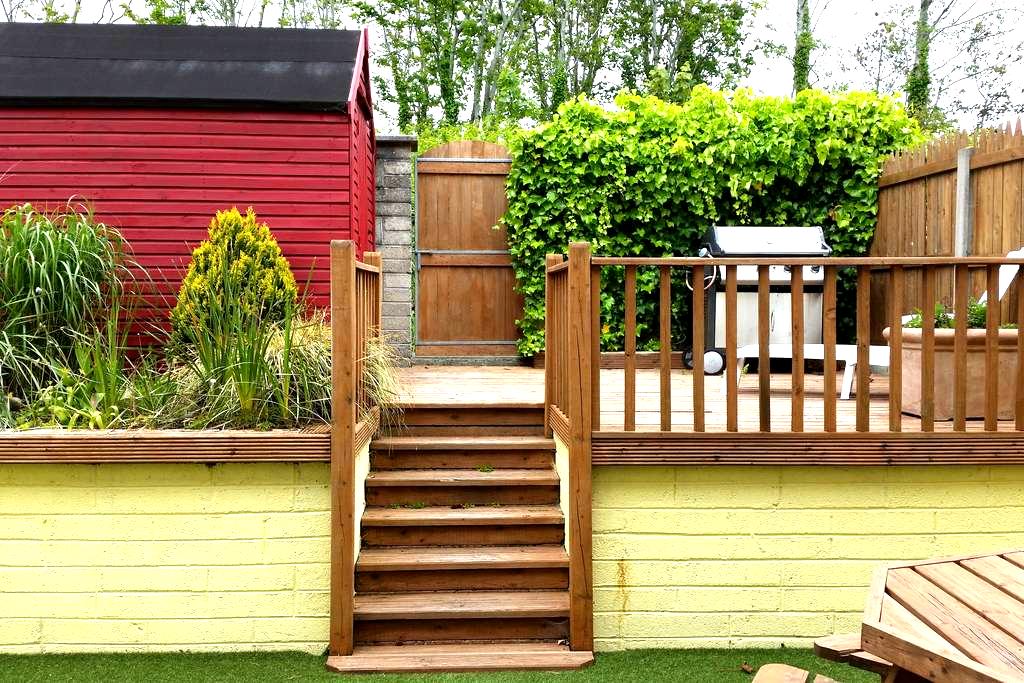 Das schöne Dorf an der Küste von Baltimore ist ein idealer Ausgangspunkt für die Erkundung West Cork & die nahe gelegenen Inseln. Mein Zuhause ist eine warme und freundliche Raum, mit einer großen Küche, ein gemütliches Wohnzimmer und offenem Kamin. Ein fantastischer Ort zum Erholen und Entspannen! Es gibt auch einen sonnigen kleinen Garten, in dem man das Frühstück oder ein Glas Wein am Abend haben. Viele Wale, Haie und Delfine manchmal zu sehen, mit der Fähre nach Sherkin oder Cape Clear und Schwimmen im Lough Hyne, einem nahe gelegenen Salzsee, die ich liebe.
Mein Haus ist sehr entspannt und Baltimore ist ein großartiger Ort, um sich für eine Reise nach West Cork zu stützen. Mizen Head ist eine einfache Fahrt für einen Tag oder Sheeps Head Halbinsel ist ein weiterer Tagesausflug. Baltimore selbst und die Inseln Sherkin, Heir und Cape Clear sind die großen Plätze nach unten Werkzeuge und entspannen, Gehen oder Radfahren. Für den See oder Meer schwimmen empfehle ich Lough Hyne, eine kurze Fahrt von meinem Haus oder es gibt einige schöne Buchten zum Schwimmen auch.
Baltimore ist ein ganz besonderer Ort, mit vielen Aktivitäten, wenn Sie so wollen, wie Angeln, Segeln, Wandern, Schwimmen, Radfahren, Fähren zu den Inseln Sherkin oder Cape Clear oder es ist einfach ein schöner Ort, an dem Platz zu hängen, die Blick auf den Atlantik und die Einheimischen treffen, haben einen Guinness oder eine Pizza oder eine Krabbe Sandwich!
Ein außergewöhnlich toller Ort. Susan war sehr hilfsbereit und freundlich, es war richtig ein Vergnügen, bei ihr zu Gast zu sein. Die Wohngegend ist sehr ruhig und man erreicht alles im Ort zu Fuß. Die Natur ist überwältigend schön, insbesondere die Insel Cape Clear ist ein Ausflug mit der Fähre wert. In Skibbereen, dem nächsten Städtchen erfährt man im Touristencenter viel über lokale Sehenswürdigkeiten. Ein (Leih-) Auto würde ich schwer empfehlen, sonst wird es schwierig, hier weit zu kommen.
Chris
2016-10-02T00:00:00Z
Gemütliches Zimmer mit extra Bad, alles sehr sauber. Wir haben uns sehr wohl gefühlt!
Udo
2016-09-02T00:00:00Z
Wir waren 2 Nächte bei Susan und haben uns sehr wohl bei ihr gefühlt. Sie hat uns mit guten Ratschlägen unsere Reiseroute mit Insider Tipps aufgewertet. Bei ihr fühlt man sich wie zu Hause. Susan ist eine sehr liebenswerte Person und lädt einen gerne auf eine Tasse Tee ein
Antje
2016-06-30T00:00:00Z
Ich habe Susan bereits im Zuge der Reiseplanung sehr viele Fragen (Supermarkt, Fähre etc.) gestellt. Susan hat stets sehr hilfsbereit, schnell und ausführlich geantwortet und so dafür gesorgt, dass ich mich schon bei der Reisevorbereitung sehr wohl gefühlt habe. Wir haben vor und nach unserem Besuch des Cape Clear International Storytelling Festivals einen Zwischenstopp bei Susan gemacht. Susan konnte bei unserer Anreise nicht da sein, aber ihre Schwester hat uns empfangen und uns alles gezeigt und erklärt. Außerdem hat Susan uns einen Zettel mit allen weiteren wichtigen Informationen hinterlassen. An unserem zweiten Tag in Baltimore konnten wir Susan persönlich kennenlernen. Wir haben abends zusammen Tee getrunken und uns noch sehr lange miteinander unterhalten, was ich sehr schön fand. Am nächsten Morgen hat uns Susan auf dem Weg zur Arbeit mit nach Skibbereen genommen und uns an unserer Bushaltestelle abgesetzt. Susans Haus ist je nach Geschwindigkeit ca. 5-10 Minuten Fußweg vom Hafen/Ortskern entfernt. Baltimore selbst ist sehr ruhig und die gute Seeluft dort ist sehr angenehm. Das Haus war extrem sauber und es ist alles mit sehr viel Liebe zum Detail eingerichtet. Ich finde, dass auf den Fotos gar nicht so herüberkommt, wie schön das Haus eigentlich ist. Ich würde Susan als Gastgeber ohne Zweifel jederzeit weiterempfehlen und werde bei meinem nächsten Besuch des Storytelling Festivals (hoffentlich schon nächstes Jahr) wieder bei ihr anfragen.
Anja
2015-09-05T00:00:00Z
Für unsere Tour durch Irland haben wir (Pärchen) einen wundervollen Urlaubsstart in Susan´s Unterkunft genossen. Die Beschreibung im Inserat trifft vollkommen zu und es ist noch bequemer, als die Fotos es versuchen darzustellen ;-). Susan hat uns liebevoll empfangen und war immer bereit für ein interessantes Gespräch. Sie hat uns auch wertvolle Tipps für die Gegend gegeben und wir fühlten uns gleich am ersten Abend sehr wohl in Ihrer Unterkunft. Leider verpassten wir uns morgens immer, da sie früh zur Arbeit gehen musste; aber sie hat uns immer liebevoll das Frühstück bereitgestellt, welches uns jeden Tag einen guten Start in den Tag gegeben hat. Außerdem durften wir auch die Küche verwenden, um uns selber was zubereiten zu können. Außerdem ist die Nachbarschaft auch super nett gewesen und war auch immer für ein Gespräch zu haben. Besten Dank für den super Aufenthalt!
Max
2016-07-14T00:00:00Z
Susan war eine fantastische Gastgeberin und eine toll Persönlichkeit. Sie empfing uns herzlich und wir fühlten uns sofort wohl. Zusätzlich gab uns Susan wertvolle Tipps für die Umgebung. Das Haus ist sehr sauber, das Zimmer war geräumig und das Frühstück vielfältig und sehr lecker. Wir hatten einen großartigen Aufenthalt. Susan als Gastgeberin können wir nur wärmstens weiterempfehlen.
Christoph
2015-09-15T00:00:00Z
Susans Haus in Baltimore war für uns vor und nach dem Besuch des Cape Clear International Storytelling Festivals eine Zwischenstation. Ich hatte daher im Zuge der Reiseplanung einige Fragen an Susan (Haustiere, nächster Supermarkt, Fähre etc.) und Susan hat mir alle Fragen extrem schnell, freundlich und ausführlich beantwortet und mir so das Gefühl gegeben, dass ich gerne so viele Fragen stellen kann wie ich möchte. Baltimore selbst ist ein sehr ruhiger Ort mit guter Seeluft. Man ist von Susans Haus aus in 5-10 Minuten in den Ortskern gelaufen. Susans Haus war genau wie beschrieben. Es war alles extrem sauber. Ich finde sogar, dass auf den Fotos gar nicht rüberkommt, wie schön das Haus eigentlich ist. Die Möbel und Deko sind mit sehr viel Liebe zum Detail arrangiert. Bei unserer Ankunft konnte Susan leider nicht da sein, ihre Schwester hat uns aber empfangen und uns alles erklärt. Außerdem hat Susan uns einen Zettel mit allen weiteren wichtigen Informationen hinterlassen. Bei unserer zweiten Übernachtung in Baltimore konnten wir auch Susan kennenlernen. Wir haben sogar Abends zusammen Tee getrunken und uns sehr lange unterhalten. Am nächsten Morgen hat uns Susan auf dem Weg zur Arbeit sogar mit nach Skibbereen mitgenommen und an unserer Bushaltestelle abgesetzt. Susan ist wirklich ein sehr netter Mensch. Ich würde Susans Unterkunkt ohne Zweifel jederzeit weiterempfehlen und werde bei meinem nächsten Besuch des Storytelling Festivals (hoffentlich nächstes Jahr) wieder bei Susan anfragen. :-)
Anja
2015-09-09T00:00:00Z
Leider haben wir nur eine Nacht in Baltimore bei Susan vebracht. Sie hat uns abends herzlich empfangen und direkt mit örtlichen Tipps versorgt. Das Zimmer war sehr schön und sauber, alles lag schon für uns bereit. Bevor wir am nächsten Morgen wieder losfuhren, hatte sie liebevoll ein Frühstück gemacht, bei dem wir uns noch nett mit ihr unterhielten. Nicht zu vergessen, die nette Nachricht, die sie uns kurz vor der Ankunft schickte. Wir würden sofort wieder bei ihr buchen.
Julia
2016-10-10T00:00:00Z
Art der Unterkunft
Privatzimmer
---
Objekttyp
Haus
---
Unterkunft für
2
---
Schlafzimmer
Baltimore, Cork, Irland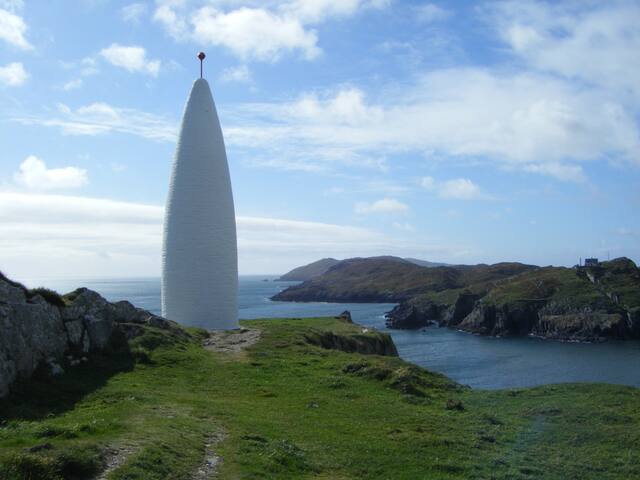 Schöne gemütliche 2-Zimmer-Hütte für den Besuch schönen Baltimore & West Cork! 3 km vom Dorf und auf der Hauptstraße. Atemberaubende Umgebung neben der Mündung und ausreichend Parkplätze.
Gemütliches Ferienhaus auf der Hauptstraße nach Baltimore gelegen, 3 km vom Dorf selbst. Das Anwesen besteht aus einem Doppelzimmer und ein Einzelzimmer (mit einem Kinderbett Option auch). Komfortable Schlafplätze für 3 Erwachsene, mit einem vierten Anschluss an der ausklappbaren, wenn nötig. Das Hotel liegt gegenüber dem schönen Mündung mit einer schönen Aussicht und viel Platz im Freien. Es gibt genügend Parkplätze und schön angelegten Gärten. Das Haus hat auch einen Holzofen, und Gartenmöbel mit einem Grill so seine gut halten bestückt, damit Sie bequem kommen regen oder Sonnenschein.
Das Haus befindet sich in dem kleinen Weiler Rath, 3 km vom Dorf Baltimore entfernt. Rund um die Ecke (10 Minuten zu Fuß) sind die Kirche, die Sibin Pub (das Essen serviert und Musik am Wochenende) und die Schule. Wir sind an der Mündung von 100 Inseln, so gibt es eine herrliche Aussicht rund um die locale und es wird als ein Gebiet von außergewöhnlicher natürlicher Schönheit eingestuft. 3 km die Straße hinunter, und Sie haben das Dorf Baltimore, mit einem Shop (mit atm), Pubs, Restaurants, Segelclubs, Wassersport, Schwimmbad und einen Spielplatz. Ebenfalls 6 km entfernt befindet sich die berühmte Lough Hyne (vor kurzem in der Times Irish gelistet 20 besten Plätze in Irland zum Wandern, Schwimmen und Tauchen zu gehen wild). 8 km entfernt ist Skibbereen, der Hauptort für diesen Teil der West Cork mit Banken, Post, ein Lidl, Kunstzentrum, ein medizinisches Zentrum und alles andere.
Vielen Dank für die tolle Wohnung und die super Unterstützung. Es hat uns gut gefallen und wir hatten eine tolle Zeit.
Klaudius
2015-09-21T00:00:00Z
This is lovely cottage located in the heart of beautiful of west Cork. The weather was very cold when I visited in early February so lighting the stove gave great heat & atmosphere. Would love to visit again.
Louise
2017-02-06T00:00:00Z
My stay at Catherine's was EXACTLY what I was looking for. What a stunning area, peaceful cottage, comfy bed, great heating, only 3 mins to Baltimore, lovely views & easy access! I would DEFINITELY stay again- can't wait!
carmel
2015-05-10T00:00:00Z
Handy location exactly as described. Cute and cosy cottage with everything you would need. Eileen the housekeeper met us when we arrived and was extremely friendly, helpful and welcoming. Everything was just as we had hoped.
Emma
2015-10-18T00:00:00Z
We had another lovely stay at the Cottage over Easter - although the weather wasn't exactly as we had hoped for, this gave us the opportunity to light the fire and watch a movie from the Cottage's extensive collection - all very cosy! A few days before travelling, we decided to bring our dog, and stay an extra 2 nights, and Catherine responded promptly to our last minute requests. Baltimore is such a beautiful part of the country, with great walks and restaurants and the Cottage is an ideal base. We look forward to our next trip!
Nicola
2016-03-25T00:00:00Z
We really enjoyed our 2 night stay at the cottage. The sun was streaming in the patio doors on our arrival on Saturday. The little cottage was really cute and well equipped. Catherine could not have been more helpful both before and during our stay. 2 little small points, it was quite cold and the shower was ver weak. We ate in the local Sibín, as recommended by Catherine, which was scrumptious. Overall a lovely value for money cottage from which to tour west Cork
Anita
2015-03-16T00:00:00Z
We stayed in Catherine's for a weekend with our toddler. We really enjoyed our stay. Sheeba the very friendly cat was a source of great excitement for the toddler.
Nicola
2016-09-18T00:00:00Z
It's the little touches that make a trip easy! We've stayed in self catering accommodation plenty of times. You always arrive to find that you've forgotten something, have to rush to a shop to buy a scrubbing brush, washing liquid or a bottle opener. Catherine has a great set up, you have to cottage to yourselves but it's like arriving to a home. It's great to be able to arrive somewhere, unload the car, and relax after a long drive. Tea, coffee, and all the basics for cooking (oil, salt/pepper, some spices) on a shelf above the cooker, a basket of kindling, logs and peat briquettes next to the stove, heaters in every room turned on in advance. If you're there in suitable weather, there is a barbecue round the back. Catherine has also provided a selection of DVD's for adults and kids, and a small library of books. She has included tourist guides to the area so you can plan your activities, post dinner, on a comfortable sofa by the stove. If you're going to be walking late, Catherine has even supplied high visibility vests and a torch. The Cottage is well located to explore West Cork. Only there for a weekend, we visited Lough Hyne (walked the Nature Trail up Knockomagh Hill, great views) and The Beacon. I got to take my son fishing for Pollock at Eastern Hole Bay (east of The Beacon) where the pirates who sacked Baltimore (1631) landed. Skibbereen isn't far away and has a large Eurospar, Supervalu and Lidl (where we usually shop). We will be back!
Tim
2016-11-20T00:00:00Z
Art der Unterkunft
Ganze Unterkunft
---
Objekttyp
Haus
---
Unterkunft für
4
---
Schlafzimmer
Baltimore, Cork, Irland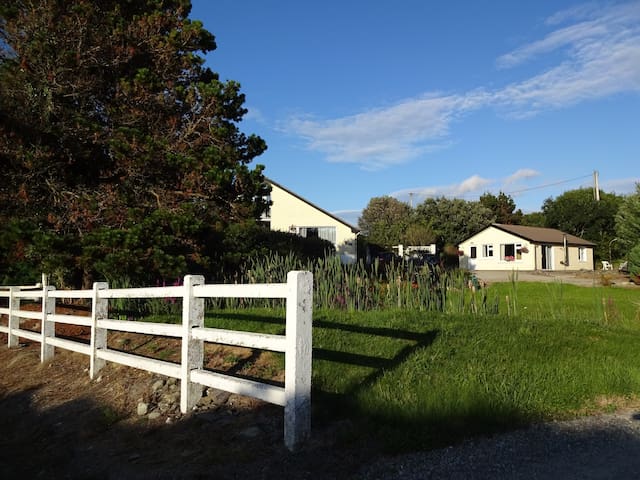 The house is part of a development with access to tennis courts, pitch and putt, and a half size football pitch. Parking is in front of the house. The house is within 10 minute walk of the harbour, with its excellent pubs (Bushes won Irish pub of the year), first class restaurants and supermarket. Perfect for: ferries to the islands, whale watchers, walkers, sailors and local music festivals, families with kids who want sandy beaches
Art der Unterkunft
Ganze Unterkunft
---
Objekttyp
Haus
---
Unterkunft für
6
---
Schlafzimmer
Baltimore, County Cork, Irland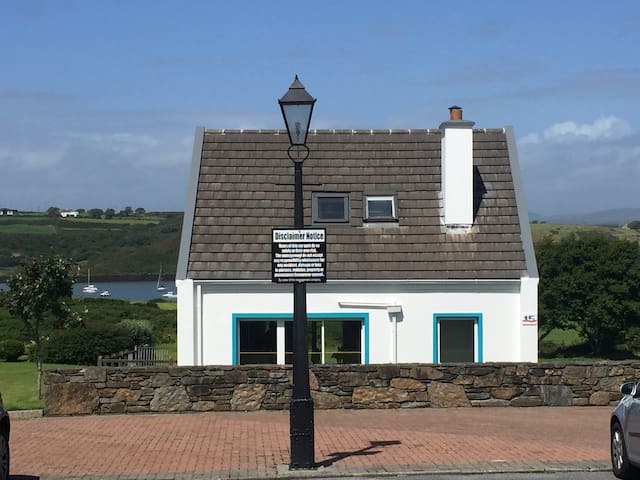 Elgan 11 ist ein sehr komfortables malerische Meer Hütte, an der Bucht, mit dem Dorf in Baltimore einen kurzen Spaziergang entfernt. Die Aussicht und das Rauschen des Meeres aus dem Haus und der schöne Garten ist ruhig und schön. Wirklich eine tolle Lage
This beautiful house has open fires, two sitting rooms, a large kitchen dining area, the most beautiful decking and garden in the area. One of the best sea views of Baltimore, in the quiet cove area, easy 5 mins walking to village. The main sitting room has an open fire and a solid fuel stove in the second. There is an outside wet room with shower and loo which also houses the utility with washing machine and tumble dryer. The house is set up for a relaxed, fun filled time. The open kitchen dining tables seats 10 and with two sitting rooms its ideal for great eating. It is a relaxing house with a beautiful garden, patio and decking areas with a stove burner on the patio. Baltimore is a scenic, sailing village with great restaurants, pubs, walks, children's play area. There is also a local swimming pool. Ferries to Sherkin, Skull and Cape clear. Beautiful walks up to the Beacon. Drives and locations close by to Lough Ine, Shibbereen and easy access to all of West Cork, Bantry and Kerry.
Baltimore ist ein magischer Ort mit vielen Wanderungen, tolle Ausflüge zu den Inseln, gutes Essen und gute Unterhaltung. Das Dorf ist ein Segel Dorf so viele Urlauber und ist sicher und für Jugendliche. Das Dorf ist sehr schön mit atemberaubender Aussicht, wenn Sie fahren durch Sie in die Dörfer einfache Möglichkeiten zu kommen und einfach nur entspannen beginnen.
Hostess left us bottle of wine and flowers as greeting, also chatted a bit before departure. House is charming as shown in photo, and garden is lovely, could be perfect. Beds are comfortable and linen of good quality. Kitchen contains every imaginable implement, and wifi works well. Location is great, on water`s edge and short walk from village. Owner responded quickly to any issues.
Karen
2016-08-28T00:00:00Z
An absolute fantastic House. We were realy happy to be there. So much space and the open fire was a dream. Baltimore is a lovely little village, with nice pubs, beautiful countryside and some activities around (like whale watching!). The Internet was super and the beds very comfortable. I hope I will stay there again in some years!
Georg
2016-10-05T00:00:00Z
We enjoyed one if the best family holidays ever in Maria's home. Maria couldn't have been nicer to deal with and was super friendly. Her home was spotless and had absolutely everything we needed. Apart from being one of the most beautiful homes in Baltimore it is also situated in easily the best location In Baltimore. Absolutely perfect for family with kids with the cove right outside the door. Can't wait to visit again.
Cian
2014-06-28T00:00:00Z
We loved this cottage and Baltimore so much, we stayed 3 months! We cannot recommend it highly enough. First, I will start with the cottage itself! Perfectly situated right on the cove, with direct access to the sea, and easy walk to the pubs and shops in Baltimore itself. The cottage has 4 bedrooms, although we only used 2, very comfortable beds and big rooms. As we were there in winter, we spent most of our time in the very warm and cozy snug, which is attached to the dining/kitchen area. The house is decorated with a nautical theme reflecting much of the history of the area. Great views from many rooms in the house. Now on to Baltimore itself. We loved the village. The people were so friendly and welcoming, and we got to know a number of the characters during our stay. There are 5 bars in the area, 3 in Baltimore itself and 2 on the outskirts. We would go to Caseys every Saturday night for the craic, really miss that! Wonderful place, wonderful cottage, loved every moment there, we will definitely be back!
Craig & Emma
2013-12-21T00:00:00Z
The host canceled this reservation 180 days before arrival. This is an automated posting.
Conny
2017-01-20T00:00:00Z
Maria's home is charming, quirky and cozy! We had 6 women staying for the week and we all had enough room, enough towels and a very comfortable bed for all of us! Maria has a huge table in the kitchen/dining room and we all sat around and played games, cards and just talked. There is a lovely sitting room and sun room so there was also enough space to spread out if we needed. Baltimore is a charming little village with pubs, restaurants and a market all within a very easy walk. Maria is easy to communicate with and responded quickly if we had a question. I was a bit concerned with parking but we had two cars and were able to park right out front the whole week. The kitchen has everything you need to make full meals. Highly recommend the walk up to the beacon it is beautiful. Maria thank you for a great week, I wish we could have stayed longer.
Carole
2016-10-13T00:00:00Z
Maria responded to any questions we had in a very timely manner and made accomodation for us due to our late arrival. The house was so beautiful inside and out with the nautical theme and gorgeous roses (the biggest I have ever seen!) The kitchen was the most well equipped of any house with any cooking utensil you could imagine. The linens were soft and luxurious. The excellent bottle of wine and fragrant vase of roses let us know we were welcome. We spent many hours enjoying the bright and cheerful sunroom with the large collections of books. The sitting room was our nighttime retreat in front of a cozy fire. We had the most amazing time exploring the countryside and view of the cliffs and ocean up the road behind the house. The town of Baltimore was small and quaint with a pub and restaurant as well as a small store. We found many treasures to take home from local gift shop down by the ferry with handcrafted items from artisans on nearby Sherkin Island. We did need to travel to the larger town of Skibberreen about 15 minutes by car to find a larger market,gas station, and bank. We enjoyed our stay at the Cove so much we hated to leave and are already planning a return visit.
Mary Lou
2016-06-19T00:00:00Z
"Charming" is exactly what Maria's home is, and then some. I spent a week by myself while working at a local fish smokery, to be joined by my wife, three kids and parents for another 3 days. The house was perfect, in an incredible location directly across from the harbor. Well stocked kitchen for cooking at home, bright window light.....just an overall great experience. Maria was very easy to work with and was always an email/call away. I would highly recommend. Oh, and eat at Glebe's cafe' up the street, great people and great food!
Laurie
2013-03-31T00:00:00Z
Art der Unterkunft
Ganze Unterkunft
---
Objekttyp
Haus
---
Unterkunft für
7
---
Schlafzimmer
Baltimore, Cork, Irland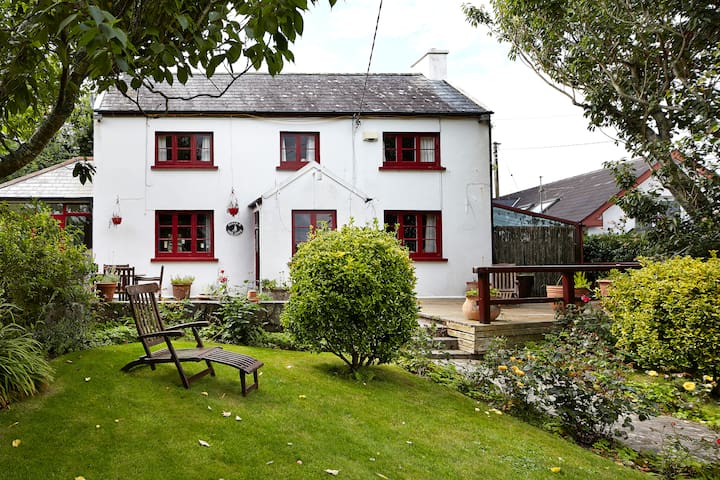 This modern and well equipped residence is located in Baltimore Harbour in West Cork. In top condition the house is within a short walk of the village and pier offering access to the wonderful Roaring Water Bay area of islands, beaches and harbours.
Marks family made us very welcome, we found them relaxed, easy to talk to, informative and during the stay inubstrusive. The home was excellent, relaxing, well positioned, close to restaurants, bars, the harbour and island ferries. Whilst within easy walking distance of all social venues it was free from any intrusive noises, and no passing traffic. The house was well furnished, the furniture was modern and comfortable. It had a great kitchen area that was well equipped. The bathroom facilities were great and the "power" showers a dream after a day on the water or sightseeing. The house had a large off road parking area that would accommodate at least three cars and a boat. The property is located in a beautiful, historical and interesting area of Ireland, with the options to go sightseeing, get involved in a range of activities, socialise with the very friendly locals and just relax. I will have no hesitation in recommending the house and hopefully we will be returning soon.
David
2016-09-18T00:00:00Z
What a beautiful place. The house was spacious and really handy for our two families of young children. We really enjoyed spending time there and there was also lots of room for the children to play in the back garden. The house had all the amenities you would need for a stay and it was very comfortable. Both Mark and his agent were available by phone at anytime to answer our questions. We would highly recommend this house to anyone wanting to stay in Baltimore. We would definitely stay there again. Thank you!
Ciara
2016-07-17T00:00:00Z
Great house in perfect location within close proximity to village. The house is well equipped with all amenities. Wonderful!
Patrick
2016-06-26T00:00:00Z
Art der Unterkunft
Ganze Unterkunft
---
Objekttyp
Haus
---
Unterkunft für
8
---
Schlafzimmer
Baltimore, Cork, Irland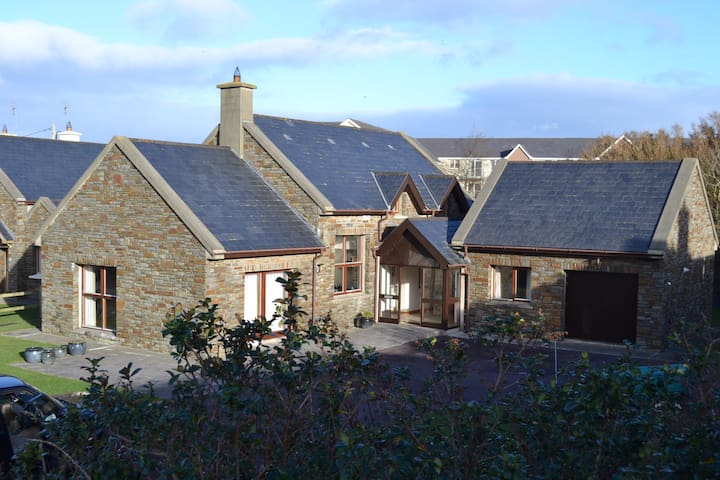 Für Alleinreisende und / oder solche mit einem begrenzten Budget, ich habe auch ein kleines privates Zimmer mit 2 Etagenbetten. Die Gäste haben Zugang zu den Rest meines Wohnraum (inkl große Küche und Wohnzimmer) .Baltimore ist ein großer Zwischenstopp für Route zu den Inseln.
Der Schlafraum ist klein, aber hell und warm, 2 Personen bequem dort schlafen.
Ich Baltimore Liebe aus vielen Gründen, es ist ein kleines Fischerdorf, es ist berühmt für von Piraten überfallen zu werden, ist es ein Amphitheater für Konzerte im Freien hat, und vor allem ist es eine fabelhafte Lage direkt am Meer, Sie werden es lieben!
Susan war eine wunderbare Gastgeberin, immer ein Laecheln auf den Lippen und sehr bemueht, mir einen angenehmen Aufenthalt zu bereiten. Ihr Haus ist sehr liebevoll eingerichtet und hell, man kann sich nur wohlfuehlen! In Baltimore, einem herzigen kleinen Dorf empfehle ich einen Spaziergang zum Beacon bei Sonnenuntergang, es ist wunderschoen! Ich habe meinen Aufenthalt sehr genossen und haette es nicht besser treffen koennen.
Katja
2015-05-27T00:00:00Z
Susan ist eine tolle Gastgeberin, die sich sehr um ihre Gäste bemüht! Das Zimmer ist schön eingerichtet und die Lage, fünf Gehminuten vom Hafen entfernt, lässt nichts zu Wünschen übrig.
Julia
2016-10-10T00:00:00Z
My stay in the house of Susan was very very great.. The room and the home are very nice and pleasant .. I really liked living with Susan.. The village and the nature around are very beautiful and peaceful, it was perfect for a lovely break .. Thank you so much
Elsa
2016-07-22T00:00:00Z
Susan is an excellent host and within minutes, it was like staying with a friend. She made me feel so welcome; her home was my home and what a lovely comfortable home it is. Big bright and airy with everything that cculd ever need. Baltimore itself is a beautiful little harbour town - you won't be disappointed with the town and she most certainly will not be disappointed with your stay at Susan's. Don't even hesitate - book it and have a wonderful stay. You simply couldn't do better! Thank you Susan.
Denise
2015-08-29T00:00:00Z
Perfect
Joseph
2016-08-01T00:00:00Z
Susan was a lovely, warm and welcoming Irish woman and very accommodating. I felt quite relaxed in her home. I had a very busy program with the O'Driscoll Clan gathering in Baltimore and when I needed down time she respected that. There was a nice big kitchen to cook in if you needed to, which I did on occasion. As I was on foot in Baltimore, when it rained hard one night she drove me to where I had to go way up the hill....I thought that was very kind.
Beth
2015-07-01T00:00:00Z
I had a fantastic time staying with Susan. Although it was a quick visit, she made me feel so at home! She knew the local area well and gave the best advice for places to eat. I wish I was there longer!
Samantha
2016-09-11T00:00:00Z
Susan is very kind and helpful, her house very cosy. Easy to feel at home abroad!
Prisca
2016-06-18T00:00:00Z
Art der Unterkunft
Privatzimmer
---
Objekttyp
Haus
---
Unterkunft für
1
---
Schlafzimmer
Baltimore, Cork, Irland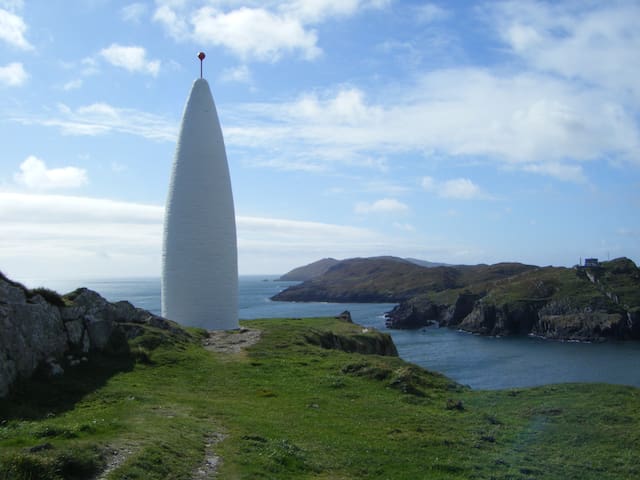 Die Puffin befindet sich in idealer Lage nahe den wichtigsten Sehenswürdigkeiten und Servicezentren. Sie sind buchstäblich 1 Minuten zu Fuß vom Dorfzentrum, Segelclub, O'Driscoll Clan Castle, Fähren zu den Inseln sowie viele Fischrestaurants, eine Pizzeria (La Jolie Brise) und viele traditionelle Irish Pubs. Besuchen Sie die Offshore-Inseln (Sherkin & Cape Clear), erkunden Sie die Carbery Hundert Inseln und Lough Hyne Nature Reserve & Woods entdecken. Die Puffin ist auch auf dem "Wild Atlantic Way 'entfernt.
Diese Eigenschaft ist über 2 Ebenen gestaltet. Erdgeschoss - Flur, Wohnzimmer, offene Küche \ Dining \ Conservatory, Hauswirtschaftsraum und Gäste-WC. Es gibt auch eine geschlossene private Terrasse an der Vorderseite des Anwesens, zugänglich von der Küche. First Floor - Familien Badezimmer - Master-Schlafzimmer mit Doppelbett en-Suite mit Balkon, 2. Doppelzimmer, Einzelzimmer.
Baltimore ist einer der einzigartigsten Orte der Welt. Von vielen geliebt. Home zu den für nichtig zu erklären Fiddle Messe
Risteard was a great host. The property is very spacious and located very close to the harbor. I can recommend his property to everyone visiting Baltimore or the surrounding.
Barnabas
2016-11-13T00:00:00Z
Great location, clean and well presented. I would agree with previous reviewer about extra costs. Listing them in the description is not ideal as they can be missed and then an unpleasant surprise after paying the required rental amount. €100 for cleaning was quoted in correspondence with the host months after booking was made despite €70 being the advertised cleaning rate - cheeky!! Also, €1.50 per litre of heating oil is approx twice the cost of bulk-buying oil from a supplier. We had the heating on for 4 hours a day (2 morning/2 evening..... it was mid-winter after all) costing €55 at the end of the week! Likewise, wanting to charge €15 per week for wifi? All leaves an unnecessarily sour taste.
ELIZABETH
2017-02-25T00:00:00Z
The Puffin is very close to the local pubs and shop and you can easily walk to the Beacon from here. We enjoyed our stay in Baltimore.
Megan
2016-11-15T00:00:00Z
Thank you very much for everything, Risteard. The apartment was perfect, Baltimore is beautiful, and you were so helpful as a host. Thank you again.
Anna
2016-09-26T00:00:00Z
Excellent good value accomodation with all amenities, in the wonderful village of Baltimore. A great base for whalewatching trips, a stroll to the Beacon, or a climb up Mount Knockoumah, overlooking Lough Hyne and the Atlantic.
Paul
2016-11-06T00:00:00Z
Spacious and comfortable house in beautiful Baltimore. Close to town and the amazing Beacon. Very much enjoyed staying here!
Nick
2016-10-15T00:00:00Z
Baltimore is beautiful and the puffin is perfectly located for the town, ferries to the islands and the beacon. Risteard was really helpful with accommodating our 8 month old baby and we highly recommend staying here.
Dan
2016-10-30T00:00:00Z
Great Airbnb right in the centre of Baltimore village and close to everything you'll need, easy to find and lots of space, host very prompt with responses to queries and check in/out seamless.
Jane
2017-01-02T00:00:00Z
Art der Unterkunft
Ganze Unterkunft
---
Objekttyp
Haus
---
Unterkunft für
5
---
Schlafzimmer
Baltimore, County Cork, Irland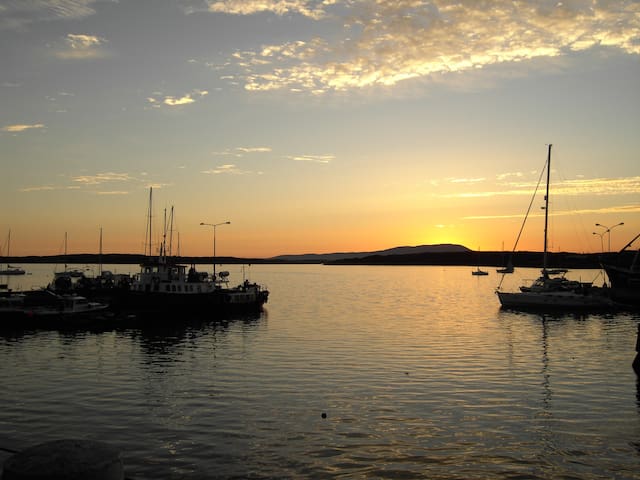 This is the perfect detached family holiday home boasting all the facilities and luxury expected in a modern and spacious architect designed property. There are two sides to the house with separate staircases making it ideal for sharing families.
Located in the world famous charming village of Baltimore, West Cork, Castlefield is the perfect detached family holiday home boasting all the facilities and luxury expected in a modern and spacious architect designed property. The well appointed five bedroom accommodation has two sides to the house with separate staircases making it ideal for sharing families. On one side of the house upstairs there is a super kingsize master bedroom with en suite and separate dressing room and a twin room with en suite and a twin room with en suite downstairs. On the other side there is a king size double room on the ground floor with adjacent family bathroom and a twin lofted bedroom upstairs accessed via its own staircase. The main part of the house is very spacious and comprises an open plan kitchen dining room (fully fitted with all mod cons and granite worktops) and a large living room with large wood burning stove, vaulted ceilings, comfy sofas and large flat screen freeview TV. Patio doors extend to a large terrace and enclosed west facing lawned garden with outdoor furniture. The house is wired for satellite TV however guests will have to bring their own Sky boxes to plug in. Bed linen and towels are provided.
Local Eateries: Baltimore is a colourful and friendly village, where you can sample the very best of West Cork's artisan food. Here you can find your perfect oasis to relax and explore the various eateries in the village. Bushe's Bar – Famous for their warm atmosphere and fresh crab sandwiches The Lookout - Stylish first floor restaurant with panoramic view of bay and islands. La Jolie Brise – French restaurant famous for their pizzas! Glebe Gardens - Award-winning cafe surrounded by the beautiful Glebe Gardens. Rolf's Country House Restaurant – Family-run fine dining restaurant The Algiers Inn – Cosy pub with live trad music and beer garden Island Cottage Restaurant - Acclaimed restaurant famous for their set menus of fresh ingredients on Heir Island The Sibin – Traditional, off-the-beaten-path pub with a lot of character in a traditional pub setting
Everything was as described. We had a great stay at Chris and Roses. Totally recommend for anyone looking for a comfortable house in Baltimore. Great value.
Maggie
2016-08-30T00:00:00Z
Great venue, great location. We enjoyed our stay.
Damien
2015-10-29T00:00:00Z
The hosts were very responsive and easy to get a hold of via email and by phone. Arrangements to get the key went smoothly. The house is huge, clean, and has everything you need for a luxurious stay. It is nice that the sitting area is well separated from the sleeping area so people can continue discussions while others can comfortably sleep. This a a great place to use as a base for your explorations of the area.
Frank
2016-09-08T00:00:00Z
Great house, a walk away from everything, cozy and comfy.
Chris
2017-01-16T00:00:00Z
Chris was a great host. He sweetly put up a Xmas tree before we arrived and helped out when a hamper, sent by a relative overseas, arrived earlier than we did. He also quickly responded to any questions I had. The house was fabulous and we had a great time there. I would definitely recommend staying here.
Sarah
2015-12-30T00:00:00Z
The house is fantastic. It is enormous and frankly really beautiful. The living spaces are gigantic. It was only 4 of us, but it would have been comfortable for 10 guests. Baltimore is lovely, and the pubs and restaurants on the waterfront are a 3 minute walk from the house. We were there only for 3 nights as this was a last minute booking. I wish we'd gone earlier and stayed longer.
Gianluca
2016-08-24T00:00:00Z
Chris was very helpful with his information and tips for the local area. House was very nice, comfortable stay.
Murshed
2016-09-27T00:00:00Z
Really enjoyed our stay at Chris & Rose's beautiful house in Baltimore. It is huge and as a family group of 8 adults there was more than enough space for us all to fit. We especially appreciated having 4 bathrooms between us. The house is really well equipped, especially for anyone planning on eating in. The huge lounge and kitchen table made it easy for us to spend time together eating, drinking, playing cards and chatting. The central location of the house meant that family members could come and go as they pleased. It really was the ideal property to celebrate a significant birthday together as a family plus significant others. We were met by Jim on our arrival and he was very friendly and helpful. Baltimore was looking lovely as ever in the sunshine and we were lucky that our visit coincided with the Baltimore Wooden Boat and Seafood festivals. We also enjoyed a fabulous afternoon with Baltimore Sea Safaris checking out basking sharks, Minke whales and best of all 3 humpback whales. Dinner at Mews restaurant topped off a great day. All in all a perfect weekend.
M
2016-05-30T00:00:00Z
Art der Unterkunft
Ganze Unterkunft
---
Objekttyp
Haus
---
Unterkunft für
10
---
Schlafzimmer
Baltimore, West Cork, Irland
This is Super Holiday home with sea views and situated in the heart of a small fishing village. The village is small and peaceful with a great Irish Pub Some local restaurants, a small shop and sailing Club. The Pier has a ferry service to the local Islands daily. The Village is 10 minutes from Skibbereen a large town with plenty of shops and restaurants to offer.
Art der Unterkunft
Ganze Unterkunft
---
Objekttyp
Haus
---
Unterkunft für
12
---
Schlafzimmer
Baltimore, County Cork, Irland
Stylish duplex apartment with own front door and entrance hallway . Lovely sea views . Spread over two floors this a a spacious bright and airy home. Comfortable lounge area with large dining table and leather chairs. Leather sofas surround a 32inch TV.
Baltimore is a small but busy & lively port and is a renowned Sailing & Water sports centre on the West Cork Coastline, facing Baltimore Harbour and Carbery's Hundred Isles. Regular ferries operate from the Harbour to the offshore Islands of Cape Clear, Hare, & Sherkin. Deep Sea Fishing, Bird watching, Whale watching, Sightseeing, Sailing and Diving Trips can all be arranged in the Harbour. Baltimore is a very ancient settlement. The home of the Irish O'Driscoll clan, one of the most important Gaelic clans in Ireland. The O'Driscoll clan's Castle is being restored and still stands proudly in the centre of the village to-day. Traditional pubs and Restaurants are plenty. Gym and Leisure Centre facilities within walking distance.
The apartment was spacious and bright and well located, just a short stroll to the cafes, restaurants and bars of Baltimore. There's lots of things to do in the area on sea or on land with breathtaking scenery all around. We recommend the Sea Safari - even saw a whale and many dolphins and seals. We had a great stay here.
Ciaran
2016-08-27T00:00:00Z
We had a lovely few days in Baltimore. Regina was very attentive to our needs both before and during the visit. When we asked for extra child related additions for our 14 month old, she obliged without question. The house is far bigger than the photos represent and was more than adequate for our needs. The location is two minutes walk from the main square in Baltimore so we only needed a short jaunt home after a pint in the sunshine. Thankfully the weather added to the time we spent there, but for the sunny few days, the property was absolutely perfect as a base.
Donal
2016-08-12T00:00:00Z
Regina had left perfect instructions and also some food for breakfast the following morning and some frozen pizzas in the freezer for us. The house is spotlessly clean and very well decorated and stocked with everything we could need to make our stay enjoyable. Location is ideal - short walking distance to pubs, restaurants, ferry to sherkin or cape clear. Would highly recommend this place. Some of our party had to leave early for personal reasons but Regina was understanding and very helpful.
Liam
2016-08-07T00:00:00Z
Art der Unterkunft
Ganze Unterkunft
---
Objekttyp
Haus
---
Unterkunft für
8
---
Schlafzimmer
Baltimore, Cork, Irland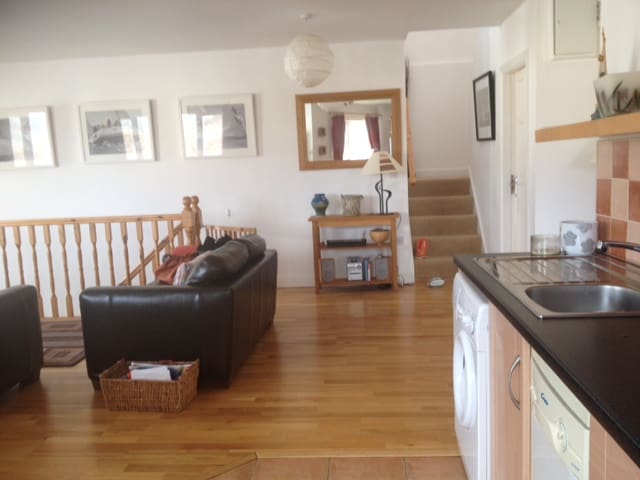 Modern 3 bed house in busy holiday village of Baltimore.(Nb) Now with Broadband 30MB speed, Sky tv,sports, with,2 min's walk to village,swimming pool,Pubs (URL HIDDEN) excellent center for an activity holiday in West cork.golf,sailing,fishing whale watching and island hopping(ferry 3 min's walk)
We had a lovely time staying here, the house was beautiful and very comfortable
Jackie
2016-06-26T00:00:00Z
The host canceled this reservation 130 days before arrival. This is an automated posting.
Jack
2017-03-14T00:00:00Z
Great, spacious house in great location. Sean was easily contactable and a pleasure to deal with.
Brendan
2016-08-20T00:00:00Z
Art der Unterkunft
Ganze Unterkunft
---
Objekttyp
Haus
---
Unterkunft für
6
---
Schlafzimmer
Baltimore, Cork, Irland
Lovely stone clad four bedroom detached residence in a great location between the Cove and Tranadroum beach with a picture view across the bay to Sherkin Island.
The house has a beautiful view to the harbour entrance and Sherkin Island which is less than a mile from Baltimore. A 5 minute walk to Baltimore village and 10 minutes up to the Beacon with amazing views out to sea and over the many islands of Roaring Water Bay.
Baltimore is a beautiful village with stunning views over the harbour. There are ferries which go to both Sherkin Island and Cape Clear Island, both of which are well worth a visit. There are also angling trips and whale watching trips available. There is a sailing school too, but you need to book in advance. And lovely walks too.
Art der Unterkunft
Ganze Unterkunft
---
Objekttyp
Haus
---
Unterkunft für
8
---
Schlafzimmer
The Cove, Cork, Irland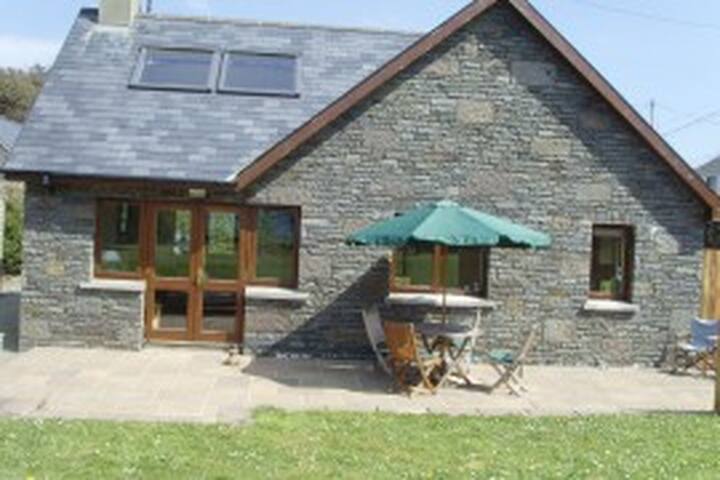 Das Haus ist mit Blick auf horsebay auf Sherkin Insel bauen wieder im Jahr 1932. Es war das Familienhaus der O 'Dunovan Sherkin. Ein Nachkomme Sean Mc Carthy der jetzige Besitzer hat das Haus für den letzten 23 Jahren lassen. Mietbasis Samstag bis Samstag.
Das Haus des Satzes mit Blick auf hufeisenförmigen Bucht auf Sherkin Island, die etwa fünf Minuten mit der Fähre von Baltimore in West Cork Irland. Wir bieten vor allem für Familien auf einer wöchentlichen Basis von Samstag bis Samstag. Wir erlauben streng nicht das Rauchen innerhalb des Hauses. Hunde sind willkommen, sofern sie voll ausgebildete Haus sind, dabei aber die Möbel und Sie alle Haare Vakuum vor der Abreise. Wir bieten nicht für Junggesellenabschiede Junggesellinnenabschiede sind. Wir wünschen unseren Gästen einen erholsamen ruhigen Urlaub haben weg von all der Hektik des täglichen Lebens. Mit freundlichen Grüßen Sean.
sehr privat, grüne Felder, wilden Busch und Meer Fassade.
Sean could not have provided a more warm welcome if the world had depended on it. His house is not only in a spectacular location but also is a wonderful home in which to spend a week or so. We could not recommend this home, fabulous place and fabulous host any more and we will certainly be back.
Toby
2017-01-03T00:00:00Z
Lovely house in a lovely part of the world. Sherkin is a great place to visit with lovely beaches and hill walks. The house is very comfortable, quiet and has a great view of the headlands and horseshoe bay. The house is well prepared and the hosts have tried to provide everything you might need and were very helpful and welcoming. Recommended.
Beren
2016-05-31T00:00:00Z
We have just spent 3 days in the best house on Sherkin Island. From the minute we (4 couples) set foot in the house we knew it was something special. The views from all widows, but particularly from the dining / conservatory of Horseshow Bay are spectacular. The facilities in the house were excellent. You will want for nothing in terms of cooking, sleeping and bathroom facilities. The big open fire was a real bonus. Although we did not meet Sean the owner, he was most helpful and always available by phone to answer any queries. The house is only a short walk around the bay to the pub and hotel. Will definitely be returning to this most wonderful house. Would love to see the landscaped gardens in the summer.
Shay
2015-10-27T00:00:00Z
Sean is a fantastic organized and very friendly host. The house is superbe and full of West Cork character. The location is idylic, Horseshoe harbor is spectacular and Sherkin is brim full of personality. Great for families, all the amenities were spot on including WiFi which is amazing for an island retreat. I reccomend getting an island taxi if you have lots of bags, its cheap efficient and friendly! We will be back.
Paraic
2016-07-02T00:00:00Z
Art der Unterkunft
Ganze Unterkunft
---
Objekttyp
Haus
---
Unterkunft für
8
---
Schlafzimmer
Sherkin Island, Cork, Irland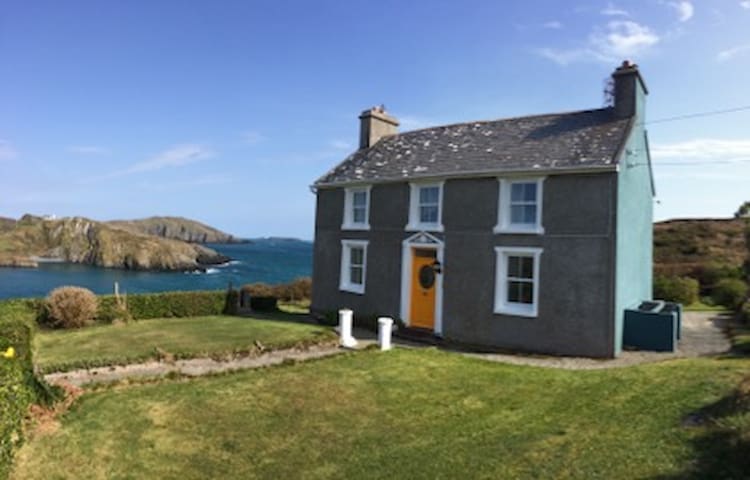 Eine schöne freistehende Ferienhaus auf einem eigens errichteten Ferienanlage, im Dorf von Baltimore mit Blick auf Kirche Strand Bay und die Landschaft. Es verfügt über einen offenen Wohnbereich, in dem Sie durch den Holzofen entspannen und den Blick aufs Meer genießen
Ein schönes Ferienhaus am Meer auf Komplex von über 28 gemeinsamen Morgen mit Ferienhäusern, noch 3 Minuten in das Dorf Baltimore und all seinen Annehmlichkeiten gehen. Weitere Bilder auf (URL HIDDEN) werden können Wir vermieten nicht nur für ein oder zwei Nächte 3 Nacht oder wöchentlich Buchungen gesehen. Vielen Dank
Ein schönes kleines Dorf Baltimore in West Cork hat einen besonderen Charme und der Fähre den Zugang zu zwei schöne Inseln, Kap klar und Sherkin.There gibt viele schöne Kneipen und Fischrestaurants, traditionelle irische Musik und Spaß, Schöne Spaziergänge, Walbeobachtung oder Tauchen.
Art der Unterkunft
Ganze Unterkunft
---
Objekttyp
Haus
---
Unterkunft für
7
---
Schlafzimmer
Baltimore, Cork, Irland
Unser Haus am Meer hat alles - Platz, Komfort und Ruhe in einer schönen Umgebung. Eine entspannte Atmosphäre eine Meile von den hellen Lichtern von Pubs und Pier. Kinder werden den Kieselstrand lieben in der Nähe und die hitch, wandern oder mit dem Fahrrad zu den fab sandige.
Unser Haus liegt in einer schönen, ruhigen Lage mit herrlicher Aussicht.
Das Tempo, die Ruhe und gute Nachbarn! Und das schöne Meer.
Deirdre's house is an excellent place to stay, with everything you need to feel home away from home. The kids loved playing with the toys and the great DVDs. We all fell in love with Sherkin and had a fantastic time exploring the island. The views from the house are stunning and always changing.
Liam
2016-07-22T00:00:00Z
We had a lovely stay in Deirdre's cottage, it's really comfortable, clean, bright and has everything you need:). (There was even a house manual provided to explain how everything works and a little guide to the island, ferry times etc which was really helpful). The cottage itself is beautifully decorated with seas shells and lovely pieces of art! It's also spacious, with stunning views of the nearby islands. The check-in/out was nice and easy, the neighbours friendly and Deirdre was always on hand to answer any questions or queries we had. The walk to the pubs and to the ferry was also lovely, It's the perfect place to relax! We will definitely be back again, thanks Deirdre:)!
Stephanie
2015-07-03T00:00:00Z
Art der Unterkunft
Ganze Unterkunft
---
Objekttyp
Haus
---
Unterkunft für
10
---
Schlafzimmer
Sherkin Island, Cork, Irland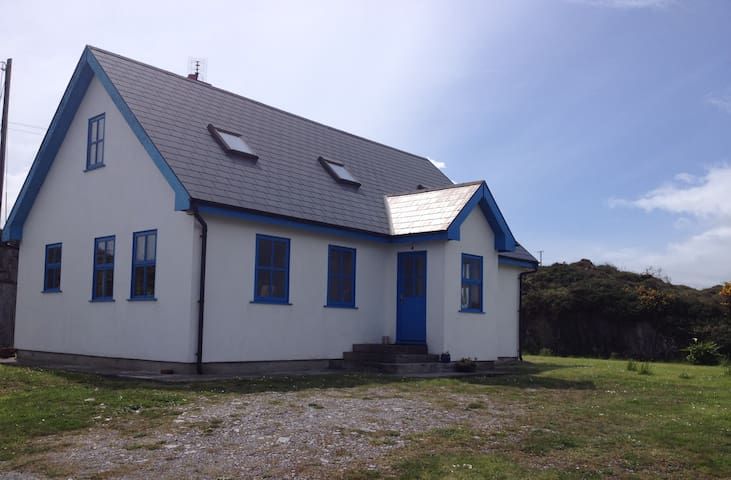 Ein geräumiges Ferienhaus mit Meerblick auf dem wilden Atlantik Weg. Das Hotel liegt zwischen zwei Biobetriebe in Kirche Kreuz diese sehr komfortable Ferienhaus befindet sich auf vier Morgen mit großem Parkplatz. Es verfügt über alle modernen Annehmlichkeiten behält noch eine künstlerische rustikalen Stil.
Das blaue Tor, Ardagh, Kirche Kreuz, West Cork, County Cork In der magischen Landschaft von West Cork in der Stadt Land der Kirche Kreuz, das Blue Gate Cottage schmiegt sich harmonisch in eine meist ökologischen Landbau Gemeinschaft. (Madeline McKeever von braunen Umschlag Seeds ist ein enger Nachbar) aber noch das Häuschen steht auch das Meer und hat einen atemberaubenden Blick in Richtung Ringaroga Island, Baltimore Bay und Sherkin Island. Eine szenische 1 Meile (1,6 km) zu Fuß durch hügelige Landschaft führt Sie zu Turk Kopf Pier als cusheen (kleine Pier) bekannt, wo die einheimischen Fischer, die reichen Fischgründe Zugang um einige von West 100 Inseln Cork. 1 Meile in die andere Richtung aus dem Haus sind Sie in der Minihan Kneipe bringen und wie die cusheen, ist es eine kleine Kneipe, die einen mächtigen Schlag packt, wo in bestimmten Nächten Sie ein paar Stunden, um die traditionelle Musik und Gesang zu hören, während weg kann. An einem Abend im Sommer ist es eine gute Empfehlung hier vor dem Abendessen zu starten Getränke-es hat eine der besten Aussicht von der Biergarten von Kilcoe Burg (gehört zur Schauspieler Jeremy Irons), dann zu Cunnamore Pier für die 08 Uhr Fähre fahren zu Heir Insel John Desmond und Ellmarie Fentons Island Cottage Restaurant. Dieses einzigartige Restaurant ist geöffnet Mitte Juni bis Mitte September und sehr ratsam, im Voraus zu buchen, um Enttäuschungen zu vermeiden. Zum Zeitpunkt des Schreibens dieses, hat Island Cottage Restaurant gerade verlängerten Öffnungszeiten für Samstag und Sonntag spätes Mittagessen im April, Mai und Juni bekannt gegeben. Ein weiteres Restaurant, das für die Sommersaison geöffnet wird, ist die Custom House geführt von Ian Parr und Sue Holland, die aus Frankreich zurückkehren. Es ist auch sehr zu empfehlen. West Cork hat eine Fülle von handwerklichen Lebensmittelproduzenten, Künstler und Kunsthandwerker alle leicht zu erreichen von The Cottage Blue Gate. Am Ende eines Ereignisses reichen Tag bietet das Haus einen komfortablen Aufenthalt mit allen modernen Annehmlichkeiten für einen wirklich angenehmen Aufenthalt zu machen.
Irland ist auch im Winter sehr schön. Das Haus war überaus komfortabel und geräumig. Die Lage ist sehr schön und abgelegen. Nach Cork fährt man ca. 1 Stunde mit dem Auto. Würde ich jederzeit wieder buchen!
Gerhard
2015-12-31T00:00:00Z
Liebe Angie und David! Vielen Dank für die wunderbare Zeit in Eurem Haus. Es war die schönste Unterkunft, die wir in Irland hatten. Wirklich bezaubernd. Das Haus liegt einfach super. Sehr ruhig mit herrlichem Blick zum Meer. Alles ist so liebevoll eigerichtet mit viel Phantasie und schönen Ideen. Wir haben uns wie zuhause gefühlt. Herzliche Grüße von Sven + Famili(URL HIDDEN)
Sven
2015-08-01T00:00:00Z
This was a perfect location and experience for our family staying in West Cork. It was also a great base to explore the region from. The house is big, beautiful and very bright. David and Angie were very welcoming and there was even a little "pirate treasure" left for our four year old son to find. It was a lovely time and we were all extremely happy. Thumbs up from me!
Rob
2016-08-21T00:00:00Z
We had a thoroughly enjoyable time in beautiful west Cork. The house is bright and spacious. The kitchen/ dining area featured a full length window with wonderful views of the coast while the living room with log burner is cosy and tranquil. The area is remote and beautiful but within easy driving distance of Skiberreen, Ballydehob and Schull. My American guests ventured as far as Kinsale and Kenmare for the shops while my dog and I preferred to stay local and enjoy the garden, local walks and views especially around Cunnamore. The kitchen is well stocked and has everything you need to cook and feed and fed a gang! The fabulous night sky and wonderful sun rises were the icing on the cake.
Kate
2016-10-08T00:00:00Z
A lovely place in a fantastic area of West Cork.. David and Angie were wonderful hosts, leaving us local bread, cheese and chocolate on our arrival, and giving plenty of recommendations of places to check out nearby. We stayed with our 2 year-old daughter, and the place was perfect for her - cot provided, and she loved strolling out to see the nearby donkeys and cows every evening. Would highly recommend this for anyone looking for a family-friendly place in beautiful surroundings anywhere in the vicinity of Skibbereen/Schull/Baltimore.
Owen
2014-09-05T00:00:00Z
Everything about our stay was delightful. The house is spacious and interesting with beautiful artwork everywhere and very peaceful... perfect for a real away from it all holiday. Local people were so friendly (make time to go to Minihan's pub about a mile away). Angie left suggestions of where to go which were all excellent. Bantry Garinish Island and the Mizen Peninsula were highlights for us especially Barleycove beach and Crookhaven. Many thanks for a wonderful holiday!
Sarah
2016-09-18T00:00:00Z
Angie and David's cottage in West Cork is as big as a palace. It was the perfect size for the extended family and all generations. The light, the scenery, the four bathrooms and the magnificent views made everyone happy. Angie and David told us everything about the area, from where to catch the best pub session music to where to recycle, as well as the best places to buy locally produced food. When not looking at the sea views it was a pleasure to behold the art on nearly every wall - and David makes great chocolate! Thanks.
Joanna
2014-08-03T00:00:00Z
A great week's stay. Watching the weather change either from the dining table or lying in the master bed was fabulous. Angie and David were great hosts and we used many of their suggestions for food/visits which added to our trip.
Sarah
2016-09-04T00:00:00Z
Art der Unterkunft
Ganze Unterkunft
---
Objekttyp
Haus
---
Unterkunft für
7
---
Schlafzimmer
West Cork, Cork, Irland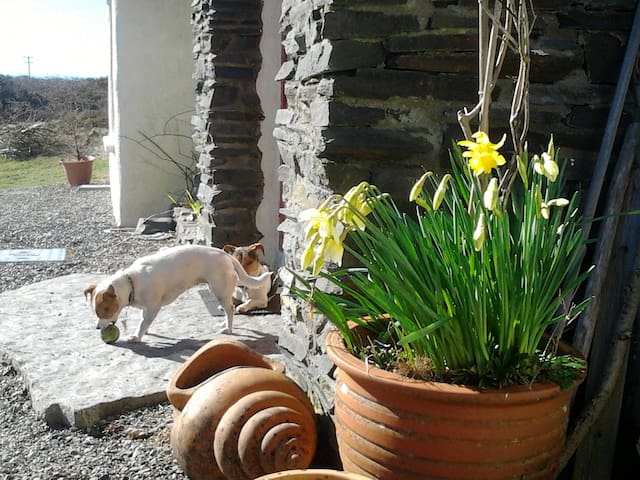 Baltimore - Airbnb
:
Durchschnittlich

4.87

von

5

Sternen aus

474

Gäste-Bewertungen
1

–

18

von

33 Ferienhausvermietungen
Gib deine Reisedaten ein, um den aktuellen Preis zu sehen. Es können zusätzliche Gebühren und Steuern anfallen.