Gib deine Reisedaten ein, um den aktuellen Preis zu sehen. Es können zusätzliche Gebühren und Steuern anfallen.
The perfect place for the family holiday.
This charming timber house is in a quite, very childfriendly on the island Averøy, north west of Norway. In Averøy you find nice bathing areas, hiking tracks, nice cycling areas. The house has one big porch in the front where you can enjoy the daysun, and one portch at the back so you can enjoy the evening sun. In the garden you can hang up the hammock, to enjoy the silence and calm down. The garden is great for soccer, kubb, frisbie. The house is equiped with lots of garden activities for both kids and grown ups. We will be in the area if you have qestions. Almost every week we are on small hiking trips, both family friendly and not. Give me a hint if you want to join.
The atlantic road is 15 min away by car, where you can find Bjartmars favorittkro. Here you can find fantastic local sea food. 3 km from the house you find the downtown of Averøy, where most (few) of all shops in Averøy is located. The most easy way to get around in Averøy is by car. There are alot of activities you and the family can participate in. Climbing, hiking, kayaking, fishing, boatrental, and more.
We had a great stay at Frode's place! Frode was a magnificent host, extremely kind and the communication was great. The house was very clean, large, very well located and quiet. We recommend Frode's home without any doubt! Thanks again for the wonderful hospitality.
ludovica
July 2016
it's a great location with deers, water, green and very quiet place. the house is fantastic and frode is a great host. very friendly and helpful :o) we had a wonderful time and it's definitly the right place for relaxing days. there are shops about ten minutes by car. thank you for everything
Beatrice
July 2016
Frode's place is ideal for big families. Despite the summertime, we enjoyed the fire place. You can do plenty of outdoor stuff from the Averoya island, exploring islands and guiding lights. And we had great food at Bjartmars Favorittkro.
benoit
August 2016
Art des Zimmers
Ganze Unterkunft
---
Objekttyp
---
Unterkunft für
6
---
Schlafzimmer
3
Bruhagen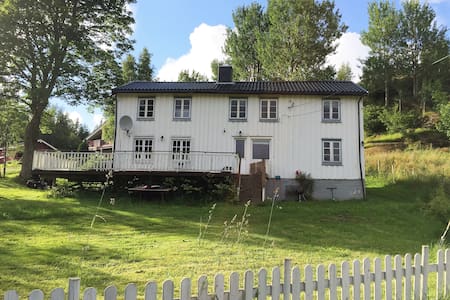 Idyllically placed in Averøy lies Sjøgarden. Here you can experience summer all year round. No, the weather is not better here, but with our indoor swimming pool you'll soon be able to forget if the rain is pouring outside.
Idyllically placed in Averøy lies Sjøgarden. Here you can experience summer all year round. No, the weather is not better here, but it sure can seem that way! In our wellness house you'll find a heated indoor swimming pool, sauna, and a glass-walled front section built over the water for a panoramic view, all set up for you to relax in the best possible way. Accomodation takes place in the modern, but nostalgic houses that are next door to the pool. Whether your're looking for a great place for a family trip, business meeting, celebration, weekend getaway or honeymoon – this is it! At Sjøgarden you can have a relaxing stay in one of our houses that each has a fully equipped kitchen, two bathrooms, four bedrooms and a living room with satellite TV.On the opposite side of the wharf you'll find the already mentioned wellness house with a heated counter current pool (32 to 34 degree centigrade), sauna and relaxation room where you can enjoy summer all year round. The wellness house has separate changing rooms with facilities. It's up to you whether you want to relax in the pool and use the built in massage jet, or if you'd rather have a work out that doesn't hurt your body. Our own house is just a few hundred meters from Sjøgarden, so we will always be available for our guests. We like to interact with our guests, and can arrange short trips or invite you to try Norwegian waffles. If you prefer to be on your own we of course give you privacy.
Picturesque nature surroundings by the sea. A rich selection of wild animals both at shore and in the sea. We provide free parking for our guests. Public transportation is scarce, so we recommend having a car at hand. We are located a 30 minutes drive from Kristiansund airport, and a 60 minutes drive from Molde airport.
This mini-hotel is beautifully located right on the shore, in a rather remote and secluded area of the island. Although 4 years old, the house looks and feels brand new, extremely well constructed and equipped, with all expected amenities. Really high class! The host was nice and charming, provided food products for our breakfast, and took us for a tour around his property. As we had to continue our pre-planned trip across Norway, we spent here only one night, although we would have loved to stay for a week... Maybe next time... One important thing - it is not easy to find the place, as there are no real address or signs, and the directions Johabbes provided were clearly insufficient. So take this into consideration and make sure you get specific driving directions, a map, GPS coordinates, so you don't get lost...
Uriel
July 2015
Mr. Johannes was a great host, and has very beautiful property. The place we stayed at was a secluded wooden house with beautiful views of the lake and sunsets. It was clean and tidy, with lots of memories of people who stayed there before. The fridge was stocked with all sorts of food for us and the kitchen was well equipped. He waited for us for check-in as we arrived at 1.30am and kept giving us directions as we drove to the place from the city of Bergen. There was a bit of confusion about the booking, so he offered to make it up with a beautiful authentic Norwegian breakfast and chatted with us as we had breakfast together. We used the nice indoor pool and he offered to let us take one of the boats for a ride. If you are looking for a place away from it all, away from any noise, a peaceful place, then this is your place. Hope to visit again in the future.
Hussein
August 2015
Johannes is such a nice man. The house is amazing with unforgettable view. We had a very good time here. And all of us wanted to stay longer. Kids are happy with the swimming pool. And rooms are very comfortable. All facilities are very moden and in very good hand.
Tai
August 2015
What strikes you the most when you arrive @ Sjogarden is the extremely beautiful sceneries views from all main rooms of the house and the peacefulness of the place. The houses are charming, very well equipped, very clean, modern and the swimming pool is very agreeable with astonished views too. We were a family of 5 persons with grandma, teenager and child (8 y.o.).But the best souvenirs we will keep after 5 days spent in Averoy will be linked to the high kindness and availability of the owner Johannes who is extremely nice and makes you really feel like friends ( aaaah !...His homemade Norwegian waffles are so good, and the boat trip was so highly appreciated...) which is the most precious experience when you travel. Thank you very much again Johannes :)
Sarah
August 2016
Absolutely beautiful accommodations. Johannesburg provided us with groceries for breakfast and took us on a boat ride in the morning. He shared historical details about the property that made the stay even more memorable.
Dylan
September 2015
Art des Zimmers
Ganze Unterkunft
---
Objekttyp
---
Unterkunft für
8
---
Schlafzimmer
4
Averøy