39 Ferienhausvermietungen
Sealife, fishing, Norvegian natur, guidede trips and relaxed place. Here you got it all, just 25 min drive outside Bergen city
Ein gemütliches kleines Haus 5 m vom Meer entfernt. Famely freundlich. Es gibt zwei verschiedene Zimmer zu vermieten.
Nice and quiet. Sea, fjords, country-side and nature around. Hetlevik is a local place on Askøy, 25 min drive from Bergen centrum. The are a kinder garden and school 5 min walk from house, where children can play, parking by house, small shell beach 10 min walk and 10 min to a amazing forrest trip.
It was a very nice first time Airbnb experience for our family. A warm welcoming, hospitable, caring, and very helpful host. Their home was a beautiful home with nice sea view. We were very happy with our stay. Birgit, thank you for having us.
Balaji
2017-01-29T00:00:00Z
The host canceled this reservation the day before arrival. This is an automated posting.
Kristian
2017-03-27T00:00:00Z
Had a wonderful and pleasant stay. House was super tidy and cosy and the host was very nice to us.
Edmund
2017-04-02T00:00:00Z
Our stay here was amazing. The house was everything mentioned and more. The location was really pretty and scenic. I couldn't stop clicking pictures of evrything around. And for the price this place was double as worth. (our cheapest stay in the entire Norway trip) Birgit was a great host, probably my most favorite in this long trip. She understood and was really kind when we reached much later than our check in time. She even went out of her way to help me with my personal request. I had a great time talking to her and after which I realised she was not only a great host but also an amazing person. I would definitely stay here whenever I go back to Bergen and obviously recommend it to everyone.
Mohit
2017-02-06T00:00:00Z
Art der Unterkunft
Privatzimmer
---
Objekttyp
Haus
---
Unterkunft für
6
---
Schlafzimmer
Askøy, Hordaland, Norwegen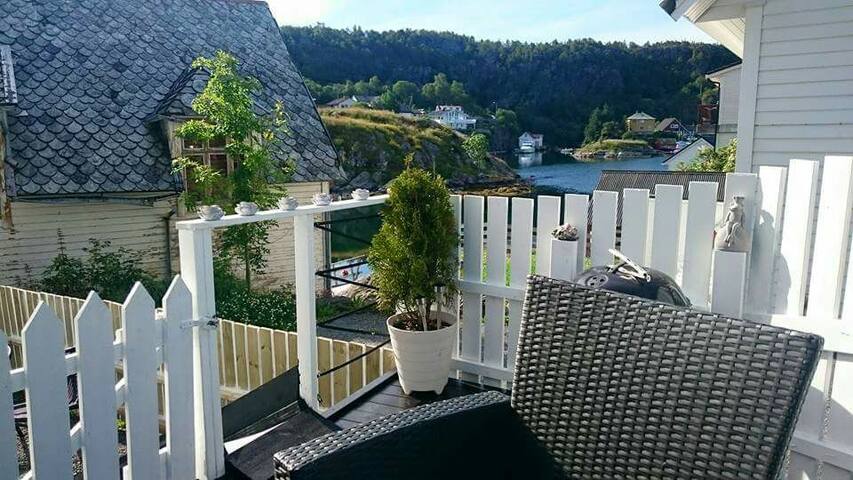 Enebolig bygget i 2003 med panoramautsikt over innseilingen til Bergen og nærhet til sjøen. Gode solforhold med sol fra tidlig morgen til sen kveld på terrasser rundt hele huset, og stor balkong i 2. etasje. Garasje + parkering for to biler til. Ca. 12 min. kjøring til Bergen sentrum, og 10 min. til Sotra med sin flotte skjærgård med utallige fiskemuligheter og flere badeplasser. Flott turterreng i umiddelbar nærhet bl.a i form av Lyderhorn, som er et av Bergens syv fjell. Kort vei til butikker.
Det er kun 1 km til stor dagligvarebutikk og 4 km til kjøpesenter med badeland og restauranter.
Jan Morten war flexibel, was unsere Ankunftszeit anging und hat uns sehr freundlich empfangen. Das Haus ist wunderschön eingerichtet und super ausgestattet. Es ist alles da, was man braucht. Wunderschön, ist die Lage: etwas außerhalb von Bergen, mit einem tollen Blick auf den Fjord. Die Kreuzfahrtschiffe fahren direkt am Haus vorbei. Sensationell! Herzlichen Dank!
Beate
2016-08-09T00:00:00Z
A házigazda nagyon kedves, segítőkész volt. A ház nagyon jó helyen van, gyönyörű kilátással. Maga a ház izlésesen berendezett, tiszta, az ember kényelmesen tudja magát érezni benne.
Rozsnyai
2016-08-27T00:00:00Z
Great house, very confortable and luxury. The views are amazing. Jan-Morten was on holidays so we didn t meet but he was very helpful and kind writting us to make sure everything was ok. I will definately recommend this house
Danae
2016-07-06T00:00:00Z
We really enjoyed the stay. Jan-Morten has a wonderful house. Great terrace with a nice view. Well equipped kitchen. Cozy living room. Nice bedrooms. Better with a car. Definitely recommend.
Anton
2016-07-25T00:00:00Z
Lovely house with lovely view. The host is rly cool and we really enjoyed the stay.
Yuanqi
2016-06-11T00:00:00Z
The whole experience was 10+...very clean house not so far from the town centre max 5 km. The host was there waiting for us with the key...the house is old school type and you can feel someone put a lot of time arranging it. We will come back for sure :-)
Aleksandar
2016-08-22T00:00:00Z
The host canceled this reservation 23 days before arrival. This is an automated posting.
Peiyi
2016-06-03T00:00:00Z
We were warmly greeted by Jan personally, and his house was just as described. We were fortunate to arrive on a sunny day to appreciate the beautiful view, and when it rained the following day and we weren't as inclined to venture outside, we were especially glad to be staying in such a lovely home. Jan was great about communication, and his house is warm, comfortable, and inviting.
Barbara
2016-08-14T00:00:00Z
Art der Unterkunft
Ganze Unterkunft
---
Objekttyp
Haus
---
Unterkunft für
6
---
Schlafzimmer
Bergen, Hordaland, Norwegen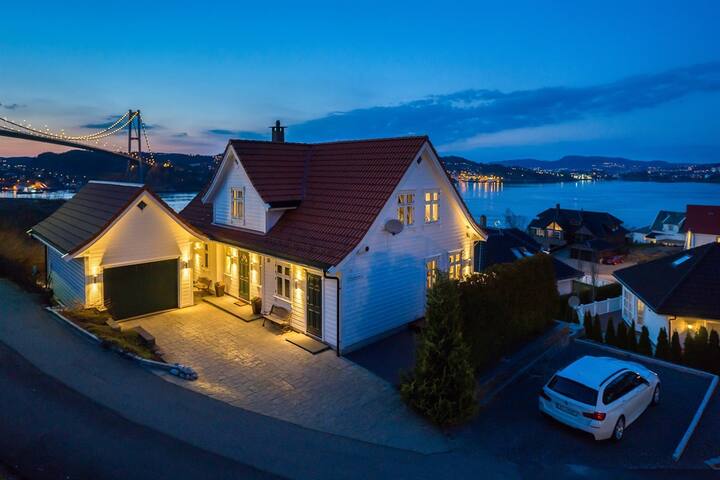 Come and experience our beautiful panoramic ocean view! Our lovely large and cosy house is located close to Bergen and Knarvik. We also have an award-winning golf course only 5 minutes from the house.We offer a large space, comfortable beds, a cosy living room with a fireplace, TV and other amenities. We also offer a calm and serene environment where you can relax after a hectic but exciting day in Bergen City.
Beautiful panorama view.
We loved the quiet setting and beautiful views of the house. It was very comfortable with lots of space and a great kitchen for cooking. We enjoyed taking walks and pretty drives around the area and spending time with family. We wish it was closer to Bergen, but for the price range this was fantastic.
Kyla
2017-03-24T00:00:00Z
A beautiful villa with an amazing view! The house was spacious and had all the necessary appliances. We never met the hosts in person, but they were polite and easy to communicate with on Airbnb messenger and SMS.
Benedicte
2017-02-05T00:00:00Z
Very modern and well equipped place to stay in a bit private area. Excellent place for a get-away weekend with friends&family. Very good value for money, you cannot find a hotel with a similar level of comfort AND privacy (you get a modern and cozy house for yourself). Kitchen is nice, but lacked a bit on the "extra" comfort items (like more then 5 wine glasses and extra ladle).
Dalibor
2016-12-11T00:00:00Z
Very beautiful home overlooking the lake, modern house with well equipped kitchen. Spacious plenty of rooms to sleep. Cozy and comfortable
Arjun
2016-11-23T00:00:00Z
We totally enjoyed our stay. For us the location was fantastic, the home was beautiful, the views were excellent. It was a very relaxing stay and we enjoyed it very much. Kristin is a great communicator and we were not lacking in anything. Thank you very much.
Jim
2017-01-02T00:00:00Z
After a couple of days in Norway and staying at different locations arriving at this beautiful and peaceful place was the top of our nights. We had plans to sleep just a couple of hours and continue our route, but the house is so cozy, the view is so beautiful that we to took the time to appreciate it.the owner is very kind, the house is easy to find and it's great for big families and group of friends. It was more than we were asking for. Absolutely five stars!
Erica
2017-03-31T00:00:00Z
We are a group of 4 people. We arrived at night and there was no problem checking in around 10pm, although it took us a while to find the house but it wasn't a problem. The house is wide, spacious and beautiful. There are many rooms and bedrooms for guests. The living room is spacious and cozy, Netflix and Apple TV are provided, it makes us spent our time in the house well. It was really a relaxing stay. The panoramic view of the lake is beautiful and chilling. There are minor things that could be better, the cleanliness. There is dust and cats' hair ( we aren't sure) in the house, on the sofa, towels, kitchen etc. We tried to clean it and was ok. The kitchen is nice and fully equipped, we could cook the food perfectly, but the oven and stoves were kinda dirty with dry food but we cleaned it before use, so not a problem. Overall, we wish we could stay longer. The trip ends too soon, I hope we get a chance to visit you again in Frekhaug. Thankyou for everything Kristin. ;)
Fay Paveena
2016-10-28T00:00:00Z
Our stay at Villa Holme We was a group of 7 people, both from Korea and Norway. We arrived in the afternoon by car, was quite easy to find the house by GPS, however, would expect to be little more challenging without GPS. Check in was very easy and all found themselves in great mood by the panorama view that meets you once in the living room.  The house is very modern and spacious. We faces some minor problems, however these was taken care of by the hosted Kristin and Per Børge in a very positive way, they were very helpful throughout our stay.   It is a good home to have as base when visiting Bergen, as it has good public transportation, and it is in a very relaxing area, so you feel fresh after a long day in Bergen. Overall, we are very pleased and happy by our stay at Villa Holme, and would love to come back in the future. Many thanks for a great stay in your house and you made us feel very welcome Kristin and Per Børge. J If you shall stay longer than 2 days in Bergen, we very much recommend Villa Holme, as it is a beautiful place and has very relaxing surrounding.
정은
2016-11-08T00:00:00Z
Art der Unterkunft
Ganze Unterkunft
---
Objekttyp
Haus
---
Unterkunft für
9
---
Schlafzimmer
Holme, Hordaland, Norwegen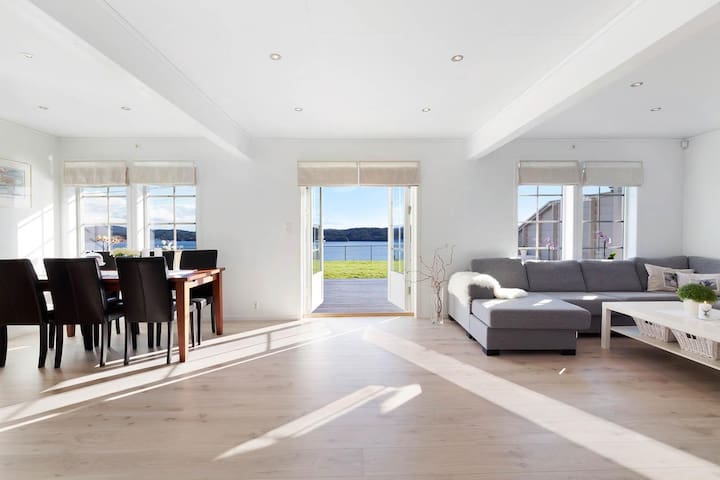 Komplett hus med kjøkken, utstyr, 3 soverom, stor terrasse, nærhet til bergen med hurtigbåt og buss.
Nærheten til sykkel trasee og eventer.
Art der Unterkunft
Ganze Unterkunft
---
Objekttyp
Haus
---
Unterkunft für
6
---
Schlafzimmer
Strusshamn, Hordaland, Norwegen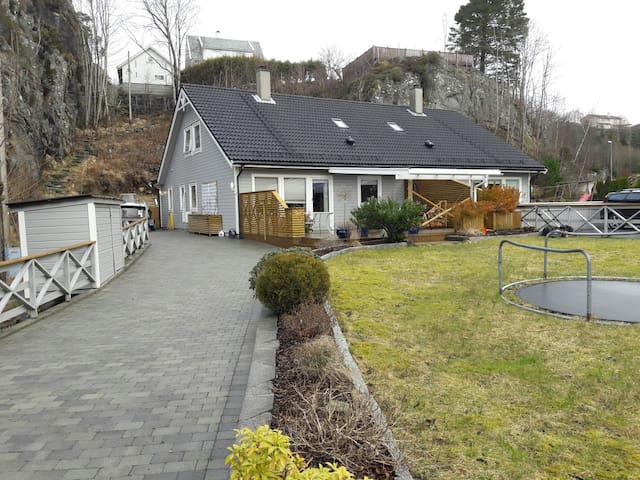 The house is for rent during the UCI 2017 Road World Championships only. The place is located 1km from the start position of the Team Time Trial at Ravnanger/Askøy. Private outdoor area facing the south. Heated pool (+27 deg C) with retractable roof sections. Gas powered barbeque grill available Quiet neighbourhood with similar type of villas in the surroundings. Fixed beds for 10 persons, but there are spaces available for 6+ extra inflatable luxury mattresses if desired.
Art der Unterkunft
Ganze Unterkunft
---
Objekttyp
Haus
---
Unterkunft für
12
---
Schlafzimmer
Askøy, Hordaland, Norwegen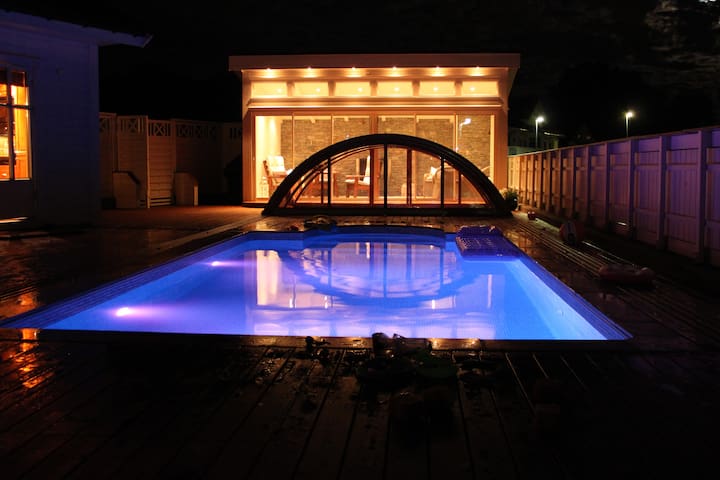 Sie werden meinen Platz wegen seiner Lage und Atmosphäre lieben. Mein Platz ist gut für Paare, Familien (mit Kindern) und pelzigen Freunde (Haustiere).
Unser Haus liegt in einer blinden Weise mit Wald gelegen und geht direkt in den hinteren Garten. Sehr ruhig und kinderfreundlichen Nachbarschaft. Es gibt mehrere ausgezeichnete Wanderwege für Bergfans auf der Insel. Golfplatz mit 9 Löchern auf herdlaøy, weiter nach Norden. Etwa 10-15 min mit dem Auto. Strand und gemütliche Grill / Picknickplatz in Kuppe Bucht ca. 5 Minuten mit dem Auto vom Haus entfernt.
Art der Unterkunft
Ganze Unterkunft
---
Objekttyp
Haus
---
Unterkunft für
5
---
Schlafzimmer
Askøy, Hordaland, Norwegen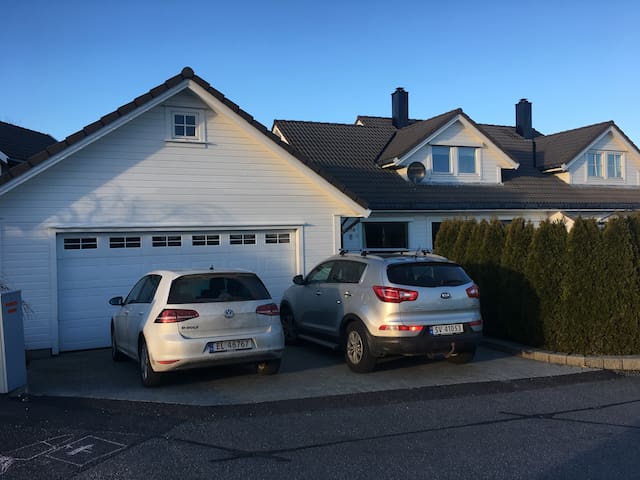 Familienhaus mit Panoramablick auf das Meer und die Berge von Bergen. Nur 20 Minuten vom Stadtzentrum von Bergen und alle seine große Chancen, und zugleich große Chancen zum Angeln, Wandern und erholsame Tage im Garten.
Es ist eine traditionelle norwegische Haus aus dem Jahr 1953. Die Gesamt Quadratmeter beträgt 108, 1. Stock 44 Quadratmetern.
Theres ein künstliches Fußballplatz 500 Meter entfernt. Spielplatz 500 Meter entfernt. Badestelle neben dem Meer 5 Minuten mit dem Auto entfernt (Solnes). Auch ein schöner Ort zum Angeln. Sandstrände 15 Minuten entfernt (Kollevåg). Kilometerlange Weg in den Wald in der Nähe zu verfolgen. Wandern: Askøys höchsten Berg (231 Meter) in der Umgebung. 45 Minuten zu Fuß vom Haus nach oben. Bietet wunderbare 360-Grad-Blick auf die Insel und Bergen-Bereich!
Der Aufenthalt bei Siri war sehr gemütlich. Wir hatten leider Pech mit dem Wetter - es hat praktisch durchgehend geregnet. Um so mehr haben wir den Holzofen und die Schuhtrockner, die uns zur Verfügung bereit gestellt wurden, genossen. Wir wurden auch großzügig zur Nutzung von Tee und Kaffee eingeladen. Es fand sich auch sonst alles was man braucht. Wir bekamen auch auf jede Frage sofort eine nette Antwort :-)
Barbara
2016-08-11T00:00:00Z
Very charming little house and lovely garden. Easy boat trip to the center of Bergen.
melanie
2016-08-15T00:00:00Z
Kontakt z Siri był szybki i bardzo dobry. Domek znajduje się kilkanaście minut jazdy samochodem od Bergen w cichej okolicy. Dom wyposażony jest we wszystkie niezbędne sprzęty. Wewnątrz było czysto i miło. Utrudnieniem mogą być tylko strome schody do sypialni oraz do łazienki, która znajduje się w piwnicy. Poza tym nie zabrakło nam niczego. Domek posiada również ogród, w którym można wypocząć, co na pewno jest dużą zaletą (o ile nie pada :)) Polecam!
Martyna
2016-07-30T00:00:00Z
This is a good place for a get away with the family. The house is situated in a quiet neighborhood, cozy interior, packed with lego and other toys for kids in one of the bedrooms, and has a super nice garden with a fun playground for kids. There is also a piano inside. I haven't met the hosts in person, as they were travelling when we arrived, but they were keeping close communication, and even offered me to swap days based on weather forecast, so we could enjoy better our stay.
Eduardo
2016-07-27T00:00:00Z
Verten var veldig hyggelig og hjelpsom. Kunne ha opplyst mer om hvor trangt huset er, og at katten hadde mulighet til å bevege seg i soverom. Innkjørselen er kun ment for små og høye biler. Nabolaget ellers var ganske rolig, med unntak av noen biler som kjørte fort forbi om natten.
Tamara
2016-08-22T00:00:00Z
Art der Unterkunft
Ganze Unterkunft
---
Objekttyp
Haus
---
Unterkunft für
7
---
Schlafzimmer
Erdal, Hordaland, Norwegen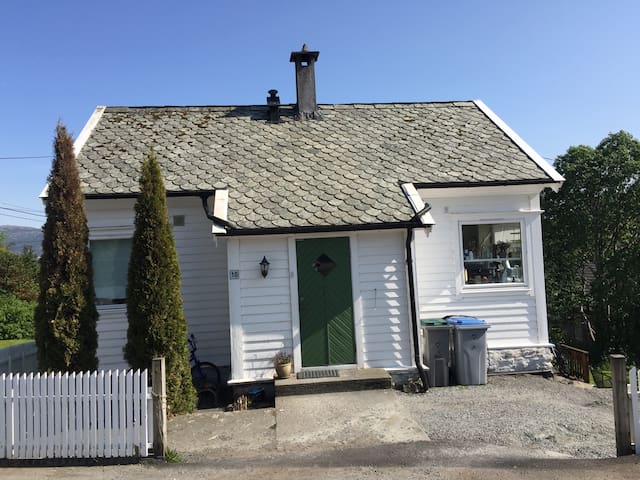 Unsere Gäste werden von einem Aufenthalt im Anhang entzückt. Eine intime, kleine Haus, das perfekt für ein Paar ist - mit oder ohne Kinder. Der Blick auf den Fjord wird beruhigen und entspannen Sie, das Haus selbst hat seine surprizes - winzig und rau - aber komfortabel.
Der Anhang in Hanevik bietet eine perfekte Basis für die Erkundung von Bergen und den Fjorden. Ein Aufenthalt in einem unserer beiden Häuser wird eine angenehme Erinnerung an Ihren Urlaub hinzuzufügen. An der Küste in Askøy ist unser "tun" - ein Hof von fünf traditionellen norwegischen Westküste Häusern umgeben. Wir sind eine halbe Stunde mit dem Auto (27 km) vom Trubel von Bergen entfernt. Genießen Sie eine ruhige Atmosphäre in schöner und ruhiger Umgebung. Die Wälder können schöne Spaziergänge bieten. Mit unserem Ruderboot können Sie die Umgebung vom Meer genießen oder Sie können einen Grill im Garten. Bergen hat viele Attraktionen und es ist auch möglich, unseren Platz als Basis zu verwenden, um die spektakulären Fjorde im Norden und Osten von Bergen zu Tagesausflügen besuchen. Askøy ist auch für die mit sehr wechselnden Landschaften "kleine Norwegen" genannt, ist es felsig und unfruchtbar im Nordwesten und grün und fruchtbar im Südosten. Es hat seine eigenen Attraktionen, wie zum Beispiel schöne Spaziergänge in den Wäldern, Seen und kleine Berge. Es gibt Golfplatz an einem schönen Nachbarinsel genannt Herdla. Es gibt Verbindungsbrücken unsere Inseln zum Festland. Unser Platz ist in einer ländlichen Gegend, so dass die nächste Lebensmittel-Läden sind 5 km entfernt. Der Anhang hat zwei Betten auf dem Dachboden und ein Doppelschlafsofa im Wohnzimmer. Es gibt 20 Busse Tag Pr, von der Hauptbushaltestelle in die Stadt verlassen, direkt neben dem Bahnhof - wo der Bus vom Flughafen hält auch. Der Bus dauert etwa eine Stunde. Während der Nebensaison geben wir spezielle Preise, je nach Länge des Aufenthaltes. Wir haben zwei Häuser zur Miete, die andere als "Peaceful am Meer neben Bergen" aufgeführt ist. Bitte stellen Sie sicher, dass Sie das ein Buch, das Sie möchten.
Der Anhang befindet sich in einem ruhigen Dorf an der Küste. Die Nachbarschaft besteht aus Privathäusern und Hütten. Das Geschäft nebenan ist eine geschützte Werkstatt mit Arbeitszeit 8-15.
Die Zeit bei Ingrid und Per war sehr schön, leider nur viel zu kurz. Das kleine Häuschen hat alles was man braucht und ist sehr gepflegt. Ein kleines Motorboot steht den Gästen auch zur Verfügung. Die Gegend ist grandios, man kann die Natur genießen, wandern, angeln oder nach Bergen, was in nur wenigen Minuten mit dem Auto erreichbar ist. Kurz um, tolle herzliche Gastgeber die mit Rat und Tat zur Seite stehen. Es waren schöne Tage bei Ingrid und Per.
Martin
2016-07-25T00:00:00Z
Obwohl wir sehr kurzfristig gebucht haben, war alles perfekt. Das Häuschen ist schön eingerichtet, sehr Sauber und sehr gut ausgestattet. Per und Ingrid sind sehr zuvorkommend gewesen und haben uns jegliche wünsche erfüllt. Wir fühlten uns bei Ihnen wie zu Hause. Die Umgebung ist fantastisch mit vielen Ausflugsmöglichkeiten. Gerne kommen wir nochmal.
Thomas
2016-10-10T00:00:00Z
Das Häuschen ist einfach wunderschön, noch viel toller als auf den Fotos. Alles ist perfekt sauber und man fühlt sich vom ersten Moment an wohl. Die Küche ist super ausgestattet, so dass es an gar nichts fehlt. Ingrid und Per sind so lieb und stehen einem mit Rat und Tat zur Seite, von Ausflugstipps über norwegische Kochrezepte kriegt man von ihnen alles. Wir hatten eine schrecklich verregnete Woche erwischt und Per hat uns ständig mit Brennholz versorgt, so dass wir es uns mit dem Kamin richtig gemütlich machen konnten. Absolut empfehlenswert!
Ina
2016-08-15T00:00:00Z
Wir hatten eine wunderschöne Zeit! Das Haus liegt phantastisch und hat einen wunderschönen Ausblick! Ingrid und ihr Mann sind sehr nette Gastgeber. Sie haben uns viele gute Hinweise für Ausflüge und Einkaufsmöglichkeiten gegeben. Wir haben uns sehr wohlgefühlt und werden gerne wiederkommen.
Anna-Maria
2015-06-15T00:00:00Z
Das Häuschen von Ingrid und Per ist wirklich sehr schön und hat viel Charme. Die Aussicht auf den Fjord durch das große Panorama-Fenster und vom kleinen eigenen Gärtchen hinter dem Haus ist großartig! Alles war sehr sauber und aufgeräumt. Es gibt allerdings recht wenig Raum, um seine Sachen abzustellen bzw. einzuräumen, so dass es unserer Meinung nach für mehr als zwei Erwachsene doch sehr eng werden würde. Wir waren zu zweit mit einem Baby da – und dafür war es ok. In der Umgebung kann man viele nette Spaziergänge durch die Wälder machen. Per war sehr hilfsbereit und hatte auch viele Tipps für Wanderungen oder Bootstouren. Wer nicht mit dem Auto nach Bergen reinfahren möchte, kann sehr unkompliziert und nett mit dem Schiff von Askøy aus direkt ins Zentrum fahren (Fähranleger ca. 20 Min. mit dem Auto, dann 15 Min. mit dem Schiff). Auf jeden Fall empfehlenswert!
Daniel
2016-07-03T00:00:00Z
Absolutely stunning home in a stunning place. We hired a car and parking was really easy. Driving to Bergen was easy too and there are supermarkets nearby so you can cook or go out to eat. We took a walk in the forest that Ingrid wrote down in her little guide for us which was nice. Would 100% reccomend! Want to go back already :)
Hollie
2016-01-02T00:00:00Z
Très bien accueillis par une amie de Ingrid et Per, Patricia, qui nous a bien montré l'annexe. Un endroit très jolie et au calme près de Bergen pour quelques jours de découvert de la région. Logement parfaitement équipé, super cosy et un lieu magnifique.
Jenny
2016-07-15T00:00:00Z
Nous avons vécu une semaine magnifique à hanevik. À notre arrivée tout était prêt et the annex et l'endroit parfait pour un couple pour passer de bonnes vacances au plein milieu de la nature impressionnante de la Norvège. Avec une voiture nous avons mis que 30 minutes jusqu'au centre de Bergen. Ingrid et Per étaient accueillant et très gentil. Nous avons vécu un très bon moment et la maison était vraiment impeccable ! Merci pour ce logement !
Mia
2015-09-21T00:00:00Z
Art der Unterkunft
Ganze Unterkunft
---
Objekttyp
Haus
---
Unterkunft für
4
---
Schlafzimmer
Askøy, Hordaland, Norwegen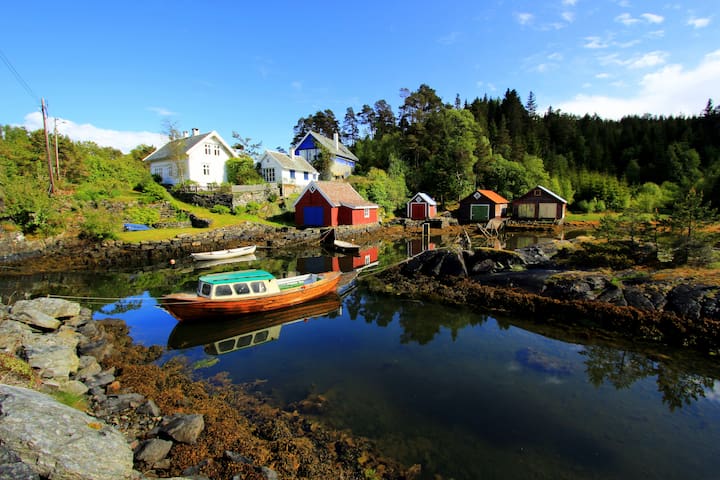 Hyggelig enebolig meget sentralt på Askøy. Kort reisetid til Bergen Sentrum med bil, båt eller buss. 5 min gange til busstopp, 10 min gange til butikk. 20 min buss til Bergen sentrum. Stort og barnevennlig uteområde
Art der Unterkunft
Ganze Unterkunft
---
Objekttyp
Haus
---
Unterkunft für
6
---
Schlafzimmer
Strusshamn, Hordaland, Norwegen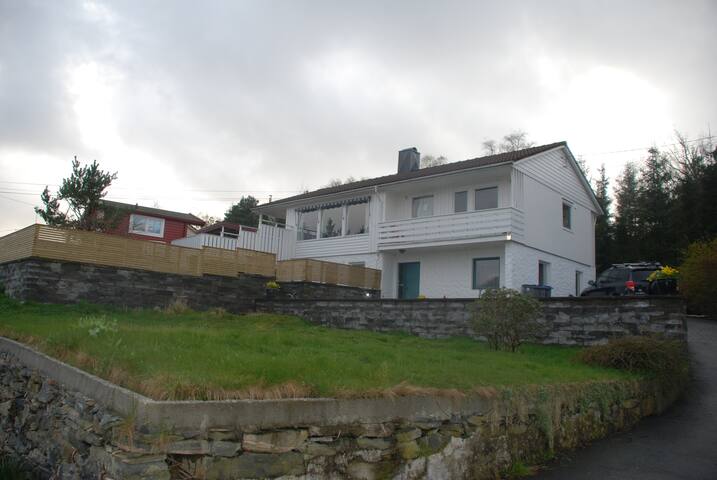 Schöne große Haus am Meer! Herrliche Aussicht mit einem großen Garten und eine Außenterrasse. Ihr eigenes Zimmer im 2. Stock. Genießen!
Askøy ist eine Insel vor den Toren Bergen. Es ist sehr schön und mit einer Insel Atmosphäre! Sie können auf einer Fähre im Herzen von Bergen zu bekommen (10 Minuten) oder durch Buss (15 min) Die Buss und Fähre ist zu Fuß erreichbar. Das Haus ist 20 Minuten vom Flughafen entfernt. Mittelgeschäft ist auch zu Fuß erreichbar, und wenn wir zu Hause sind wir freuen uns, Sie zu fahren! Es gibt auch schöne Wanderwege auf der Insel oder in Bergen, die wir Ihnen zeigen. Die Aussicht ist das Beste, was über das Haus - auf die Bilder für sich selbst zu sehen. Es ist eine ruhige Gegend, mit mostley Familien hier leben. Das Haus verfügt über ein Bad, die Sie mit uns teilen. Der große, mit Fußbodenheizung und schöne Dusche und eine Waschmaschine.
Ein schöner Ort, mit herrlicher Aussicht. Große, aber gemütlich. Schön und ruhig, aber dennoch in der Nähe der Stadt!
Emma and Daniel were great hosts with a beautiful house. Really friendly and polite people, apparently with a similar taste for the same TV series ;-) If we should come back to Bergen, thats the place to be.
Ümit
2016-07-20T00:00:00Z
Hyggelige folk
Frode
2016-06-17T00:00:00Z
As soon as we stepped into Emma & Daniel's house we knew that we were going to have a great time! The entire house was so clean that we felt like the first guests ever! They also thought about every little details that made us feel home. In a very calm neighborhood the atmosphere of the whole area is peaceful and restful Their beautiful house has all the comfort that you need (A big plus for the floor heating and the mattress quality!) and is perfectly located.
Sami
2016-08-06T00:00:00Z
Emma and Daniel were super friendly and helpful. Their place is in an island and positioned towards the top of a hill that overlooks Bergen. Emma helped us with the logistics of our trip in where to find everything and the bus and ferry schedules.
Matin
2016-08-14T00:00:00Z
Our stay with Daniel and Emma was a great first Airbnb experience! They were so helpful and we're always available via text while we were in Bergen to answer questions for us. Their home was amazing and we felt very comfortable being around them. We would recommend them to anyone!
Kate
2016-05-05T00:00:00Z
Emma and Daniel kept great communication with us leading up to and during our stay. They went above and beyond, picking is up from the bus station and dropping us at the trains early in the morning! We instantly felt like we were more than welcome. They have done exceptional work/renovations and it shows with the lovely modern decor. The room was very cozy, the views were truly breath taking. The area is great for taking a walk, we went down to the dock (15 min.walk) passing a grocery store and gas station along the way, had dinner at the Pizzabakeren, very good pizza. We were sad to only stay one night. Truly a lovely family with a wonderful home, who we'd definitely stay with again!
Jeff
2016-08-08T00:00:00Z
Wow! Emma and Daniel are the perfect hosts! I have had many wonderful experiences with aribnb but these guys go the extra mile. They are kind, helpful, informative, generous, open-hearted and down to earth. I would recommend their place to anyone wanting a home away from home :) Thanks so much
Lillian
2016-08-27T00:00:00Z
Daniel and Emma are amazing hosts, they picked us up at the bus station when we arrived and they were always very helpful. Their home looks even better than in the picture and even though it is not super close to the city center, the bus stop is a few minutes by foot and the island has its own magic. They even had a basket of basic groceries for us prepared, which was super convenient. I would stay again,dfinetely recommend this place!
Romana
2016-08-22T00:00:00Z
Art der Unterkunft
Privatzimmer
---
Objekttyp
Haus
---
Unterkunft für
2
---
Schlafzimmer
Strusshamn, Hordaland, Norwegen
Planning to visit Norway? Would you like to see the beautiful fjords on the western coast, the glaciers, the high mountain plateau of "Hardangervidda"? Our home just outside Bergen would be a perfect base camp for all of these attractions and Bergen.
Easy access to Bergen and the islands around the city.
We booked with Sigve as the host we had initially booked with cancelled last minute - this was a blessing in disguise! The house was fantastic. Large and spacious, each room clean, comfortable and excellently presented and the lovely outside area was a bonus! The property was extremely well equipped with everything we needed and more. We wished that we had booked to stay longer. As a host Sigve was perfect; great communication and there to help if we needed but he did not impose in any way and left us to enjoy our trip. The house is easily accessible from city centre, just a short drive away. We could not recommend this house more. Thank you Sigve for letting us end our holiday in style.
Louise
2015-08-16T00:00:00Z
Sieve was a fantastic host. He showed us everything to make our stay successful and went out of his way to make it a great stay. The house was perfect for our family and two week stay in the Bergen area. It truly felt like a home away from home.
Matt
2016-07-29T00:00:00Z
Art der Unterkunft
Ganze Unterkunft
---
Objekttyp
Haus
---
Unterkunft für
10
---
Schlafzimmer
Askøy, Hordaland, Norwegen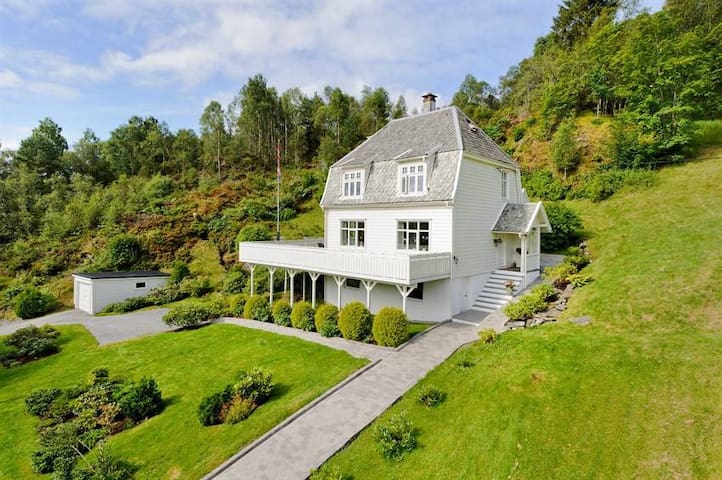 Ein großes und edle Haus, sonnig und mit einem fantastischen Aussicht auf den Fjord, Stadtzentrum und die Berge der Stadt. Großer Garten mit großen Bolzenring Möglichkeiten für Groß und Klein.
Ein großes und edle Haus, sonnig und mit einem fantastischen Aussicht auf den Fjord, Stadtzentrum und die Berge der Stadt. Große Terrasse und ein großer Garten mit guten Federringmöglichkeiten für Groß und Klein.
Sehr zentral, aber auch eine sehr ruhige Nachbarschaft. Ein großer privater Außenbereich. Geschäfte zu Fuß erreichbar, Pizza-Restaurant, ein asiatisches Restaurant und Bushaltestelle. Großes Wandergebiet.
Nice appartment with an amazing view. Arve is really nice hosts. We slept there one night. All was perfect, clean, comfortable beds, spacious, full-equipped, ... I would repeat with no doubt.
锋
2016-08-15T00:00:00Z
En svært imøtekommende husvert. Jeg hadde noen spesielle ønsker med tanke på å leie dette huset, og Arve innfridde på alle punkter. God kommunikasjon hele veien sammen med tilrettelegging for mine ønsker og et hus som hadde sitt særpreg og et renhold som var meget bra. Både denne eiendommen og Arve som husvert anbefales.
Alexander
2017-02-15T00:00:00Z
Arve's house is a dream. The 5 days that I spent at his house in Bergen were perfectly pleasant, and I wouldn't have changed a thing. The house is clean, comfortable, and truly beautiful. The property has a wonderful view of the city of Bergen. Arve is a helpful and respectful host. If you're going to Bergen, I cannot recommend this house strongly enough. Thanks Arve!
Marie-Eve
2016-06-19T00:00:00Z
Two couples and a dog had a great weekend stay in this charming house. The well refurbished house has spacious rooms. The amenities are all new and with good quality, still the original style of the house has been kept. The garden and the view is just fantastic. There is a large deck with a bbq that we unfortunately did not get the time to use. We had a car and for us the location was good. It took about 15 minutes driving to downtown. The host, Arve, was very attentive and replied to questions right away. He also went out of his way to urgently send some important things we managed to leave behind. This is one of the best rental experiences we have had through airbnb and we would highly recommend this place to others.
Lars
2016-06-13T00:00:00Z
Beautiful house with amazing view! Highly recommended. Suitable for up to 10 people
Kevin
2016-08-19T00:00:00Z
Arve的度假别墅是完美的!房屋1917年建成的,古典风格和舒适度完美结合。有好多房间,敞亮的客厅,小院秋千,和无敌景致。特别适合度假!家附近有巴士站,超市,还有一家正宗的泰国菜。Arve人很绅士热情,给了我们一个完美的假期!
FENG
2016-08-29T00:00:00Z
beautiful house with a large garden! very good location - from garden view at Bergen. fully equipped. very good contact with the owner. I would highly recommend. Krystian
Krystian
2016-07-25T00:00:00Z
Arve was very kind and helpful during the whole time. His house in Askoy is amazing - beautiful view, nice interior and quite neighborhood was appreciated by me and my family. I really recommend his house if you want to spend perfect holiday with your family!
Iveta
2016-06-27T00:00:00Z
Art der Unterkunft
Ganze Unterkunft
---
Objekttyp
Haus
---
Unterkunft für
10
---
Schlafzimmer
Askøy, Hordaland, Norwegen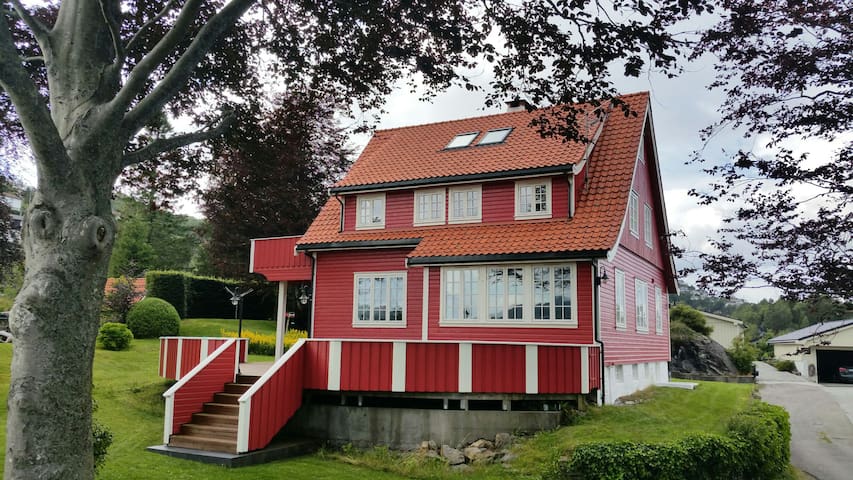 Mein Platz ist gut für Paare und Familien (mit Kindern).
Art der Unterkunft
Ganze Unterkunft
---
Objekttyp
Haus
---
Unterkunft für
9
---
Schlafzimmer
Askøy, Hordaland, Norwegen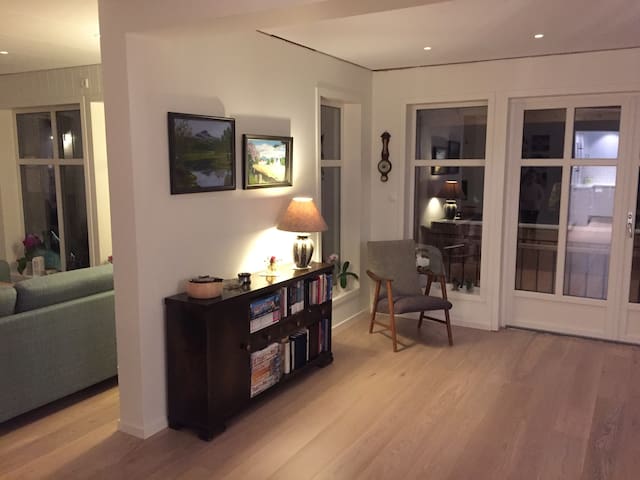 New functionalist housing which will be completed in June leased to bike Vm in Bergen. The house has three bedrooms with double bed in each room, kitchen, living room, bathroom, terrace and garden. The residence is located on Juvik Askøy. Two minutes walk from the grocery store and bus stop.
Art der Unterkunft
Ganze Unterkunft
---
Objekttyp
Haus
---
Unterkunft für
6
---
Schlafzimmer
Askøy, Hordaland, Norwegen
modernes Haus direkt am See mit eigenem Steg Neu. Ruhige Nachbarschaft, geschützten Garten direkt am Meer mit Terrassen, Rasen und Garten Wohnzimmer mit Blick auf. Zu Fuß zum öffentlichen Strand. 5 min Fahrt zum Supermarkt, Apotheke und Tankstelle. 30 Minuten Fahrt zum Stadtzentrum. 10 Minuten zu Fuß zur Bushaltestelle. Das Haus besteht aus großen Eingangshalle, Hauswirtschaftsraum, 5 Schlafzimmer, 2 Badezimmer, WC, 2 stuer.Kjøkken mit allen Utensilien, Esstisch, der 10 Personen Platz bietet. Gute Reise und Angeln in der Umgebung Möglichkeit Ruderboot zu mieten.
Das Haus befindet sich am Ende einer Privatstraße, geschützten Garten und Spielplatz in der Nähe
ruhige Umgebung
Art der Unterkunft
Ganze Unterkunft
---
Objekttyp
Haus
---
Unterkunft für
10
---
Schlafzimmer
Askøy, Hordaland, Norwegen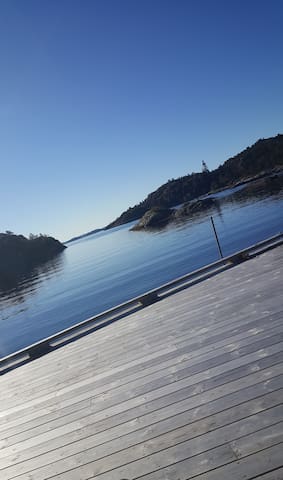 In this big 6 bedroom house you can enjoy the sun all the way from early morning to sunset. Great views, outdoor and indoor rooms to enjoy in any weather. The whole house is available during the UCI 2017 road world championship, 10 km from the start of the mens elite and men junior races, the track is 300 m away. Bus to downtown from the same road. (URL HIDDEN)
Big kitchen with modern apliances and a dining table with room to host up to 12 people. There is also a double sleeping couch in the livingroom. The annex can be an extra bedroom for the sporty guests, an extra bed can be provided.
Art der Unterkunft
Ganze Unterkunft
---
Objekttyp
Haus
---
Unterkunft für
12
---
Schlafzimmer
Fjell, Hordaland, Norwegen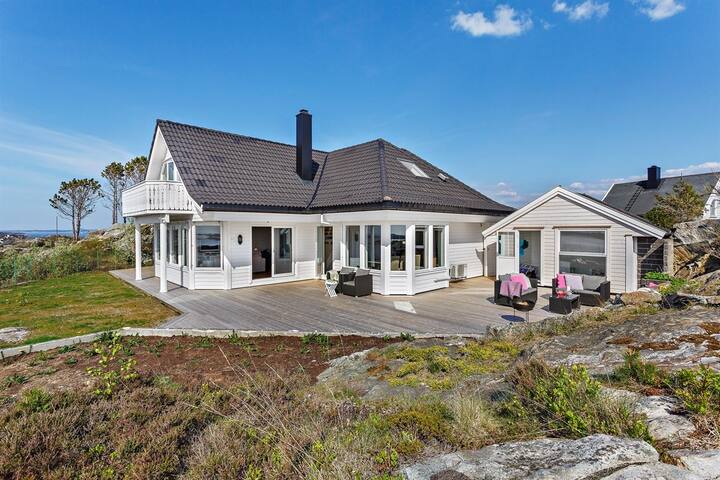 We are renting out our cosy house to those who wish to relax on the countryside. The property is surrounded by beatiful nature, terrifficc hikes, "private lake", with small boat, where you can swim, fish and just enjoy the beatiful scenery. If you want to relax by the sea, it is only a 10 min walk from the property. 150 m3 terrasse, barbeque, sitting areas, boat, inflateble swimming pool and toys to be used in the water is at site. WiFi and lots of TV channels are present. Pets welcome.
Eindommen ligger idyllisk til på landet og det er en rekke gårder med sauer etc i gangavstand. Flotte fjellturer fra egen hage.
Art der Unterkunft
Ganze Unterkunft
---
Objekttyp
Haus
---
Unterkunft für
10
---
Schlafzimmer
Meland, Hordaland, Norwegen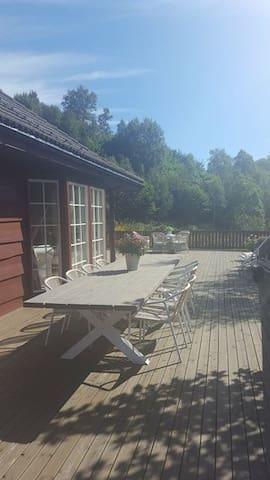 Large lounge with an open kitchen and large windows overlooking the fjords. Sun from the morning to late eavining. Large bathroom downstears. Three bedrooms and a bathroom upstears. Good parking and modern facilities. Near the cyckling track for the World Championship 2017. Near bus and shop.
Art der Unterkunft
Ganze Unterkunft
---
Objekttyp
Haus
---
Unterkunft für
6
---
Schlafzimmer
Follese, Bergen, Norwegen