56 Ferienhausvermietungen
Natively styled one bedroom house, built last 2013. 3-minute motorcycle ride from the main road (national highway) and market. 15-minutes motorcycle ride to Lindogon Mama Mary Church in Simala, 1-hr bus ride to Oslob whale watching.
Art der Unterkunft
Ganze Unterkunft
---
Objekttyp
Haus
---
Unterkunft für
4
---
Schlafzimmer
Argao, Central Visayas, Philippinen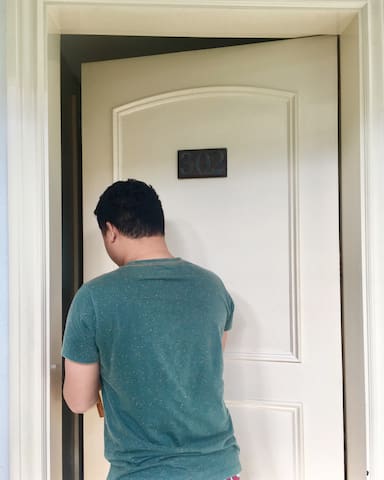 2BR Home Spiritual Retreat in Argao, Philippines. This home has 2 bedrooms, sala, kitchen and 1 toilet and bath. It is complete with kitchen utensils, refrigerator, stove and microwave. Good for small groups who want to do spiritual retreat in Simala
Art der Unterkunft
Ganze Unterkunft
---
Objekttyp
Haus
---
Unterkunft für
4
---
Schlafzimmer
Argao, Central Visayas, Philippinen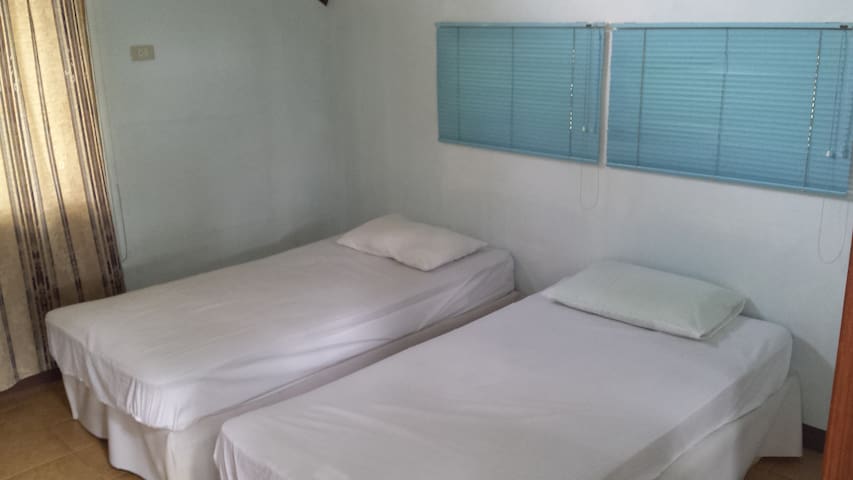 My accomodation is near to the Beach. Restaurants and dining options You can find in the Boulevard, only 150m far away. You will Love this House because of the big kitchen and the Atmosphere and Silence in the Garden/ terrace. This accomodation is Perfect for Solotravelers, Familys, adventurer.
Wonderful house, in a calm neighborhood, only 100 m far from the sea. Perfect for seeking Peace. You can book privaterooms, but You can use every part of the house.
Alcoy Beach in 25 min und Dalaguete/ whale watching in 45 min mit dem Bus. Kawasan falls 1h. Stationary beach in Looc is about 3 min with tricycle away. Market and town Center about 5 min. Cebu City is about 2-3 Hours away, depends on the Traffic. Kawasan falls/ Moalboal is 1 Hour far away. Alcoy Beach/ spring in 25 min .whale watching/ Dalaguete in 45 Minutes.
Art der Unterkunft
Privatzimmer
---
Objekttyp
Haus
---
Unterkunft für
6
---
Schlafzimmer
Argao, Central Visayas, Philippinen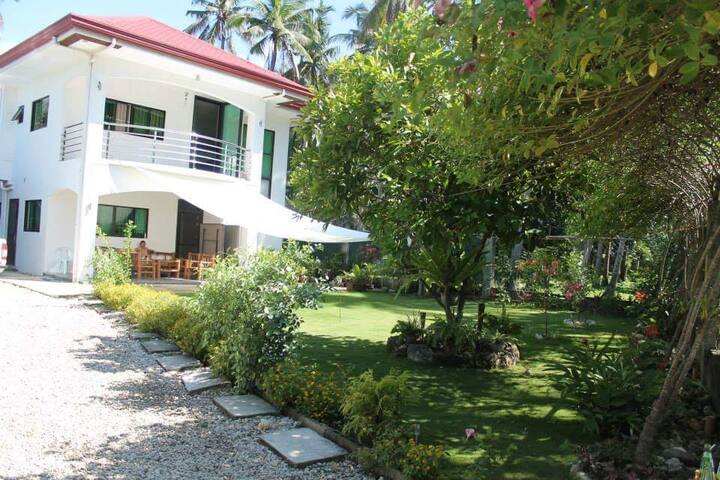 Willkommen bei Reinis Tourist Inn. Die gut eingerichtete Zimmer befindet sich im Erdgeschoss des Hauses in Verlängerung der Unterkunft entfernt. Unsere Gäste werden die Meerblick und direktem Zugang zu den Terrassen, Swimmingpool und das Meer genießen.
Ausstattung: - Doppelbelegung - Split Aircon - Ventilator - Eigener Tresor - Seeblick - Geräumige Terrasse mit Tisch und Stühlen - CCTV Überwachungskameras
Unser Haus liegt nur wenige Gehminuten von mehreren Restaurants, freedive / Tauchzentren, Outdoor-Abenteuer Betreiber und kleine Lebensmittelgeschäfte. Empfohlene Aktivitäten in Moalboal sind: Tauchen, Apnoetauchen, Kawasan Wasserfälle und Canyoning, versteckte Wasserfälle, Dschungel Trekking und natürlich Schwimmen mit den Walhaien in Oslob (Tagesausflug). Bitte wenden Sie sich an den Reiseveranstalter im Restaurantbereich befindet.
Wir hatten einen wunderbaren Aufenthalt bei Reini und Lourda und würden hier jederzeit wieder buchen. Sehr gutes Preis/Leistungsverhältnis, saubere Anlage und Zimmer. Auch der Pool ist genial. Sehr bequemes Bett. Top Lage, ruhig in einer Seitenstraße direkt am Meer, mehrere Tauchschulen in direkter Umgebung sowie Restaurants und Shops. Uns wurde auch ein individuelles Frühstück angeboten zum fairen Preis - vielen Dank Euch allen für den tollen Aufenthalt und die netten Gespräche, hat uns Spaß gemacht.
Yvonne
2016-03-13T00:00:00Z
I had a really great time in this lovely place .... looks like a paradise with the sea, the swimming pool, the view ... and their adorable parrots ! Everything was exactly as it is described on the announce. I would love to come back here !
Victor
2016-05-15T00:00:00Z
Amazing place to stay in Moalboal. Nice room, great pool area, incredible house reef with a very short swim to the famous sardine run. Friendly staff who make a good breakfast for a small fee. The inn is close to lots of dive shops and restaurants. My only complaint is that the aircon was not working properly. They tried to get someone to come in to repair it, but were unable. They brought in a fan, which helped manage the hot nights. We would definitely go back.
Josh
2016-05-04T00:00:00Z
Lourda's place is perfect! It is in the perfect location-- within walking distance of everything, right on the water, beautiful pool, sunset views, etc. Lourda and her staff are incredibly nice too, I felt right at home. They helped me arrange transportation numerous times, made a wonderful breakfast, and I was able to get my laundry done. Wouldn't stay anywhere else!!
Kristen
2016-08-13T00:00:00Z
It was the perfect stay for Moalboal! If you are looking to have fantastic and relaxed days on cebu than go down till Moalboal and come to Lourda! You have the coral reefs directly in front of the house and can snorkel the whole day. We have enjoyed also lovely evenings with the owners and had some nice conversations. We will definitely come back!! Lovely regards, Hassan & Jana
Hassan
2016-04-02T00:00:00Z
The best resort in panagsama beach, very cleanner and quiet,nice house holder and best seascape, I love here
kevin
2017-02-12T00:00:00Z
This place is the perfect opportunity to get in touch with nature, relax and enjoy the life in Moalboal. The reef is direct in front and you can go snorkeling (we even saw the sardines there) without even putting your feet on the street. Lourda is very warm and welcoming. She offered us her support wherever she could. The garden is amazing - pool, veranda and a lot of birds. Everything (also the rooms) is in very good shape and well maintained. Our room was very spacious and well equipped with furniture. Only the air has been smelling a little bad when we arrived. The bath is covered with white marble and offers hot water showers. Breakfeast is served for a small fee, it was yummy! We can only recommend this place.
Josef
2017-02-19T00:00:00Z
It was really nice that we could ask Lourda à lot of questions and she always answered. Plus, people at the inn were very nice and the place is right in front of a great location for snorkeling !
Soraya
2017-01-09T00:00:00Z
Art der Unterkunft
Privatzimmer
---
Objekttyp
Haus
---
Unterkunft für
2
---
Schlafzimmer
Moalboal, Central Visayas, Philippinen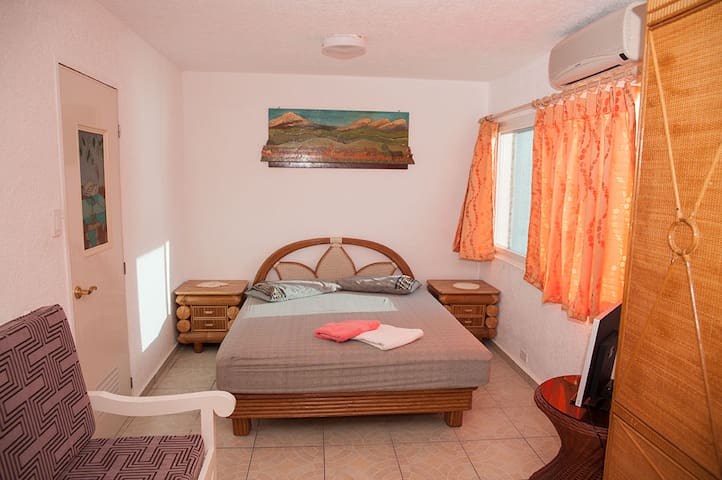 Spiritual Retreat in Argao-Simala. This family home was purchased by my uncle who works in Dubai. It is close to the world famous Simala Church where you can visit the Holy Virgin Mary. It is a short drive away just less than 10 minutes away.
Art der Unterkunft
Privatzimmer
---
Objekttyp
Haus
---
Unterkunft für
2
---
Schlafzimmer
Argao, Central Visayas, Philippinen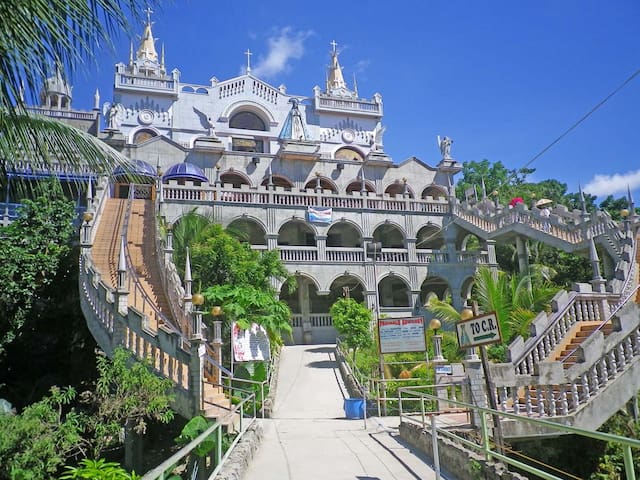 This is our master bedroom with aircon and private hot shower. It is 1000 per night for 2 guest. We can provide additions bed/mattress for 450p per person. We can coordinate trips to kawasan waterfalls and island hopping /dolphine watching.
Sadly the place had visible mold all over the room we were staying in. It also smelled strongly of mold so we had to find a hotel. Jay, however refunded us.
Luke
2017-03-05T00:00:00Z
Thanks a lot, Jay and his girlfriend are very nice and helpfull we really enjoyed are stay and the good advices! We rented a scooter and snorkeling equipment at the house. The dogs were very sweet! :) we miss the Philippines! Elise and Alain
Elise
2017-03-26T00:00:00Z
Jay and Cyrene are awesome! Will book again when I visit Moalboal
Bern
2017-02-24T00:00:00Z
Jay and his girlfriend were very welcoming and accommodating. Very nice and friendly people. His place was simple but good for the price. Location was a bit difficult to describe to the tricycle drivers, but a good spot nonetheless... close to the white beach. They also gave useful tips for our trip in South Cebu. Overall, good place and good people to stay with. We wouldn't mind recommending to others.
Lance
2017-01-06T00:00:00Z
Jay and his girlfriend were great hosts and had great communication throughout. The space is really big and includes everything you will need. The location is a bit outside of the beaches but Jay helped us arrange a motorbike rental which was brought straight to the house and made things really easy. They even offer breakfast/snacks/drinks if you don't want to make your own or go into town. If you are an animal lover you will love the property as they have a few really friendly dogs as well.
Medro
2017-04-03T00:00:00Z
Little bit far away from everything, but u can rent a scooter for fair price. Nice house and friendly ppl. There is also puppies and kittens that are so cute. Room is a little dusty.
Jesse
2017-04-04T00:00:00Z
The host canceled this reservation the day before arrival. This is an automated posting.
Iris
2016-11-14T00:00:00Z
enjoyed our stay in jay's house. they were not there at that time, but cyrene's brother helped us out. room was great! too bad the shower at that time wasn't working, but we were able to use the shower upstairs which was fabulous! we shared the house with other guests which was no problem at all. we didn't have any issues finding the place - tricycle drivers were informed of the place (and with the landmarks as instructed by jay). we did request breakfast from rocky- food taste great! when we return in cebu, will definitely book this place again!
rachelle
2017-03-07T00:00:00Z
Art der Unterkunft
Privatzimmer
---
Objekttyp
Haus
---
Unterkunft für
2
---
Schlafzimmer
Moalboal, Central Visayas, Philippinen
Mein Platz ist nur wenige Minuten vom Panagsama Beach (Moalboal) zu gehen. Panagsama hat zahlreiche Tauchschulen und ist perfekter Ort zum Schnorcheln vor allem die Schule der Sardinen. Die Bars und Restaurants entlang Panagsama Road sind nur 5 Minuten von meinem Platz gehen. Mein Zimmer verfügt über einen Standard-Doppelbett / Ventilator Zimmer nur mit gemeinsamen Bad und ist gut für Paare, Solo-Abenteurer und Familien (mit Kindern). Mit kalten Dusche.
Chona is a very friendly and kind host. Unfortunately our stay was nothing but disappointing. The flat had ongoing construction works (a third room was established) which we where not aware of upfront. Also the house was not very clean and not well furnished (kitchen). We shared the apartment with another couple, which was fine - we knew before. What we didn't know was the fact that also the lady that did the check-in with us was sleeping on the couch of the living room. Due to the smell of the construction works (paintings) we left after one night and were refunded for the second night. Nevertheless Chonas house is located very well and close to the beach (10 minute walk) - just wanted to add something positive as well.
Maximilian
2017-03-25T00:00:00Z
The place was fine, we only stayed one night, so nothing to complain about.
Mie Johanne
2017-03-22T00:00:00Z
Art der Unterkunft
Privatzimmer
---
Objekttyp
Haus
---
Unterkunft für
2
---
Schlafzimmer
Moalboal, Central Visayas, Philippinen
314 m2 high-end 2 storey house with private swimming pool. The villa is located in a safe and populated area with neighborhood watch, just above Obong Spring and the seaside. 3 minutes to walk to the springs. The rental price includes 2 caretakers. They will clean, do dishes, make up beds, maintain the pool, lock up for the night. The villa is very centrally located for main tourist attractions: SWIMMING WITH THE WHALE SHARKS is a highlight, Tumalog Falls, Osmeña Peak and Kawasan Falls.
The villa is very centrally located for main tourist attraction in Southern Cebu. North of us you will find Mama Mary's Monastery in Simala, Sibonga. 50 minutes south of us by bus you can go SWIMMING WITH THE WHALE SHARKS in Oslob and visit Tumalog Falls. West of us is the highest mountain in Cebu, Osmeña Peak and Mantalongon vegetable market. Mantalongon is also known as the "vegetable basket" and "summer capital" of Cebu. From Mantalongon town you can go to Badian for some canyoneering, go diving in Moalboal and visit Kawasan Falls. The house includes all of the necessary furniture, goods, appliances, and more : a) 7 Panasonic Inverter aircon machines. b) Sony Bravia 46 inch LCD TV / Sony Home Theater. c) Chromecast. d) Sharp refrigerator freezer combo. e) Whirlpool laundry washing machine. f) LA Germania electric and gas combo stove. g) Beautiful oak wood interior kitchen and bedroom cabinets with mirrors. The kitchen countertops are made of granite. h) 3 beds (2 king-size, 1 queen-size) with mattresses and beddings. High quality. 4 extra beds, 1 king-size and 3 queen-size. i) Glass dining table with 6 Chairs. Kitchen table with 4 chairs. j) Leather Lounge 1: 3 seater + 2 seater + coffee table. k) Leather Lounge 2: 3 seater + 2 seater + recliner + coffee table. l) Charcoal grill. m) Extractor fan in kitchen . n) Bathroom fixtures. o) Cignal satellite Equipment. p) Kitchen equipment. q) 4 sunbeds with mattresses. Very comfortable. r) Outdoor furniture of high quality (balcony/terraces). s) Landline telephone (Cebu only - free of charge), modem and WiFi equipment. Integrated telephone line. t) Lamps and lighting appliances.
Location The property is located in Obong, just above Obong Spring and the seaside. 3 minutes to walk to Obong Spring. A 7 minutes tricycle ride will get you to Tingko Beach in Alcoy, the most beautiful and popular beach in the area. OBONG SPRING The Obong Spring is a fresh water spring which emanates near the beach. Because of steady outpour of water, a pool of freshwater meets the sea especially when the tide is high and the water become brackish. Its waters are naturally cold and refreshing. It is one of the best getaways during summer when the heat of the sun is excruciating. Obong Spring remained unspoiled, though progress is visible. It has been included in the list of Suroy-Suroy as one of the must-experience tourist destination. TINGKO BEACH in Alcoy. from the TRAVEL TELLER: "I would never have a clue that there is one beach in this town endowed with crystal clear blue sea and sparkling white sands so beautiful yet open to the public. They call this – the Tingko Beach."
The place was easy to find as it was located along the highway and right in front of the barangay hall as told by our host. Make sure to just follow the host's instructions, and not make use of the navigation button from Airbnb to Waze/Maps. It'd be easier also to just ask for directions from the local neighborhood. Upon reaching Barangay Obong, the house will be easily visible because it stands out among the rest. The house is gorgeous on the outside, and even more g(PHONE NUMBER HIDDEN)rgeous in the inside! The house is very spacious, and is big enough to house 10 people at max, given that everyone's willing to get together to sleep outside the rooms. No problem about not having airconditioning, as the house is centralized in all areas; we spotted at least 3 aircons outside the rooms - all them are working perfectly. As mentioned in the description, there are 3 bedrooms and 2 bathrooms. ALL of them are soooo big, me and my 9 other friends could fit in the shower area alone. Aside from that, there are also other places in the house you could hang out in. There's a dining room, a living room downstairs, a living room upstairs, one terrace upstairs overlooking the gate of the house, one terrace connected to the pool area, and the pool area. Unfortunately, we arrived late that we did not get the chance to utilize everything. We all wanted to stay a little longer, but not to ruin the group's plans, we had to cut our super fancy stay short. :( Nonetheless, we had supeeeerrrr fun! I wish we booked two nights in a row. Thaaaaaank yooooou veeeeery muuuuuuch, Øyvind! You had been such a great help in our planning prior to the arrival. I will definitely recommend the place to my other friends if they visit Southern Cebu. :)
Shaira
2016-08-28T00:00:00Z
We had a great stay. It`s a stylish villa and it feelt very luxurious. The interior and the outdoor areas were great. Comfy beds. The host provides everything we need. Located in a safe area with high fences. Very clean pool. We really did enjoy our stay. Wish we could come back again. A warm thank you to our caregivers, Ivy and Hanneh, and to our host.
Alf
2016-05-01T00:00:00Z
This house was amazing, very clean and centrally located for what we wanted to do (Kawasan Falls & whale shark tours) Obong springs was literally across the street from the house which was a plus.. Øyvind was very helpful and the communication was great. The two caretakers Ivy & Hannah were super nice and attentive to any question we had thank you both for your help on everything we asked for. Would definitely stay here again. Thanks!!!
Oscar
2016-11-01T00:00:00Z
This is the 2nd time we stayed here. The locals call it "White House" and the place is unique and unlike any other Airbnb places we stayed at before. We definitely recommend it. Everything is very clean and there is so much space. We couldn't believe how lucky we were to find it the 1st time we stayed here. A perfect location for beach life and for exploring the area and its attractions. Here you will find exclusive furniture, beds, sunbeds, mattresses, beddings and towels. The kitchen is very well equipped with known brands. The none CFC refrigerator/freezer alone, must have costed a small fortune with instant ice botton and digital display. Every detail is so perfect. Not many hosts will provide a Sony TV/Home Theater. The outdoor areas are equally great with 2 terraces and a poarch fully furnished with modern furniture and lots of pillows. All rooms are well decorated and comfortable.The bathrooms are very stylish and equipped with the largest shower I have ever seen. All of these things make the villa very luxurious. The host provides toilet paper, hair dryers, soap and shampoo. Fire alarms everywhere and CO alarm in the kitchen. The maids are very helpful and kind. Very good value for money. A perfect place for families with children. We certainly will come back again.
Alf
2016-05-20T00:00:00Z
This beautiful villa exceeded all expectations, and we warmly recommend you to visit Obong. The host and the reception was very welcoming, reliable and professional, and this huge villa really was luxurious regarding necessities and all other things. The property has a lovely and clean pool, and there are several areas outdoor where you could relax and enjoy the evenings. The property is secured with a fence, and the standard of the villa is highly westernized, making us feel comfortable and at home. The two house maids were very pleasant and helpful - giving us the feeling of staying at a hotel, yet discreet and giving us room for privacy. Obong is a very charming and peaceful area, making us feel in touch with the local culture of the Philippines. People in the area seem very friendly, and we found it easy to get in touch with both locals and tourists. Obong Spring is only a short walk from the villa, and there are tricycles driving past outside the villa if you want to visit Tingo beach or the local town and market in Dalaguete or Alcoy.
Paal
2016-04-27T00:00:00Z
Hello Great house, as advertised. Pleasantly surprise that two girls who care for for house stayed there and helped with suggestions and tips. Really big house, great location. Right on Main Street across from basketball court. So when you are bored, go to Terrance and watch a game. House is set up for westerner guest to feel totally comfortable. Well stocked, everything you need. Cold spring directly across street.
Howard
2016-08-01T00:00:00Z
Jag och åtta kompisar bodde i det här huset i fem nätter och det var helt fantastiskt. Øyvind var mycket hjälpsam under hela resan och ansträngde sig för att svara på alla frågor. Tjejerna som bodde med oss var oerhört trevliga och hjälpsamma med allt vad vi behövde och vi kom hem till ett nystädat hus varje dag. Området var perfekt och det fanns mycket att göra runt omkring. Vi hyrde mopeder under vår vistelse och det underlättade mycket. Det finns ingenting vi kan klaga på från detta hus. Allt var perfekt och det var ännu finare än på bilderna. En sak som är bra att veta är att inga bankomater tar mastercard så ta ut pengar för hela resan på flygplatsen. Detta boende kommer jag att rekommendera till alla mina vänner och jag hoppas att även jag kommer tillbaka en dag.
Albin
2016-10-11T00:00:00Z
Great place particularly if you've got a group. When I originally booked there were only 6 of us. Our group multiplied but Oyvind communicated with me the whole time, even though sometimes it was difficult for me as I didn't have wifi. We were met by Ivy and Honey and they helped us out in any way possible. We knew they were there but made themselves scarce so we felt we were on our own. A 40 min drive to Oslob and we were swimming with the whale sharks which is an experience I highly recommend. We booked a hut on the beach on our way back and snorkelled and swam for the rest of the day. The house also has a karaoke machine all ready to go which provided us with heaps of fun and laughs (not sure what the neighbours thought) lol. Seriously, I spoke to Ivy when we got there and she told us when we needed to be out of the pool and be quiet as you do tend to get out of control on holidays. I regret I didn't get to the springs which is only 5 mins away but we created so many memories in this special part of the world. Thanks Oyvind, Ivy and Honey.
Margaret
2016-10-27T00:00:00Z
Art der Unterkunft
Ganze Unterkunft
---
Objekttyp
Haus
---
Unterkunft für
10
---
Schlafzimmer
Obong , Central Visayas, Philippinen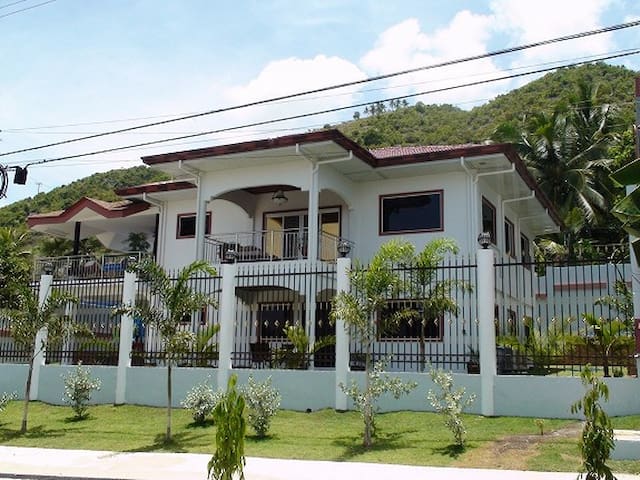 The house is located in Alcoy, Barangay Poblacion. Directly at the seashore. You can enjoy swimming or snorkeling in the sea just some footsteps from your room. On the lot are 3 houses, one to rent, one of the owner, one of the staff (gardener). 20m to the sea. House has own entrace with automatic gate. 500m to the town center with the market. There are the buses (ceres, sunrays) going to Cebu City or the south to Oslob and Santander.
One-storey single / two family house in well-kept garden, panoramic sea view, fully-furnished with new furniture and private carport directly in front of the house. Beautiful ocean view to the Pacific Ocean and Bohol Island
The house is just awesome! So cozy, clean and comfortable! Private stairs to the sea with amazing snorkeling (we saw even turtles). Home of a dream - HIGHLY RECOMMENDED!! Thanks to Lothar and his wife - they are the greatest hosts! We had fantastic time here!
Elena
2017-03-21T00:00:00Z
Art der Unterkunft
Ganze Unterkunft
---
Objekttyp
Haus
---
Unterkunft für
4
---
Schlafzimmer
PH, Philippinen
Two simple native houses near a fishing village (and a 4 start resort). You will enjoy sunsets, silence and fresh air. The main house room have 2 double beds and aircon. The second house have two aircond rooms and one bathroom. The 1000 sqm lot is totally fenced. This listing include the two houses and the lot. Private parking available inside the lot. It's a 3 hours drive from the airport.
Near a fishing village, this property is charming and you will enjoy: - sunsets - snorkelling (the sea is at 2 minutes walk) - diving (25 minutes from moalboal which is a fantastic diving spot with many diveshops and boats) - falls (kawasan fall 40 minutes, barili falls 25 minutes), canyonning - markets (moalboal fish market every days, dumanjug market on sunday) This house will fit to you if: - you want to stay in a quiet and beautifull place - you are looking for a genuine contact with the people from the village - you are looking for a wild seaside, without too much people This house will not fit to you if: - you want to go out every night to party (25 minutes ride for party spots like panagsama in Moalboal)
You are near the village and a 4 star resort. Shopping malls and markets in Moalboal (25 minutes ride) and Dumanjug (10 minutes ride).
The house is absolutely beautiful, we could tell a lot of time and thought was put into the design and construction of the space. However, the house is really far out of the way and is hard to find if you do not have a guide. The host and their crew did a great job of helping us including picking us up from Moalboal and then taking us to the market to pick up food. Inside the kitchen was a drinking water tank which was great as well as a full kitchen allowing us to cook and prepare coffee.
Matt
2016-10-28T00:00:00Z
My family and I had a fantastic stay at Leona's. The property was so much better than we could have imagined. We had the whole place to ourselves with lots of room to roam and the staff went above and beyond. We had no wifi and couldn't contact them to say we would be late but they tried to reach us and were even waiting on the main road to help us find the place when we finally arrived. We even had toast, jam, peanut butter, coffee and tea provided for breakfast. The place is on a private property in the back of a local neighborhood. The area is perfect for exploring and getting to interact with the locals. I had so much fun just walking through the village and playing tag with the kids. Would definitely recommend staying here. Thanks so much!
Maya
2016-10-11T00:00:00Z
Très belle petite maison au calme. Leona et Stan sont très sympa et arrangeants. On apprécie mieux la maison et la région en étant motorisé (motos en location ...)
Taha
2017-03-09T00:00:00Z
House and place was overall pleasant and comfortable to stay in. Staff were very nice, warm and friendly. I loved how we were able to feel so relaxed and at home. It was just quite difficult to locate the place though.
Kris
2016-11-01T00:00:00Z
Nous avons passé un agréable séjour dans cette jolie maison en bambou . Leona et Stan ont été très à l'écoute et accueillant lors du séjour . Et une très bonne mention pour la cuisine de Leona . Merci
Thomas
2017-02-11T00:00:00Z
The location of the house was à bit challenging to find. But it was located in a quiet location. The house was pretty big for us and had everything we need. The housekeeprs were also vers friendly
Marinelle
2017-04-02T00:00:00Z
Our stay at Leona's house was fantastic! From the warm welcome and pick-up at the airport, to the savoury Filipino meal that awaited us once we arrived in this cozy tropical home, we were surely sad to say goodbye. Leona and her family were ready to respond to any of our needs and did all they could to make our stay thoroughly relaxing and fun. The house was immaculate and spotless, and it has all the amenities one could ask for. We cooked the whole week and whenever we needed anything extra, Leona gave it to us from her own kitchen. The house is easily reachable with a map that Leona can send to you, and if you ask for pick-up they will be the ones showing you the way. Two beaches are within a few minutes walk and are ideal for snorkeling and swimming. The locals in the neighborhood are very welcoming and they make any foreigner feel at home. The house is also conveniently located just 25mins from the Moalboal peninsula, where we found a truly local market with fresh seafood and tropical fruits. In Moalboal you can also find reasonably priced restaurants or get a chance to experience world class diving. We will be sure to return!
Antonio
2017-01-31T00:00:00Z
We decided to stay at this place because we are a big group of 8 people traveling around Philippines and we like to stay together. We couldn't be more satisfied, host and hostess are very friendly and helpful, helped us book a tour to Kawasan falls and drove us in to town several times. The breakfast is delicious and we decided to enjoy a traditional Philippine dinner there, probably the best meal in Philippines on the whole trip! Would definitely stay there again! Thanks again!
Lina
2017-03-14T00:00:00Z
Art der Unterkunft
Ganze Unterkunft
---
Objekttyp
Haus
---
Unterkunft für
8
---
Schlafzimmer
PH, Philippinen
Entfliehen Sie dem Verkehr der Stadt! Gebunden nach Süden, Provinz Cebu! Dalaguete Town 84km südlich von Cebu City. Eine ruhige und freundliche Stadt. Diese Wohnung befindet sich in einem Berg, auf 8mins von der Hauptstraße.
Apartment Ausstattung und Einrichtungen: Komplett eingerichtete Wohnung Terrasse Wohnzimmer, Küche und Esszimmer TV SAT mit DVD-Player Klimatisierte Zimmer WC & Bad mit Heizung Sichern Generator Gratis Wifi
Ganz und friedliche Nachbarn
Art der Unterkunft
Privatzimmer
---
Objekttyp
Haus
---
Unterkunft für
2
---
Schlafzimmer
Dalaguete, Province of Cebu South, Philippinen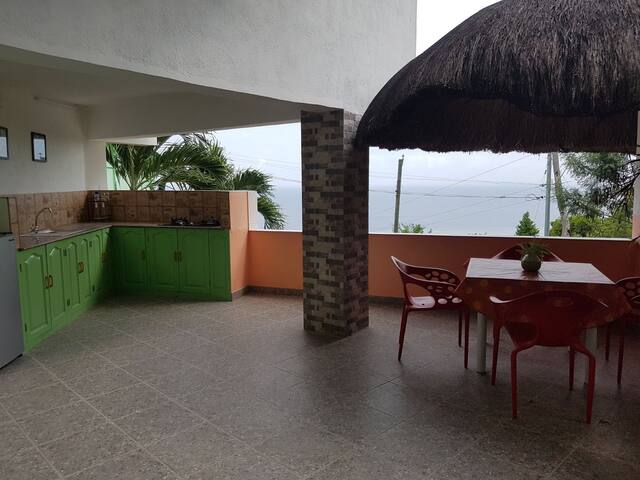 Our place is close to the beach (2km walk), waterfalls and awesome snorkeling and scuba diving. You'll love our place because of the people, the location and the chance to live among local people. We have AC, running cold water and a kitchenette. Motorcycles, island hopping, canyoneering and more is available
Unser Haus liegt abseits der ausgetretenen Pfade, aber nahe einigen schönen Sehenswürdigkeiten. Es gibt eine üppige Vegetation in der nassen Jahreszeit und trockenen Sommer Spaß in den anderen Monaten. Leute da in diesem Bereich machen Lebensunterhalt durch den Tourismus, Landwirtschaft und Aufzucht von Tieren. Unser Haus verfügt über Kühe, Hühner, Schweine und Ziegen in der Nähe. Es gibt mehrere große befreundete Familien in der Nähe. Sie haben neugierige Kinder, die Sie freundliche Lächeln geben wird. Sie leben um und in einem ländlichen Gebiet von einem Land der Dritten Welt bitte Freundlichkeit, aber einige Unannehmlichkeiten erwarten.
9.9 löschen 84 delete31delete1, 12delete 3.3 löschen 7 16delete13 löschen (Dies sind die lat. Und lang. Koordinaten und Sie können Ausschneiden und Einfügen, dann bearbeiten und in (SENSITIVE CONTENTS HIDDEN) Maps genaue Position zu sehen) Von Cebu City, nehmen Sie die Richtung Süden Bus nach Moalboal. Sobald mieten ein Dreirad Sie Ritabel Haus zu nehmen, die in Basdako aka 'weißen Strand' ist. Nehmen Sie die Straße zu weißen Strand und biegen Sie rechts vor dem Strand, in Richtung Club Serena geht. Das Haus befindet sich auf der rechten Seite und hat ein rotes Dach. Es ist das erste Haupthaus, die Sie sehen, nachdem die Hauptstraße ausschalten.
This house was very close to White Beach which was convenient and was astoundingly clean. There was no WiFi access nor was it anywhere near a place that did have WiFi access. Also as is common in the Philippines, the property did not have hot water. This didn't bother us as we expected that. John's in-laws next door were helpful.
Sean
2017-04-02T00:00:00Z
Nice small home in Barrio type setting, just as the owner described. It's a short walk to a beach and the HK Restaurant and Resort. Plenty of tricycles and motorbikes riding by that can give you a ride to panagsman Rd area where all the dive shops and eateries are.
Michael
2017-02-27T00:00:00Z
房子距离镇上有一点距离,我们是去潜水的,倒是离潜店很近,房子只有冷水和风扇,洗澡有点冷的,也没有被子只有床单。不过性价比是真的很高很高,还带厨房,我们自己坐车去镇上买了食材自己煮的饭。房东邮件发过去不太回的,基本靠自己摸索。总体来说相当满意的。
晓青
2017-03-18T00:00:00Z
A lovly place tucked away near thé beach, a Perfect place for getting away from thé busy streets, thé locals are very friendy! Thé family next door made are stay perfect!Really Nice people and catered for are every need , if your wanting to expierence thé culture of thé Philippines then i would suggest staying here!!
Anaïs
2017-02-18T00:00:00Z
Art der Unterkunft
Ganze Unterkunft
---
Objekttyp
Haus
---
Unterkunft für
5
---
Schlafzimmer
Moalboal, Central Visayas, Philippinen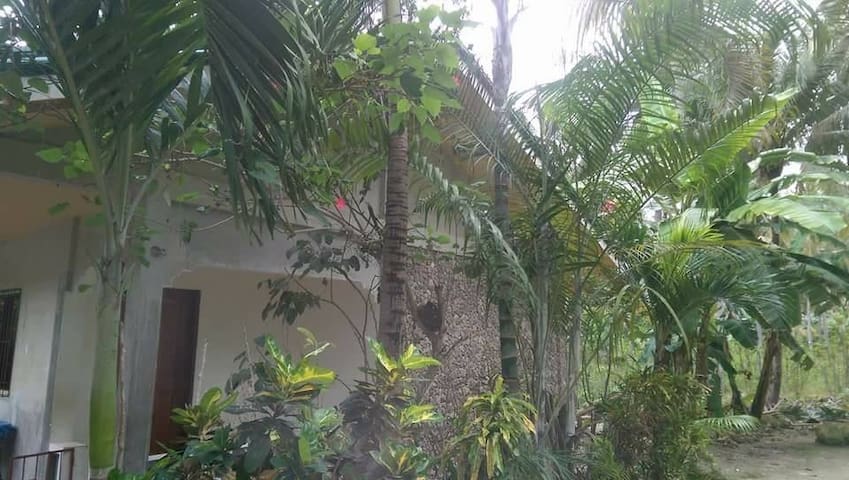 My house in Moalboal serves as my escape from the hustle and bustle of the city life in Cebu. It offers me a time to relax and rejuvenate from the stress caused by work. My aim is to make guests feel like it truly is their home away from home. My property is fully furnished with 2 bedrooms, 2 T&B, a full-sized kitchen, and Living and dining rooms. I also have a patio which gives guests a chance to bond or to bask in the sun. There is also an amazing view of the sunset!
My place is near diving centers such as Savedra, Qou Vadis, Blue Abyss, among others. There's also a resort just beside my place that has a restaurant and a diving center.
Art der Unterkunft
Ganze Unterkunft
---
Objekttyp
Haus
---
Unterkunft für
5
---
Schlafzimmer
Moalboal, Central Visayas, Philippinen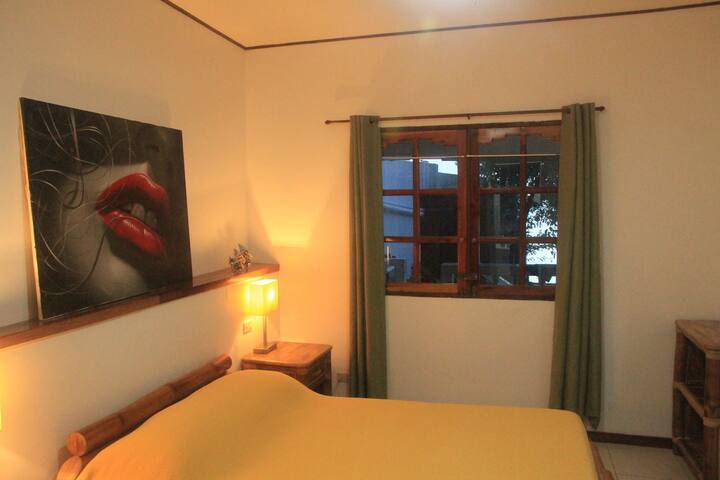 We offer a large modern house with large swimming pool. It is fully furnished in a high end contemporary manner Air conditioned throughout. One main feature is the sweeping staircase taking you to the first floor, beautifully designed. We can offer extra foam mattresses and bedding for extra guests to sleep on. Central in South Cebu for all the great attractions and Whale Shark watching down the road. There are NO ADDITIONAL Charges unlike others who have hidden charges for Electric Etc.
Our house is a modern well decorated to a very high standard home. It consists of four bedrooms, all with their own en suite (Showers and CR). The master bedroom also has a bath tub. Two of the bedrooms have king sized beds, one with a queen sized bed with the other outside bedroom next to the pool with a standard double bed. Three of the bedrooms also have chandeliers as lighting to give that magical touch. All bedrooms have long thick curtains to keep out the sun early in the morning if you wanted a nice lay in or required a long rest during the day due to jet lag for example. The main living area has a very high ceiling with a beautiful central chandelier. There is also a carefully crafted sweeping staircase that takes you to the first floor and 3 of the bedrooms from the living area. A great location to take pictures of the family. The living area has plenty of seating with a TV connected to a satellite dish to watch at the end of a hard day's sightseeing or relaxing by the swimming pool outside. At the front of the house with spectacular views you have the use of a billiard table, it is outside but under shelter meaning you can enjoy the nice cool breeze coming off the coast whilst you shot some balls in the pockets. Outside you will find a large swimming pool which boosts a waterfall one end and an infinity pool the other over looking Cebu Straits and Bohol Island in the distance. The pool was also built with young children in mind and has a child safe area for them to paddle in. There are also many outside seating areas that have been well decorated with ornaments for you to choose from and decide where you are going to take your morning coffee/tea. All areas have the same cool sea breeze coming off the coast. The house has air conditioning throughout should you need it while you stay there. There are also no neighbors directly next to house to disturb you or look over you during your stay. It is also situated along the main National Highway so access to the house is very easy. All you have to do is open the remote control gate from the highway and drive up to the house. This is truly an amazing house for you and your guests to enjoy while on your vacation. It is one of a kind in this area of Cebu and as you can see very competitively priced. We can offer you 5 extra single foam mattresses, pillows and blankets should you wish to bring more than the 8 guests that we advertise on here for a fee. There are NO ADDITIONAL Charges for your stay at the house, unlike other properties on Airbnb who have hidden charges, like electricity and water for example. You only pay extra if you have more than 8 guests staying, if you required the chef to prepare and cook your meals or if you needed a helper to wash the dishes etc. This will all be discussed before your arrival.
Our house is in an ideal position for travelling and discovering all the main tourist attraction there is to do in the South of Cebu. To our south we have the Whale Shark watching, Tumalog Falls, dive centers, Sumilon Island . To our north we have Mama Mary's Monastery in Simala, Sibonga. A short drive up the mountain to our west we have Osmena Peak the highest point in Cebu and Mantolongon vegetable market (Dalaguete is called the vegetable basket of Cebu.) From Mantolongon town you can go to the other side of the island where you can explore Badian with its canyoneering activities, then you have Moal Boal with further diving and Kaswasan Falls just down the road. These are just some of the things you can do when staying with us, and all within easy reach for a fun filled day out. I can also arrange on your behalf whilst you stay with us a driver and vehicle to take you to the many places to visit here. Hans who is the driver has lived here for many years and knows all the places to visit and is a great tour guide for you. His vehicle can seat up to 12 passengers and his rates are very reasonable. Please ask me for a quote to see for yourself. If diving or snorkeling is something you wish to do then again I can get this arranged before you arrive on your behalf so you have more time having fun and relaxing. The dive master has had many years experience is fully qualified and knows all the good snorkel and dive points in our area. All equipment can be supplied and we can arrange half day or full day excursions. Please note : do make sure this is something you want to do, as when I arrange this on your behalf, it is planned out by the dive master, the use of the equipment and when the boat will be used. Last minute changes of mind disrupts his business and the planning for other people who may have wanted to dive/snorkel that day. The house is situated on the main National Highway so getting there from Cebu City or Lilo'an Port is straight forward. Finally it is important to me that you have a great time at the house and the surrounding area. I am more than happy to organize daily excursion on your behalf so you can make the best use of your time with us whilst staying at the house, so please do ask me and I will do what I can for you. Thank you.
Matt really helped me prepare this trip to the very last detail. He patiently answers my inquiries (months before our Cebu getaway) and gives the best option for our vacation. He also prepared our transportation. Best place to stay in Southern Cebu.. :) Hopefully we can visit again.
Kath
2016-08-28T00:00:00Z
Matt (our host) made us feel welcome even before we got there! He responded to my inquiries very quickly and that is important to me. He offered and gave us ideas on what activities we can do during our stay. Our activities were coordinated by Matt efficiently, even before our arrival to the house. Whenever I sent messages to Matt, he efficiently and quickly responded. The description of the house is very accurate. The house is so spacious for the 5 of us and well lit! The A/C works very well even in the huge living room. A working A/C is wonderful as it is quite hot/humid in the Philippines most of the time. We all enjoyed the pool after the day's activities. The cold beer in the fridge is a huge plus:) The house is located in a very safe area and neighborhood. The housekeeper lives adjacent to the house and she was always accessible whenever we had questions.
Letty
2016-03-09T00:00:00Z
Matt was very friendly and every question i asked before the trip he was reply me fast. He was helping us to get our transportation and the chef to prepare the meals with reasonable price. The house was very big and clean. We really have a wonderful trip with staying at Matt house. We will definitely recommend the house to our friends.
Susan
2016-07-12T00:00:00Z
We spent three nights at Matt's place. Matt was kind, supportive, and helpful. He welcomed us in the first day and gave us a tour in the house. He also helped us planning for the activities and gave us recommendations for the nearby restaurants. He also arranged driver pickup from to the airport and stayed with us all the time (James was our driver and he was great guide) The place is much better than you can imagine. The house is clean, large, and organized. There is a a great swimming pool and outdoor dining table. You will love the place.
Mohammad
2016-11-20T00:00:00Z
Matt's house was amazing! Me and my friends had a superb weekend there. We felt like kings and queens while staying in the mansion. Matt was very welcoming as well as Maricel and the other caretakers. Matt toured us around the amazing house and even stayed for a bit to chat with us. The bedrooms were more than enough for the 13 of us. The kitchen was very modern. I'll make sure the next time we come back, we'd bring some baking ingredients to bake some goodies. The pool was large enough for us too. We really had a great time in Matt's house. We'll surely come back.
Yanyan
2016-04-25T00:00:00Z
The place was amazing. It was everything we wanted and more. Had no problems with the amenities of the house. Matt was very helpful before and during our stay. I would definitely recommend the place.
Elaine
2016-04-02T00:00:00Z
The place exceeded our expectation! We are all in awe upon seeing the place. Thank you Matt for allowing us to celebrate my son's bday. The kids had a grand time playing at the pool.
Jan
2016-05-30T00:00:00Z
Matt's place was very spectacular. It's the most luxurious and comfortable house to live in. Matt is a very kind and a welcoming host and very precise in his house rules. My travel mates were very fascinated, they felt like DON's and DONA's in Matt's mansion. We enjoyed taking pictures all over the place. We were having BBQ and the kids enjoyed swimming in the pool. Wi-fi and all its kitchen amenities were wonderful and readily available. Big thanks to Maricel and Jojo for the accommodation. Planning of going back to Oslob and Simala next summer, I hope Matt's place is still available. Highly recommended.
Lorelyn
2016-05-22T00:00:00Z
Art der Unterkunft
Ganze Unterkunft
---
Objekttyp
Haus
---
Unterkunft für
8
---
Schlafzimmer
PH, Philippinen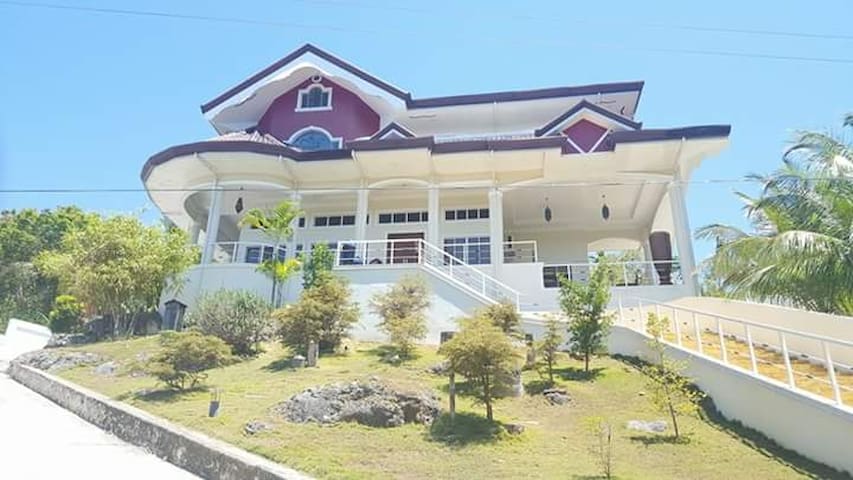 Beach House , right on the Beach. Studio Style ( 75 qm ), 30 qm Studio with Kingsize Bed, small Room with 2 Single Bed, 1 CR-Room, Kitchen, Terrace with Sea View & Beach, Aircon, Highspeed Internet, privat Entrance to the Beach. 300 m Beachline from Panagsama Restaurants, Bars & Dive Centers. We arrange all Transfers
Art der Unterkunft
Ganze Unterkunft
---
Objekttyp
Haus
---
Unterkunft für
4
---
Schlafzimmer
Moalboal, Central Visayas, Philippinen
Erstaunlich Moderne Sea-Front Haus am Stadtrand von poblacion, auf dem State Highway. Eigenschaften fast neu, ultra-moderne Selbstversorger-2 große Super-Kingsize Schlafzimmer mit eigenem Badezimmer und viel Platz leben für zusätzliche Personen auf Delux Airbed und Schaum. Neu Essbereich im Freien und WIFI hinzugefügt !!!! Bitte beachten Sie, dass es kein heißes Wasser. (Normal in Philipinen und wir haben es verpasst nie, weil seine in der Regel so heiß)
Ein fantastisches und modernes Wohnen mit Zugang zum Meer. Rock-Angeln. Schnorcheln und Tauchen. Schwimmen von den Felsen. Sayaw Strand nur 2 Minuten die Straße runter! Jeder sagt, Fotos nicht gerecht werden, aber wie fängt man 180-Grad-Ansichten von einer atemberaubenden modernen Haus umrahmt? Volles Haus zur Selbstverpflegung. Enthält das Service unserer erstaunlichen Haushälterin, die alles, was sie können tun, um Ihren Aufenthalt angenehm zu machen. Wir sind in Übersee, aber ich online bin oft kann so helfen bei der Organisation Ihres Aufenthalts
Dies ist eine private Familie Verbindung, mit einem Schutz für Ihren Komfort gesichert - Privatsphäre und Sicherheit. Unsere Nachbarn sind unsere Familie und wir bitten unsere Gäste, ihre Privatsphäre zu respektieren und auf unserem Gelände bleiben.
Wir haben den Aufenthalt hier sehr genossen. Die Unterkunft ist wunderschön, man fühlt sich wie zu Hause. Auch die Austattung ist hervorragend, besonders wenn man vor hat selbst zu kochen. Wenn man ein paar Tage zum entspannen und runterkommmen braucht ist die Unterkunft genau das richtige. Wichtig ist nur einen Roller zu mieten, da man sonst nirgends hin kommt, denn die Unterkunft liegt ein wenig außerhalb der Stadt.
Carla
2016-10-28T00:00:00Z
Wir haben hier 4 wunderbare Tage verbracht. Das Haus ist ein Traum. Der Blick auf das Meer berauschend. Edith hat sich perfekt um alles gekümmert. Die Küche ist sehr gut eingerichtet und bestens geeignet für alle die selbst Kochen möchten. Wir kommen auf jeden Fall wieder.
Werner
2016-11-13T00:00:00Z
Wonderful 180° view on the sea. The location is a bit secluded, but Edith will help you to get anywhere (whether it is a short trip to the supermarket or hiring a driver for a full day). Furthermore, the kitchen was fully equipped, the Wifi was great and everything was in order upon arrival. A truly great and stress-free experience!
Sam
2016-12-05T00:00:00Z
Courtney is very responsive and follows up towards the date of your trip. Her helper Edith is very help. The place is beautiful. It's like having your own beautiful house by the sea. Complete items for cooking. This is perfect for someone who likes to snorkel. You just walk the stairs down the cliff from the house. And the immediate water has the reef immediately, very accessible. The corals and fishes are better than I expected. Very well formed corals with hard and soft corals. It spans a good stretch. It will be difficult to see everything. But the best spots I think are right in front of the property. Will definitely recommend and can consider going back to.
Vino Mark
2016-06-06T00:00:00Z
Courtney's place is so much better than the pictures. We loved every corner, every detail of the house. Furnishing is well-thought of, over-all design provides a very relaxing ambience. The kitchen was modern and well-equipped. We bought gallons of mineral water only to find out that there is mineral water (free!) in the dispenser. There were pots and pans, rice cooker, kettle,etc. The bedrooms are heavenly. You can see the skies and the sea from your bed! The place is private and secured. It is a gated compound with another house beside it. A security guard roams the place round the clock. Entertainment-wise, there's a big LCD TV, several DVD's, some books. But who needs those when the ocean view is right there before you? Courtney couldn't have been better as a host. He answered all my questions patiently, gave tips on attractions in nearby areas. (Moalboal Basdaku Beach is a little under an hour from the house, Oslob whale shark-watching is 2 hours) Edith the housekeeper took good care of us, even helped out in buying stuff in the market and cooking. She would make sure that the house is spic and span every time we come back from our activities. We would definitely go back. But next time, we will not leave the house for activities but instead just soak in the peaceful ambience of this beautiful place. Thanks so much, Courtney!!!
Lonel
2015-04-03T00:00:00Z
Great house with everything you need for a great stay; you even get quality toiletries to enjoy. The house is nicely and tastefully decorated with no excessive furniture to take up space. As a result, you get plenty of space to relax and chill (which is what this house is built for, I am sure 99% of guests will agree!) The house runs on tank water so you need to manage your expectations on this. Water cannot be flowing at a stable rate with strong flow. Not a deal breaker definitely. This is the place if you want serenity and lots of peace. Great for friends and couples to just bask in one another's company. Just remember to bring your own supplies and if need be, the friendly housekeeper Edith will be ready to help. Great job Courtney for such a nice house, and Edith for attending to our needs in a timely fashion.
Kelvin
2017-03-29T00:00:00Z
Great place to stay, communication with Courtney was a breeze!!
Benno
2017-03-05T00:00:00Z
Our group was very excited to stay on your house before we started our trip. Even we had a long trip from airport to your house, it was worth it! It exceeded our expectations. A very nice view, relaxing and comfortable house. It was hard for us to leave the house. Courtney is a great host, responsive and will surely answer your queries. Edith is very accommodating and helped us on our daily needs. I will surely recommend your house who also wants experience our one of a kind vacation
Phoebe
2016-10-11T00:00:00Z
Art der Unterkunft
Ganze Unterkunft
---
Objekttyp
Haus
---
Unterkunft für
8
---
Schlafzimmer
Barili, Central Visayas, Philippinen
La Bella Boljoon Beach House is a quaint house on a cliff overlooking the clear blue waters of the South and a breath-taking view of the sunrise! Enjoy swimming and snorkeling at the Boljoon Marine Sanctuary, which is just right in front of the house! It's close to Oslob whale watching, Aguinid falls, Osmena Peak, Dayhag Falls, and Ablayan Peak. Tour Packages and van transportation can be arranged for a relaxed and stress-free vacation! Inquire today!
Welcome to La Bella Beach House, your vacation home in the South of Cebu! La Bella offers spacious and cozy beds to sleep in. The ground floor bedroom has 2 double size beds, 1 sofa bed, private bathroom and sea view. Just outside the room is the living area, a dining area, and a toilet room. Other amenities include refrigerator and an outdoor kitchen. A glass sliding door leads to the patio overlooking the ocean. On the second floor sits our Triple Room with a terrace, offering a magnificent view of the ocean. It has 3 queen size beds, table and chairs and a bathroom that was recently expanded to serve guests better. Leisure around and still feel at home in this cozy and quaint house that is in between the mountains and the sea. Have a view of the lush greens of the mountains and the ocean while sipping through your morning cup of coffee at the patio. A few steps down the house is the Boljoon Marine sanctuary. Beach lovers will surely have a great time snorkeling or even diving here. A fenced parking space is available; it's free for guests to use.
Fall in love with the homey feel of this house when you stay in this cozy home near the South Cebu waters!
Very nice place and friendly house owner. The view is really great!! Especially you can enjoy the sunrise and sunset on the balcony.
Tsz Kei
2016-04-07T00:00:00Z
We booked the entire house. It's an awesome place. Melisanmade sure we were taken care of and the caretaker is very accommodating and friendly.
George Isaac
2016-08-02T00:00:00Z
The location was good in terms of scenery, you can see the sunset and the sunrise from the balcony and patio. The house was complete, from toiletries to cooking instruments, they even had a pocket wifi and radio for us to use. The host, Miss Melisa, and the caretaker, ate Rose, was very accommodating and hospitable. We availed their tour package so they provided transportation and fees for most of our activities (ie whale shark watching, island hopping etc) The only downside is that the place had weak phone service but overall it was a great experience!
Johana
2016-05-11T00:00:00Z
We stayed only a night at Bella Beach House, and we were a group of 10. We didn't get the chance to meet Melisa but her father took such a good care of us. He arranged all the transportation, wonderful dinner and breakfast made by Rose, they took us to the whale watching and helped us with everything, and also lovely conversations and company. We found the boat to Bohol thanks to him. The only problem was that there was no water at the house that night, and the upstairs bathroom was broken, they tried fixing it all afternoon. At the end they made up an outside shower so we had a fun experience having a shower with an ocean view. Apart for that, the location and the view from the house are speechless.
Ana
2016-08-21T00:00:00Z
We arrived earlier than expected, i contacted Melisa and gladly told the care taker, Ate Rose, which warmly welcomed us. The place is very homey and a very nice place to chill especially at night! :) We rented out a karaoke machine which costs around 1,500 pesos and had drinks and chatted with Ate Rose. It was a super fun night! :) Kudos for Melisa and Ate Rose for making our stay very memorable, we'll surey try to come back :)
Halle
2016-08-09T00:00:00Z
Had an awesome stay at La Bella Beach House!! A perfect hideout getaway with a relaxing and chill vibe! We will go back for sure.
Kristine
2016-09-12T00:00:00Z
We arrived late in the evening at La Bella but still Ate Rose, the housekeeper, gave us a warm welcome. The description of the house is definitely accurate. This is the best place to stay if you are going to have activities such us whale shark watching, heritage area at Poblacion, canyoneering and other activities you can do at southern cebu. I was also overwhelmed by the assistance and hospitality of Ms. Melissa even though we only communicate thru phone. Thank you for the great experience.
Cholai
2016-05-24T00:00:00Z
Melisa is great host! and room is very nice location!! Hers dad and Rose is always helping for us. We spent excellent few days! Thank you very much!
Yota & Kanami
2016-10-07T00:00:00Z
Art der Unterkunft
Ganze Unterkunft
---
Objekttyp
Haus
---
Unterkunft für
12
---
Schlafzimmer
PH, Philippinen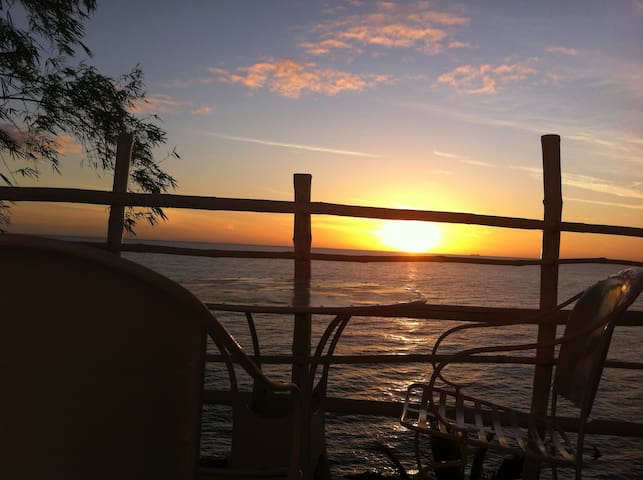 MJ's is at the heart of the town inside a secured, fully fenced, private property. It is very near everything you need. Restaurants, mall, bus stops and beaches. The property is a great starting point if you plan to do activities such as canyoneering, a visit to kawasan falls, or simply visiting the neighboring towns. Aside from the beautiful beaches, we also have a fantastic hiking/biking trail with a very peaceful view of the mountains of Moalboal, Right at your doorstep.
Room can accommodate 4 persons. It comes w/ ac and wifi. We also provide electric kettle with unlimited service water to drink. Please see the pictures to get an idea about the set -up in the house.
Peaceful, clean and green. We are in a residential area in Moalboal, less than 40m from the highway. If you prefer eating out for breakfast , Mcdonalds is only a 3 min. walk. If you want to cook , you can buy in Moalboal Grandmall which is where mcdonalds is located.
Nat is excellent at communicating; when asked about what to do in the area and for general suggestions she has a lot of input and she will always respond in a timely manner. The room was fantastic and just what was needed for the duration of our stay; exactly as described. I highly recommend her residence if you plan on visiting the area.
Phil
2017-02-07T00:00:00Z
The place was very convenient firstly because it was near the bus terminal so commuting to other places was easy. The place was affordable and clean especially for someone going to south cebu for the adventures this is the ideal place to stay.
Lovelle
2017-01-19T00:00:00Z
We were planning on doing the Canyoneering in Kawasan Falls and ended up staying at MJ's residences in Moalboal which was just the perfect place for us! Mostly because of the most amazing host Nat. She helped us out with EVERYTHING. And I mean everything. She booked our canyoneering and also hooked us up with a good discount, picked us up and dropped us of when we needed to go somewhere and helped us with our continuing trip to Cebu. She was just the best. The location is close to a mall nearby which has McDonalds and a nice supermarket.
Maria
2017-03-07T00:00:00Z
Great place to stay, rooms were clean AC was cold. Nat was a fantastic host and constantly communicated with us. Would stay here again.
Kyle
2017-01-24T00:00:00Z
Art der Unterkunft
Privatzimmer
---
Objekttyp
Haus
---
Unterkunft für
4
---
Schlafzimmer
Moalboal, Central Visayas, Philippinen
Argao - Airbnb
:
Durchschnittlich

4.74

von

5

Sternen aus

189

Gäste-Bewertungen
1

–

18

von

56 Ferienhausvermietungen
Gib deine Reisedaten ein, um den aktuellen Preis zu sehen. Es können zusätzliche Gebühren und Steuern anfallen.