21 Ferienhausvermietungen
Your dream house completely opened on a seaward garden, this is the perfect choice if you are looking for a break from the "city life" or to have some days of pure relax.
The house is big enough to host 6/7 people and It's developed all around the private garden whit an amazing view. The apartment is part of a condominium but it's completely independent, you have the private garden and a private covered garage for the car. The garden is even better during the winter months, as the temperatures are quite mild. (The sunset pictures as been taken during the winter)
The house is located inside the "private community" Pineta Arenzano, it's a very calm, quite and exclusive neighborhood. Here you will find also a golf club, restaurants and parks. For your grocery shopping I would suggest the shopping center close to Pineta, it's just 5 minutes from home and it's very well equipped. If you want to enjoy the sea or having a nice walk on the waterfront there are several ways to do it, You can go to Arenzano or descend to the lower part of Pineta where You will find different beaches and a beautiful walkway.
The location of the house the garden and the view are perfect. Federico was very reaponsive, he helped us a lot. Arenzano is a beautiful town with only a few turist. We recomend this apartment for families and group of friends. The only thing we missed is a microvawe owen.
Tamás
2016-06-22T00:00:00Z
This is a fantastic place, beautiful location and lovely house. Federico is really friendly and we had a lovely time here.
Gavin
2015-10-09T00:00:00Z
Very nice House with a nice view. The house is exactly as described in the advertisement and also very close to the beach and dock. Federico has been very nice with the time to check in and the check out. He gave us every details to make it easier to find the house. We had everything we needed, even the coal for the barbecue :). Thanks! great time there for my birthday.
Tranan
2016-06-06T00:00:00Z
Frederico was a great host and the place was beautiful. We were late in getting in but frederico even made us pasta and wine for dinner. Great experience!
Adam
2015-09-27T00:00:00Z
Nous avons beaucoup aimé notre séjour dans cette maison au charme des maisons de famille et au jardin avec vue sur la mer. Nous y avons été très bien accueillis.
Mathilde
2016-11-01T00:00:00Z
Casa bellissima. Zona tranquilla e proprietari davvero ospitali e gentili. L accoglienza e' stata irripetibile. Da non perdere
nicola
2015-11-09T00:00:00Z
Superbe emplacement ! Grande maison pour famille ou 2 couples. Jardin et espace extérieur luxuriant.
Jacinthe
2016-07-02T00:00:00Z
Great experience with the host and his sister always available and very helpful. A couple of things didn't satisfy me in the house and they sounded willing to make the improvements. The apartment is great and has great potential but could do with some better maintenance and deep clean in my opinion.
Erika
2015-10-25T00:00:00Z
Art der Unterkunft
Ganze Unterkunft
---
Objekttyp
Haus
---
Unterkunft für
7
---
Schlafzimmer
Arenzano, Ligurien, Italien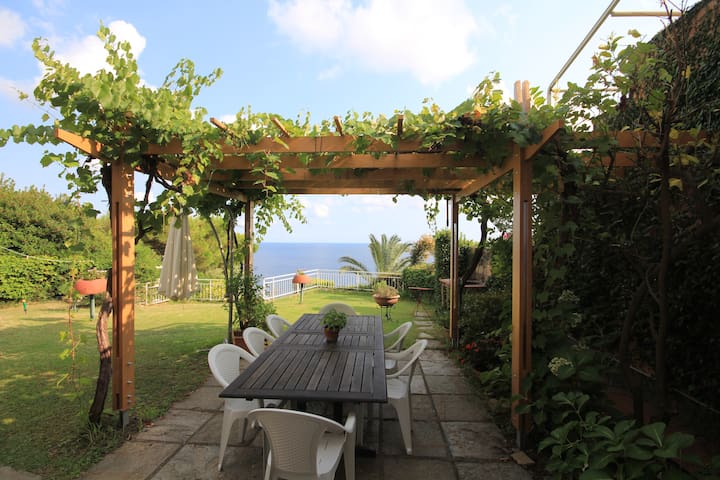 Il nostro accogliente appartamento in Pineta ad Arenzano è caratterizzato da un ampio terrazzo con vista sul golfo e da un giardino fiorito! Può ospitare comodamente sei persone garantendo un soggiorno comodo e rilassante!
La casa di Giovanna è bellissima e risponde perfettamente alla descrizione. La sala e la terrazza sono ancora più grandi di come sembrano nelle foto! L'accoglienza è stata calorosa e la signora è stata molto disponibile e gentile. Noi eravamo 4 adulti con il nostro canone che si è trovato benissimo. La vista sul Golfo di Arenzano è splendida e le zone intorno sono deliziose. Un angolo di paradiso! Esperienza bellissima! La consigliamo per le vacanze o per regalarsi dei momenti di relax e di bellezza. Grazie!
Claudia
2016-05-09T00:00:00Z
L'accoglienza è stata molto calorosa, la signora è stata molto precisa e disponibile. L'appartamento è bellissimo e il terrazzo è ancora più grande di come sembra nelle foto. Inoltre ci hanno messo a disposizione gratuitamente cibo, bibite e prodotti da bagno. Esperienza sicuramente positiva. Lo consiglio.
Irene
2015-09-13T00:00:00Z
Très belle terrasse et très bon accueil. Parfait pour un séjour reposant.
Jean-Jérôme
2016-01-04T00:00:00Z
I can only say that it's perfect. Make your dinner watching the sea, close to the beach and bigger than it looks like in the photo. Thank you Giovanna for the lovely weekend with my family(URL HIDDEN)
Pablo
2015-05-17T00:00:00Z
Ev gerçekten çok güzel ve çok temizdi. Teras manzarası harikaydı. Mutfak, banyo ve yatak odalarında gereken her şey (URL HIDDEN) sadece yemek alışverişi yaptık. Tek sorun, siteden merkeze ulaşımla ilgiliydi. Merkeze inen kısa yolun anahtarı varmış, o yoktu. Merkeze giden otobüs için site sakini olunduğuna dair kart gerekiyormuş, o yoktu. Araba kiralayınca kolaylaştı işler. Akşam bir giriş kapısı kapalıydı, diğerini kullandık. Bu tür bilgilerin önden paylaşılmasında yarar var. Bir de evde wi-fi yoktu, o da temin edilebilir. Pratik bilgilerin önden verilmemesi dışında hiçbir sorun yoktu. Hepimiz için harika bir deneyimdi.
Asena
2016-07-13T00:00:00Z
La maison de giovanna est situee dans unenpinede privee . L'appartement est beaucoup plus grand que sur les photos. La cuisines est tres bien equipee . La terrasse a une vue magnifique nous avons passe un tres bon moment pendant les fetes de fin d'annee.merci Giovanna !
Hortense
2015-12-28T00:00:00Z
This apartment was spectacular. The view of the sea from the terrace along with a private back yard area provided a perfect oasis away. Giovanna and her mom were welcoming and made us feel right at home. They were always available to answer questions and provide recommendations. I would most certainly stay here again.
Carla
2015-06-27T00:00:00Z
Accueil très symphatique, superbe terrasse avec une vue très agréable sur la baie d'Arenzano. Merci beaucoup pour le sejour
Gaetane
2016-09-22T00:00:00Z
Art der Unterkunft
Ganze Unterkunft
---
Objekttyp
Haus
---
Unterkunft für
6
---
Schlafzimmer
Arenzano, Ligurien, Italien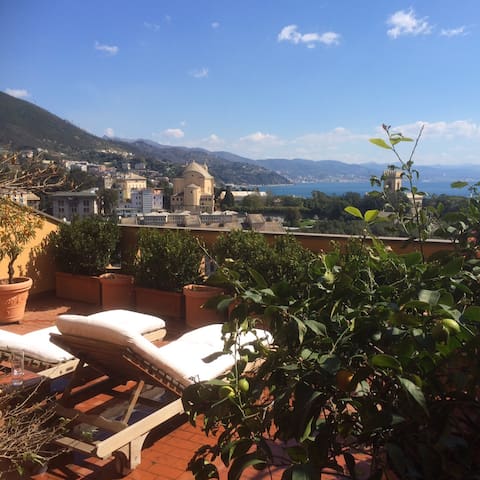 The flat accomodates 4 people. Located on the first floor, it is served by lift. Composed of entrance, large bedroom, bathroom with shower, wardrobe room with kingsize bed but no regular window, living room with bed-sofa for two, kitchen, closet and two balconies. Free WiFi on demand.
Located in the center of Arenzano, easily accessible and close to the sea, the harbour and all the amenities offered by the town. Free parking lots available in the vicinity. Free household linen are provided.
In the immediate proximity are a pharmacy, several bars, ice cream parlors, bakeries, butcher shops, a food supermarket, restaurants and taverns, convenience stores, tobacco shop, newsagent. A service of free wifi is available nearby.
L'accoglienza di Giancarlo è stata davvero ottima!! Oltre alla massima disponibilità verso i nostri orari di famiglia con bimbi piccoli, ci ha dato preziosi consigli per goderci al meglio la vacanza. L'appartamento , pulito e funzionale, ci ha permesso di goderci la bella Arenzano, dimenticando l'auto...cosa che per chi ha bimbi piccoli è un valore aggiunto! Speriamo davvero di tornare presto.....
Valentina
2016-04-26T00:00:00Z
Ci siamo trovati benissimo nella settimana di gennaio in cui abbiamo alloggiato nell'appartamento di Gian Carlo e Signora. Gentili e molto disponibili. Appartamento spazioso , comodo e ben riscaldato con tute le comodita'. Siamo arrivati in 2 ospiti e le abbiamo chiesto il permesso di ospitare mia figlia e le 2 nostre nipotine, nessun problema. Grazie Sig. Giancarlo. arrivederci alla prossima vacanza Cesare e Nilla.
nilla
2016-01-10T00:00:00Z
Art der Unterkunft
Ganze Unterkunft
---
Objekttyp
Haus
---
Unterkunft für
4
---
Schlafzimmer
Arenzano, Ligurien, Italien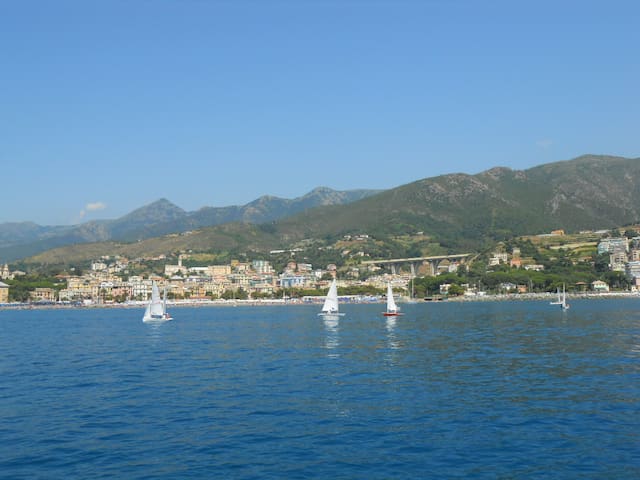 The flat, of about 45 mq, is nice and comfortable with heating system and full optional. The flat is in Pineta of Arenzano a big private green area including a golf club (9 holes) with a swimming pool & tennis camps. The beach is reachable in 5 min.
The flat, of about 45 mq, is nice and comfortable with heating system and full optional. The apartment is exclusively available to guests trough a private gate. The flat can accomodate 3-4 people. Composed of an entrance, one bedroom, one bathroom with shower, one living room with sofa and kitchen, and one balcony. In the flat entrance there are a number of stairs to go into the living room. Full free household complete linen is provided. Free parking in front of the flat entrance. The apartment is exclusively available to guests. The flat is ideal for families with children. There is also a Nespresso coffe machine available for the guest.
The flat is located in "Pineta of Arenzano" a big private green area. Ideal for families with children. In "Pineta of Arenzano" offers a nice park with a play area with games for children. The beaches are reachable in 5 minutes. You can easly reach the harbor, and there you can rent a boat for private excursions. Also, during summer, ferries will be available to visit the promontory of Portofino, the Cinque Terre and whale watching. Bicycles can be hired. Arenzano is an ideal place for families with children.
Der Gastgeber hat mit mir vor der Reise Kontakt aufgenommen, den Weg gut beschrieben und vor Ort nochmals alles erklärt, sehr nett. Die Wohnung ist sehr ruhig gelegen in einem sicheren privaten Quartier mit Wächter am Eingang. Die Bilder sind aktuell. Für uns als Familie mit zwei Kinder war die Wohnungsgrösse gerade richtig, mehr als 4 Personen würden nicht passen. Entspricht auch der Beschreibung. Für die Verpflegung empfelen wir Restaurants abseits der Hauptstrasse, wo die Einheimischen sind. Gerne wieder
hakim
2016-03-07T00:00:00Z
We had wonderfull three days in this flat. First of all, the arrival was pleasant and smooth. We were met and accompanied till the flat. This was really nice and we had no stress searching. The flat itself is in very nice surrounding, in gorgeous mountain, quiet streets, private zone, green and very clean. Very impressing. The flat has all you would need. Everything is at hand, clean, organised and nice. Thanks for having possibility to use nespresso and for welcoming water. Great experience and would recommend to others.
Marius
2016-03-30T00:00:00Z
L'appartement est fidèle à la description, il est clair et coquet. La résidence est calme et arborée. L'appartement est situé dans un charmant village au bord de la mer. Enrica est une hôte disponible et agréable. Je recommande cette location.
Sarah
2015-10-29T00:00:00Z
La padrona di casa Enrica e' stata molto gentile e l'appartamento e' davvero tranquillo e silenzioso, come piace a me. Raccomandato.
Stefano
2016-04-25T00:00:00Z
The appartment is overall good and in nice condition. Disadvantages: - there is a narrow and very sharp stair up at the entrance which was a real surprise. - no oven to cook, only gas panel. - no electric teapot, so if you need hot water you need to boil it in the cooker. - cooking pots and frying pans are in bad condition with scratches on teflon surface.
Alexander
2016-03-24T00:00:00Z
Ciao..ho portato la mia famiglia con 2 bimbi piccoli ad Arenzano per 4 gg..l'appartamento di Enrica e' esattamente come viene descritto..semplice, confortabile e delizioso..l'appartamento e' situato in un bel complesso privato con tanto verde sulla collina di Arenzano..all'interno c'è anche una pizzeria, un minimarket e un benzinaio..servizi sempre utili quando si è in (URL HIDDEN) paese e' a neanche 10 min di macchina ...Enrica mi ha contattato telefonicamente e mi ha dato tutte le informazioni per arrivare ..è stata molto gentile e precisa ..non ci ha nemmeno dato un orario per il check out..una menzione va fatta anche alla Sig.ra Mirella che ci è venuta incontro per portarci all'appartamento..gentilissima ci ha pure deliziato con un vassoio di buonissime " chiacchiere "casalinghe..assolutamente consigliato..
Chiara
2016-02-15T00:00:00Z
Glamour e raffinatezza contraddistinguono il contesto della Pineta dove di trova l' appartamento di Enrica. Decisamente adatto a famiglie che cercano la tranquillita' di un luogo appartato pur sapendo di poter avere tutte le comodita' a portata di mano. Devo sottolineare che il posto e' anche romantico e soprattutto la sera si gode passeggiando di uno splendido panorama.
Marinella
2016-11-01T00:00:00Z
Abbiamo trascorso 2 splendide giornate di sole ad Arenzano a casa di Enrica. L'appartamento è proprio come nelle foto: carino, confortevole e molto pulito. Enrica è stata molto disponibile, anche nell'orario di checkout. Consigliato!
valeria
2015-11-09T00:00:00Z
Art der Unterkunft
Ganze Unterkunft
---
Objekttyp
Haus
---
Unterkunft für
4
---
Schlafzimmer
Arenzano, Ligurien, Italien
Splendida porzione di villa(2 piani) vista mare, con doppio giardino, piano terra:cucina con ogni comodità, salotto, bagno e ripostiglio con lavatrice. Primo piano:1 camera tripla e 1 camera doppia e un bagno con vasca idromassaggio. Compreso 1box.
Art der Unterkunft
Ganze Unterkunft
---
Objekttyp
Haus
---
Unterkunft für
6
---
Schlafzimmer
Arenzano, Ligurien, Italien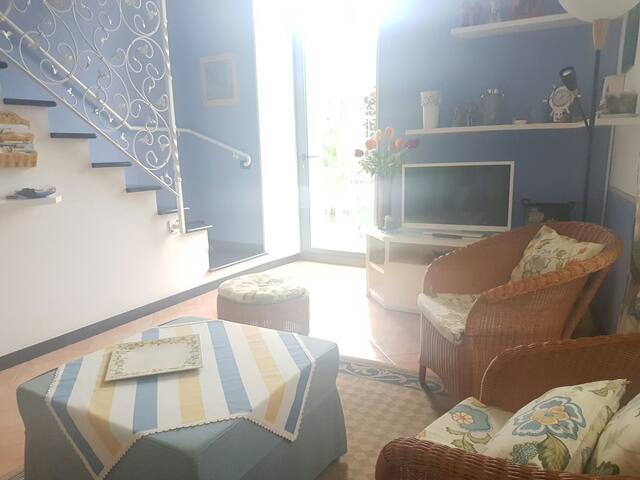 New modern 450 sqm villa with astonishing view of the gulf of Genova in private area. 5 bedrooms with en suite bathroom. 80 Sqm living room, 30 sqm kitchen. The 1000 sqm garden has a swimming pool of 15X6 mt and a relax/bbq/dinner zone. 5 minutes walk to the beach and 10 minutes walk to city center and shops.
12 persons can comfortably live in the house. 2 king size beds, 2 double bed, 2 single beds and 2 sofa beds. Ideal for 2 families with children.
Peaceful and with security guards.
Stefano ist sehr zuvorkommend und ist uns sehr entgegengekommen bezüglich des Check-In und Check-Out. Das Haus befindet sich auf privatem Grund und sehr ruhig gelegen. Es bietet sehr viel Platz, sowohl Innen wie auch Aussen. Wir waren eine Gruppe von 12 davon 8 Erwachsene und 4 Kleinkinder. Es hat sehr viele Stufen, weshalb es mit Kleinkindern etwas gefährlich ist. Man muss halt einfach immer ein Auge auf sie haben. Es war was den Raum angeht super. Wir fühlten uns überhaupt nicht eingeengt. Die Aussicht ist fantastisch und der Pool ein richtiges Highlight. Wir würden bestimmt nochmal die Villa mieten.
Ivona
2017-03-19T00:00:00Z
Wir wohnten für eine Woche in einem der schönsten Häuser mit traumhaftem Pool und Aussicht in der Gegend von Arenzano (GE). Das Haus und das Grundstück sind sehr großzügig angelegt und bieten viel Platz für individuelle Rückzugsbereiche. Unser Gastgeber Stefano - der hervorragend Deutsch spricht - hat uns herzlich empfangen und gab uns gute Ratschläge für Einkaufen und Ausflüge und war immer kurzfristig erreichbar. Unserer Meinung nach gibt es keinen schöneren Platz um in Genua und Umgebung luxuriös Urlaub zu machen.
Gernot
2015-05-20T00:00:00Z
Stefano war ein herausragend netter und zuvorkommender Gastgeber. Für Hilfe und Informationen war er immer erreichbar. Das Haus ist wunderschön und zum Verlaufen groß. Wir waren mit mehreren Kleinkindern und Erwachsenen dort. Das Haus ist so eingewachsen/ eingezäunt, dass die Kinder nicht auf die Straße können (auf der aber auch so gut wie nichts los ist, da Privatgelände). Das Haus bietet so viel Platz, Ambiente und Gelegenheit, um sich wohlzufühlen, dass wir jederzeit wiederkommen würden.
Nina
2016-05-23T00:00:00Z
Stefano hat sich bestens um alles bei unserer Ankunft gekümmert. Die Lage seines Hauses und die Aussicht sind einfach unbeschreiblich.
Kuno
2016-07-24T00:00:00Z
I booked this for a group of ten friends to relax and recuperate after cycling from Marseille to Genoa. Stefano was an excellent host, quick to respond to questions, flexible about timings for arrival and departure, and very helpful for local knowledge about restaurants etc. The villa is just as beautiful as the pictures suggest, they don't quite show the size of the interior, which is very comfortable for a large group as well as super stylish. The kitchen is well-equipped and there are 4 bathrooms: the master bedroom ensuite has a bath and a shower, there are 3 other shower rooms as well. The outdoor dining area was a favourite place for us, as well as the beautiful pool of course! I very much hope to visit again in the future.
Chloe
2015-05-10T00:00:00Z
Stefano was great, he was available for any questions and help we needed the house has amazing views and very close to everything. Big and comfortable house.
Maria
2015-08-01T00:00:00Z
Villa enorme di design con vista fantastica. Molto tranquilla. relax assoluto.
dario
2017-04-04T00:00:00Z
We really enjoyed our stay in Stefano's beautiful villa. The setting is lovely, the view breath taking, and the villa itself very comfortable. The weather was unusually hot whilst we were but the pool was perfect for cooling off. Stefano was a very good host and made an effort to make our stay as comfortable as possible. He also gave us excellent restaurant recommendations.
Elisa
2015-08-15T00:00:00Z
Art der Unterkunft
Ganze Unterkunft
---
Objekttyp
Haus
---
Unterkunft für
12
---
Schlafzimmer
Arenzano, Ligurien, Italien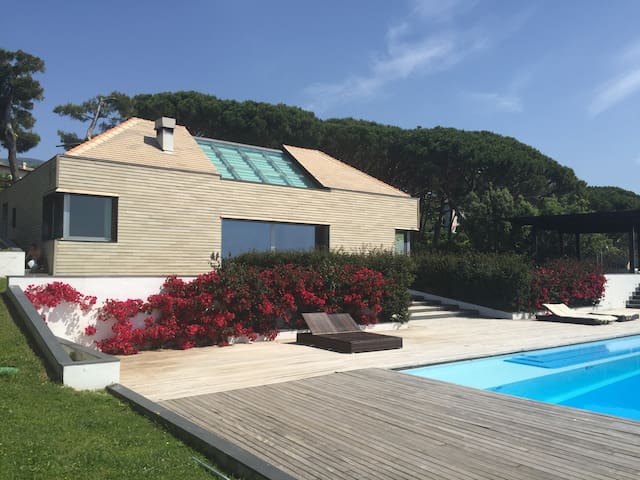 A beautiful flower garden is the setting for this structure, appropriate for both families with children and couples. Michela will be careful of all your needs. The house is situated on a first hill of Arenzano about 2 km from the center and the sea. The road to the house is paved and we report the presence of sharp bends. In some places pay attention to the narrow road however it is passable with any car or van.
The delicate tones and Provencal dècor, give our rooms relaxing atmosphere, making it a real oasis of peace.
The independent apartment is located on the first hill of Arenzano just 2 km from the sea. Surrounded by greenery is ideal for lovers of the sea and the mountains. Michela and Andrea, will be glad to recommend the best activities to be performed during the stay of its guests, including information on pub, bar, beach clubs and restaurants best in Arenzano and surroundings.
Die Gastgeberin war sehr nett und zuvorkommend. Das Haus war sehr komfortabel und schön. Nur der Weg zum Haus war sehr steil und kurvig und nur mit dem Auto zu erreichen. Dadurch muss für alles (einkaufen, Strand,..) das Auto benutzt werden. Trotzdem war das alles zu unserer vollsten Zufriedenheit und wir würden das Haus nochmals buchen.
Julia
2016-08-28T00:00:00Z
Andrea was waiting for us, explained everything and provided us with coffee tee and vegetables from his own garden. The house is adorable. Very cosy, fresh, clean, quiet, and extremely well equiped. The decoration is sooooo beautiful. Every little corner is nice. Absolutely lovely people and lovely place.
Corinne
2016-07-17T00:00:00Z
Soggiorno piacevole, Michela gentilissima e la casa era davvero bella, pulita e disponeva di tutti i confort, la padrona sempre disponibile, siamo molto soddisfatti della scelta fatta e la consigliamo vivamente :-)
Alice
2017-01-03T00:00:00Z
Michela é una "super" host. La sua casa è fantastica. Benche non sia nelle immediate vicinanze del mare é stato bello svegliarsi con il rumore del ruscello. Sia noi che i nostri amici che le nostre bimbe, abbiamo apprezzato gli spazi di questa casa. Peccato solo che il tempo non sia stato clemente, altrimenti avremmo potuto sfruttare sia il giardino che il forno esterno. Consigliatissima!!
Alessandra
2017-01-29T00:00:00Z
We were made to feel very welcome when we arrived and Michela had thought about which rooms would suit us best . 12 to 72 years in age ! The house has some very clever little attractive features and the bathrooms are all modern and well thought out. There is lots of space so there was room to be separate if someone wanted some quiet time. The drive up the very windy road was always worth the tranquillity at the end. Thank you!
Vicki
2016-08-04T00:00:00Z
We spent nine wonderful days in Michela's house. It is beautiful, comfortable and perfect for families who wish to have both mountain and beach holidays. We had the chance to go to the river, to feed the turtles and to make pizza in the wood oven! We still miss it! Thanks Michela for being such a wonderful host that made us feel at home! Hope to be back one day!
Raquel
2016-08-14T00:00:00Z
La casa di Michela è stata perfetta per soggiornare con i bambini e con gli amici. Immersa nella natura, il rumore del fiume in sottofondo, la casa ha una atmosfera speciale. Arredata con gusto e semplicità ci ha fatto sentire a nostro agio. Michela è stata molto gentile e non ci ha fatto mancare nulla. Il mare è a 10 minuti di macchina. Grazie!
Maria Teresa
2016-07-04T00:00:00Z
Michela and Andrea, thanks for a lovely stay in your beautiful house. It was very cosy and familiy friendly, also the rooms and bathrooms were very nice! All the kids loved the outside play area. Thanks, Sigga
Sigga
2016-06-15T00:00:00Z
Art der Unterkunft
Ganze Unterkunft
---
Objekttyp
Haus
---
Unterkunft für
12
---
Schlafzimmer
Arenzano, Ligurien, Italien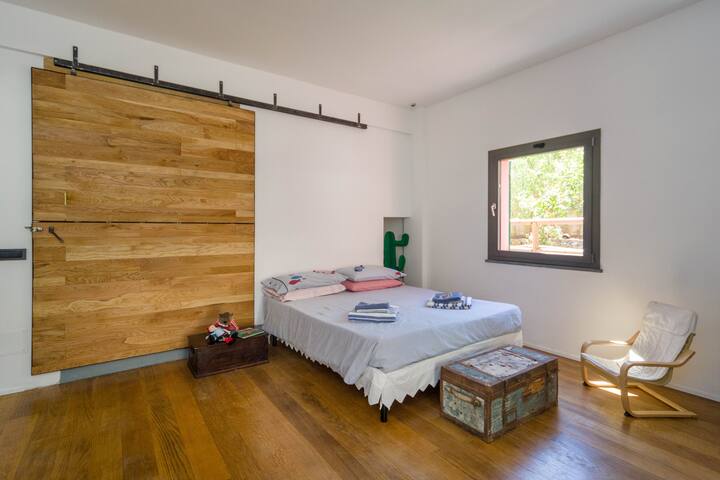 Quadrilocale di 130mq con giardino privato con barbecue nella bellissima Pineta di Arenzano a pochi passi dal mare e dalla piscina e da tutti i servizi bar, market e ristoranti. Un contesto privato e sicuro grazie al servizio di vigilanza h24. Da non perdere!!!
Appartamento silenzioso e fresco per godersi tanto relax
La Pineta di Arenzano è un complesso esclusivo in proprietà privata con accessi controllati e gode di un bellissimo campo da Golf
Marco и Lory очень гостеприимные и отзывчивые хозяева! Апартаменты соответствуют цена/качество. Единственная проблема далековато от моря, приходилось ходить по лестнице вверх. Немного напрягает. Общее впечатление хорошее.
Dmytro
2016-08-01T00:00:00Z
Marco e Andrea sono stati degli host magnifici! Quando c'è stato un problema di elettricità è stato risolto in un attimo senza arrecare disagi alla nostra vacanza; ho chiesto il wi-fi poco prima di entrare e me lo hanno fatto avere senza costi aggiuntivi. La comodità di stare in Pineta in condominio è che c'è anche un custode che funziona quasi come un concierge di un hotel a 5 stelle e che in pochissimo ti da le indicazioni giuste, si informa per te e ti aiuta davvero nel passare una bella vacanza. Andrea e Marco ci hanno anche fatto una sorpresa: un box per l'auto che devo dire durante i weekend è stato provvidenziale. Questo lo hanno aggiunto loro come sorpresa in più. Sono stati davvero dei bravissimi host!!! Grazie
Bianca
2016-07-16T00:00:00Z
The advertisement was close to reality. The neighbourhood was fine. The nights quiet. The host was present when we arrived and contact was pleasant and welcoming.
B.J.
2016-10-02T00:00:00Z
Art der Unterkunft
Ganze Unterkunft
---
Objekttyp
Haus
---
Unterkunft für
6
---
Schlafzimmer
Arenzano, Ligurien, Italien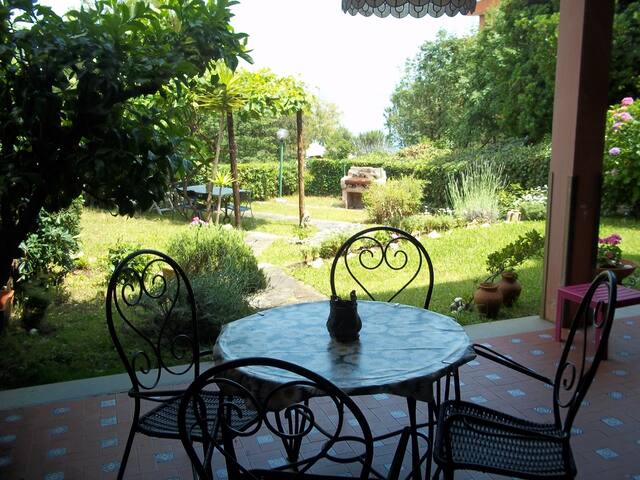 appartamento in villa fronte mare, giardino,terrazza con bbq.Fresco l'estate,vista mare dal letto.Olivo secolare a copertura terrazza,sedie e tavolo esterni.50 metri dalle spiagge/passeggiata,200 metri centro paese.Possibile posto auto a parte.
quartiere residenziale immerso nel verde con vista mare
Art der Unterkunft
Ganze Unterkunft
---
Objekttyp
Haus
---
Unterkunft für
4
---
Schlafzimmer
Arenzano, Ligurien, Italien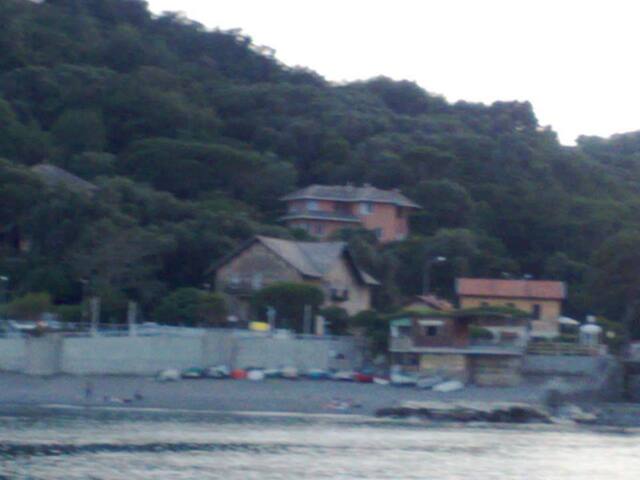 Appartamento di 90 mq in pineta con terrazzo con meravigliosa vista sul mare, completamente ristrutturato e completo di ogni confort.
Appartamento di 90 mq, con 3 stanze, cucina e terrazzo con vista sul mare, al piano superiore di un bel villino con altri 3 appartamenti in totale. L'appartamento può ospitare comodamente 4 persone, al massimo 5. La cucina è dotata di tutti gli elettrodomestici, inclusa lavatrice e lavastoviglie. L'appartamento è stato recentemente ristrutturato ed è in condizioni perfette. Nella parte anteriore c'è un gradevole giardino condominiale. E' incluso un posto auto con tettoia di protezione. L'appartamento è posto di fronte ai campi da golf, vicinissimo a un campo da calcio, vicino ad una piscina a pagamento, aperta nella stagione calda e non lontano dal club di tennis. Siamo nel cuore della Pineta di Arenzano, un comprensorio i cui accessi sono controllati giorno e notte dalla Security. Il luogo è riservato e molto tranquillo, molto frequentato soprattutto dagli amanti del golf. Nel comprensorio c'è una piazzetta con bar, ristorante, supermercato e parco giochi per bambini. La spiaggia è raggiungibile tramite ascensore o a piedi. Vi è una spiaggia pubblica e accanto una a pagamento. Nei mesi estivi una navetta porta nel centro del paese.
Art der Unterkunft
Ganze Unterkunft
---
Objekttyp
Haus
---
Unterkunft für
4
---
Schlafzimmer
Arenzano, Ligurien, Italien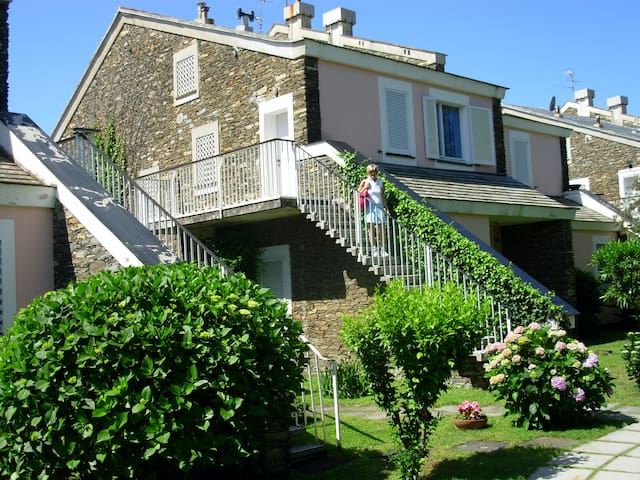 Romantico rustico immerso nel verde con una vista mozzafiato, dove è possibile mangiare prodotti biologici raccolti direttamente dagli alberi e dalle piante coltivati nelle fasce che circondano la casa, uova fresche e piatti tipici liguri.
In Aix en provence habe ich die Unterkunft von Licilla gesehen und gebucht, da es zu gegebenen Zeiten gepasst hatte. Wir wollten nach Italien, um etwas sonne zu tanken. Wir mussten die Unterkunft etwas suchen, aber durch telefonieren mit der Tante von Lucilla, fanden wir dann den Treffpunkt. Es lag daran, dass eine Strasse gesperrt war und Navi uns falsch geleitet hatte. Jeden Falls Die Tante und Onkel von Lucilla, haben auf uns gewartet und uns bis zum Haus begleitet. Dann sahen wir die gigantische Ausblick auf das Meer und den Hafen von Genua. Einfach toll, unser Herz ging auf, auch die Gastfreundschaftliche Art, wie wir aufgenommen wurde. Dann Sie hat uns angeboten gegen eine sehr angemessenem Preis, das tollste italienische Essen zuzubereiten. Einfach herrlich. Wir sind so mit Biogemüse und Obst beschenkt worden, dass uns die richtige Worte für unsere Dankbarkeit fehlte und immer noch fehlt. Vielen herzlichen Dank. und immer wieder gerne.
Homayoun
2016-06-21T00:00:00Z
Die Gastgeberin vor Ort ist ein liebevoller Mensch und kümmert sich um das Wohl ihrer Gäste. / Anfahrt zum Objekt ist abenteuerlich, aber machbar. Die Unterkunft an sich hat unsere Erwartungen nicht erfüllt, ist aber an Sicht Sache.
Michaela
2016-09-05T00:00:00Z
Ich glaube, das waren die 4 erholsamsten Tage meines Lebens! Lucillas ganze Familie hat sich sehr grosse Mühe gegeben, mich bis ans (tatsächlich schwer zu findende) Ziel zu begleiten (danke Dante!), das Highlight jedoch war die Besitzerin, die mich mit frischem Salat, selbstgepresstem Olivenöl, Wein, Käse und Kuchen verwöhnte. Es war wie im Paradies! Am Morgen kräht der Hahn, der Kirchturm spielt eine bezaubernde Meldie, tagsüber trällern die Vögel ihre Liedchen, die 5 Katzen tummeln sich auf dem warmen Weg und lassen sich die Bäuchlein kraulen, bunt blühende Bäume und Sträucher zaubern Farbe in die Landschaft und die italienische Sonne tut ihr eigenes, um einem alle Sorgen vergessen und die Seele einfach mal baumeln zu lassen. Die Unterkunft ist genau wie beschrieben einfach und funktional, es hat an nichts gefehlt und ist der ideale Ort für Leseferien, Faulenzen, die Gegend erkunden (das Cruisen auf der Via Aurelia kann ich sehr empfehlen!), sogar mal kurz ins Meer hopsen und einfach stressfrei das italienische dolce far niente zu geniessen. Einzig das WiFi-Signal hatte ein eher entspanntes Verhältnis zur Aussenwelt (vmtl. weil ich vergessen habe, nach einem Passwort zu fragen) - aber mal ehrlich - wer braucht in so einer Gegend schon Internet? :) Ich kann diesen abgeschiedenen Ort vor allem Alleinreisenden oder Paaren sehr empfehlen - es lohnt sich und ich werde meine Zeit dort nie mehr vergessen!
Sabine
2016-05-09T00:00:00Z
Eine tolle Unterkunft mit einem grossartigen Blick auf Genua und auf das Meer. Ruhig und idyllisch. Und unglaublich freundlichen Gastgebern, die uns gleich mit einem Glas Wein und einer Tarte begrüssten. Sehr empfehlenswert. Man sollte aber nicht mit einem tiefergelegten Auto anreisen.
Helmut
2016-04-22T00:00:00Z
Netter und freundlicher Empfang; schöne Aussicht; schönes großes Grundstück mit Oliven- und Obstbäumen; traumhaft gelegen, leider hört man manchmal die Autobahn, ansonsten ruhig; Zufahrt mit tiefergelegtem Auto nicht möglich; kleines schönes gemütliches Haus mit einfacher Ausstattung; Grillplatz und viele Sitz- und Aufenthaltsmöglichkeiten auf dem Grundstück vorhanden; sehr nette und hilfsbereite Gastgeber; Alles in allem waren wir sehr zufrieden und können die Unterkunft nur weiterempfehlen. Grazie per l'ottimo tempo!
Paul
2016-06-04T00:00:00Z
Die Gatgeberin vor Ort ist Lidia, sie ist wirklich unglaublich nett, wir konnten immer zu ihr kommen wenn wir etwas brauchten und sie spricht wirklich gut englisch. Die Unterkunft liegt etwas versteckt im Berg. Die Straße dorthin ist wirklich abenteuerlich und nichts für schwache Nerven. Aber die ruhige Umgebung, der Garten und die Aussicht machen das wieder wett. Die Klimaanlage im Haus funktioniert super. Mit dem Bus ist man in einer Stunde in der Altstadt von Genua, wirklich eine super Verbindung. Unten im Ort gibt es alles was man braucht, Supermärkte, Apotheken, Strand etc. Es war wirklich ein schöner Urlaub, ich würde wieder kommen!!
Graziella
2016-08-25T00:00:00Z
Per tutta la durata del nostro soggiorno, io, mio Marito e mia Figlia ci siamo trovati splendidamente. L'appartamento ha davvero una vista mozzafiato, l'accoglienza della Signora Lidia e suo Marito davvero straordinaria: sempre pronti ad aiutare, disponibili e soprattutto di una rara generosità nell'offrire quanto da loro coltivato, insomma: consiglierò a tutti di soggiornarvi!
Elisa
2016-07-04T00:00:00Z
Abbiamo soggiornato al Rustichetto per una settimana e ne siamo rimasti molto soddisfatti! Accoglienza davvero famigliare da parte di Lucilla, mentre Lidia (con cui si condivide il giardino) ci ha coccolato con le delizie del suo orto e le uova delle sue galline! Squisite le sue marmellate e il suo pesto! La casetta è semplice e rustica (come dice il nome stesso!) ma ben organizzata e pulita. Il panorama dal giardino è strepitoso! Tutto come si vede nelle foto! Supersoddisfatti della nostra scelta, non possiamo che consigliarla!
Silvia
2016-05-23T00:00:00Z
Art der Unterkunft
Ganze Unterkunft
---
Objekttyp
Haus
---
Unterkunft für
3
---
Schlafzimmer
Genua, Ligurien, Italien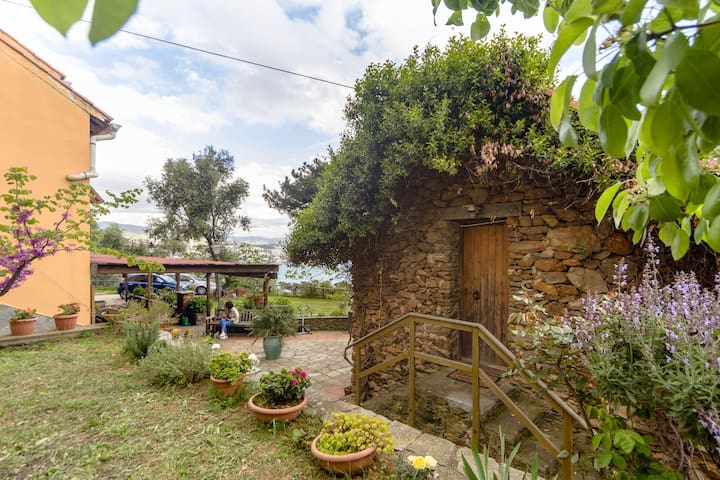 Ciao a tutti, mi chiamo Federica e sono una studentessa universitaria in amministrazione finanza e controllo.Vivo con mia madre e insieme abbiamo deciso di mettere a disposizione una camera matrimoniale del nostro appartamento. Ci troviamo in una zona che dista 10 minuti di macchina dall'aeroporto di Genova e 20 minuti dal centro.Inoltre i trasporti pubblici sono vicini, sia autobus che stazione e siamo vicini sia a località di mare, sia al famoso parco naturale del Beigua,dove fare escursioni.
appartamento confortevole, situato in una zona silenziosa e tranquilla. Camera matrimoniale ampia, con letto spazioso e comodo.
Precisa, corretta e disponibile.
Alberto
2017-02-03T00:00:00Z
È andato tutto bene! Prezzo competitivo rispetto altre strutture della zona. Comunicazione facile gemtilezza e disponibilità a dare consigli. Tutti elementi importanti per un soggiorno sereno.
daniele
2016-10-12T00:00:00Z
Le quartier était calme, assez éloigné de la ville. La maman de Férérica nous a bien accueillis et nous a offert le petit déjeuner (café et gâteaux). Fédérica n'a pas répondu à nos appels à notre arrivée, nous avons dû attendre 2 heures avant qu'elle ne nous réponde.
Lou
2016-10-31T00:00:00Z
The host canceled this reservation 6 days before arrival. This is an automated posting.
Sokol
2016-08-28T00:00:00Z
Stanza pulita, comoda e silenziosa Proprietari cortesi e disponibili A 5 minuti dal casello, quindi ottima per una pausa durante un viaggio Comoda anche per andare a Genova usando i vicini mezzi pubblici.
Francesco
2016-09-09T00:00:00Z
Tutto perfetto, molto ospitali e gentili
Aleandro Alberico
2016-10-15T00:00:00Z
Host gentile e accogliente, camera silenziosa e pulita, un po' troppo piena di oggetti.
Giovanni
2017-02-16T00:00:00Z
Federica and her mother were very welcoming and kind. The bedroom was comfortable and the neighbourhood was very nice. It was a little bit away from the centre of Genova (45 mins on bus and train) but the train goes directly to the two main stations of Genvoa and is well connected to take visits to neighbouring areas and beaches.
Georgina
2016-09-29T00:00:00Z
Art der Unterkunft
Privatzimmer
---
Objekttyp
Haus
---
Unterkunft für
2
---
Schlafzimmer
Genua, Ligurien, Italien
Typical Ligurian detached country house 5 kms from the sea, surrounded by green hills with a beautiful view of the gulf.
HOW TO REACH THE PLACE Exit in Genova Voltri (Highway A10). Drive towards Arenzano following "Via Aurelia" until the crossroad at "Fabbriche" Road, then look straight for the via Brigna-Campenave crossroad. After 5 km of bends in the wood you will reach your destination, 300 metres above the sea. The road is narrow and there are some alternate traffic points: you can drive a car up the hills, but no caravans or lorries/vans. No GPS directions. The owners can drive you to the house and they will hand over the keys. You can contact them by phone or email. DESCRIPTION: The house has two floors: -kitchen and living room are on the ground floor -bedrooms and and the bathroom are on the first floor. -porch -basement The house is South-facing. The land is terraced and surrounded by 1500 square metres of land and by woods. The garden is equipped with a wood-fired oven, where you can cook pizza, focaccia or other typical Genoese dishes. Outside the house you can taste refreshing and light spring water from the fountain. In the living room there is a double sofabed. The kitchen is well equipped with a gas burner and an oven and 2 tables for 4/6 people. From the kitchen you can reach the basement where you can find the hot water heater and the autoclave. Upstairs there are 3 bedrooms, one with separate beds, and one with a double bed, and finally a smaller one with an extra bed. The house has a washing machine too and a drying rack in the back garden.
There are no shops or supermarkets near by, only a restaurant. All kind of shops and services (post office, ATMs, etc) can be found in Voltri.
Patrizia hat uns mit ihrem Mann an der Autobahnabfahrt abgeholt und ist bis zum Haus vorgefahren! Denn ohne diese Hilfe würde man das Haus nicht finden... Die Straße ist wirklich eng und abenteuerlich. Wir haben es mit dem Ford Galaxy aber geschafft. Breiter darf das Auto aber nicht sein - die Straße ist nur für Autos mit 2 Meter Breite zugelassen. Im Haus selber war wirklich alles super! Es gab sogar eine Kleinigkeit zum Frühstück für uns! Großartig! Der Ausblick auf die Küste einfach unbezahlbar!
Volker
2016-07-15T00:00:00Z
WIr haben drei wunderbare Tage in Patrizias Wohnung erlebt. Die Wohnung ist sehr persönlich und liebevoll ausgestattet und bietet einen wunderbaren Blick übers Meer. Wenn man die etwas abenteuerliche Anfahrt nicht scheut, ist diese Wohnung ein totales Bijou. Wir kommen gerne wieder!
Astrid
2016-10-22T00:00:00Z
Great staying, lovely host and amazing view.
Evita
2016-10-13T00:00:00Z
El lugar es precioso, idílico, la subida a Campenave es un poco complicada para coches grandes, sin embargo nos acompañaron todo el camino y no tuvimos ningún problema, y la casa es excepcional
Leonor
2016-07-06T00:00:00Z
Siamo arrivati nella caotica Genova e dopo 15 minuti eravamo nella paradisiaca Campenave. La strada per arrivarci non è semplicissima ma grazie all'accompagnamento della gentilissima Patrizia e di suo marito Maurizio (il quale è venuto a prenderci al casello) siamo arrivati senza problemi. I padroni di casa sono stati molto disponibili e gentili così come i vicini di casa che hanno "sopportato" i nostri bambini curiosi che oltre ad esplorare ed invadere il giardino di Campanave ,so sono impossessati anche del loro. Ci torneremo sicuramente,per ricaricarci dallo stress milanese.
Francesca
2016-06-27T00:00:00Z
Patrizia and her family (her daughter speaks English very well) were very caring ant attentive. They picked us up at the Genova-Voltri exit on time and we followed them until we reached the house. At first, the street seems to be a little "adventurous" (it is vera narrow and functions in both directions), but they gave us usefull tips and as you get used to it, it gets normal. The house is lovely and very nice located in the mountains with a view of the sea. The neighbours are very friendly, speak English and give wonderful tips. Patrizia and her husband were there immediatly as we the hot water didn't seem to work. Just great to relax!
Andrea
2016-10-08T00:00:00Z
Très belle soirée passée dans cette maison typique pleine de charme. Accueil très chaleureux, Patrizia et son mari sont très sympathiques. Le chemin pour accéder à la maison est un régal pour les motards et une fois arrivés sur place la vue est époustouflante !
Céline
2016-07-29T00:00:00Z
La casa nel suo complesso è molto carino, ha una bella vista sul mare, c'è un giardino grande di fronte e la pulizia è curata, l'unica pecca è la strada per arrivarci che è stretta e tortuosa ma Patrizia ci ha accompagnati sul posto.
Jingwei
2016-07-28T00:00:00Z
Art der Unterkunft
Ganze Unterkunft
---
Objekttyp
Haus
---
Unterkunft für
7
---
Schlafzimmer
Genua, Ligurien, Italien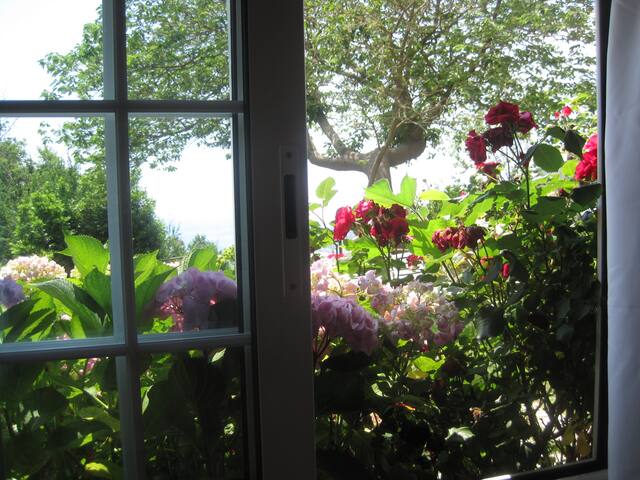 romantic house on 2 floor with beautiful terrace and see wiew.close to genoa, the beaches of Voltri and Arenzano, the village of Crevari is located up on the hill close also to the forest.well connected to all these places by roads, bus, cars and pathway.Crevari is a nice tipical village where all the people say hallo when they meet somebody. you can reach the village only rising by feet.so there you'll be absolutely safe and peaceful.
on the first floor you have a double room with double bed tv table and como. a saloon vith tv sofa library hi fi radio and table. single room single bed little table and the staircase to rich the first floor. downstaris you have also the big bathroom with shower lavabo and wc.on the first floos you have a little kitchen one little bathroom a little saloon and diningroom. from this floor you have access to the beautiful terrace with see wiew.
everyone in the village know the people who live there and we use to say hallo when we meet somebody.all the resident are nice and gentle and help you if you need
Herzliches und offenes Dorf in welchem man sich sofort willkommen gefühlt hat. Die Wohnung von Lalla liegt wunderschön erhöht wodurch man eine tolle Aussicht geniesst. Mit dem Bus erreicht man innerhalb kürzester Zeit den Strand und das "Städchen" von welchem aus, man auch weiter nach Genua reisen kann. So kann man Strandferien und Städtereise verbinden. Lalla war immer gut erreichbar und hielt uns auf dem laufenden, bspw. bei Busstreik. Allgemein ein toller Aufenthalt!:-)
Abirami
2016-07-31T00:00:00Z
Cozy and authentic little apartment with a lot of stuff in a small village outside Genova, with a nice terrace. Lalla was very friendly and we could text her anytime with questions about the place, or places to go. Getting there was a little bit challenging, but a very nice view overlooking the sea once you climb up the stairs to the apartment.
Stine
2016-08-03T00:00:00Z
Siamo stati accolti dalla gentilissima signora Renata (ci ha anche aiutato con i bagagli, bisogna fare una certa salita a piedi dal parcheggio). Crevari è un paesino a poca distanza da Voltri, e sembra di stare su un altro pianeta rispetto a Genova, l'atmosfera infatti è tranquilla e amichevole. Si gode una splendida vista sul mare. La casa è molto bella, si sviluppa in due piani e nonostante la grande quantità di oggetti (tutti molto interessanti, evidentemente provenienti dai viaggi di Lalla) è tutto pulito e in ordine. La parte esterna dà un tocco in più, e anche se non si vede bene dalla foto, è collegata con un angolo verde, da cui si può ammirare anche l'intrico architettonico del borgo. Insomma, una casa con "personalità", immersa negli orti liguri per chi si vuole godere un po' di pace fuori dal caos genovese.
Davide
2016-09-12T00:00:00Z
Mai ho capito "l essenza ligure" come in questi pochi gikrni di soggiorno a Crevari. La 'casa-scrigno' dove ho alloggiato e' di una signora premurosa e gentile. Mi sono sentito a mio agio: non sentire rumori, leggere in pace al fresco attorniato dal verde della terrazza,fare passeggiate per le 'creuse' con il nostro cane. Poter raggiungere in macchina o con il pulmino in 5 minuti la spiaggia di Vesima. Bellissimo soggiorno.
Caterina
2016-08-12T00:00:00Z
Nous avons été très bien accueillis par Renata, amie de Lalla. Le logement a une vue splendide sur la baie et le calme du village pemet de se reposer après les visites de la ville. Merci à Lalla.
Pierre
2016-08-07T00:00:00Z
Art der Unterkunft
Ganze Unterkunft
---
Objekttyp
Haus
---
Unterkunft für
3
---
Schlafzimmer
Genua, Ligurien, Italien
Gemütliche, ruhige und unabhängige Ferienhaus für zwei von einem typisch mediterranen Garten umgeben Menschen. Schönes Ambiente und italienische willkommen, 1 km vom Meer entfernt in Parco Costiero Piani d'Invrea und Varazze Zentrum. Zwei Fahrräder zur Verfügung. Parkplatz auf dem Grundstück. Sehr gut geeignet für Business-Männer / Frauen für seine Nähe zur Autobahn Eintrag (200 m). W-lan. FERNSEHER. Heizung. Klimaanlage. Frühstück inkludiert
Das Haus hat eine kleine, aber sehr gut ausgestattete Küche mit Herd, Spüle, Kühlschrank und Mikrowelle, ein Bad mit Dusche und ein Wohnzimmer mit zwei Betten und einen Fernseher. Heizung und Klimaanlage. Privatgarten für die Gäste die Möglichkeit zu genießen Frühstück im Freien oder Abendessen. Parkplatz auf dem Grundstück. Die Umgebung mit Bussen. Es ist möglich, zwei Fahrräder zu nutzen entlang der wunderschönen Parco Costiero dei Piani d'Invrea zu reiten
In unserem Ort finden Sie eine entspannte Zeit, Ruhe und eine mediterrane Umgebung um genießen
Gabriella und Amadeo sind sehr freundliche Gastgeber! Sie haben uns herzlich empfangen und alles war so schön vorbereitet, dass wir uns von Anfang an wohl gefühlt haben. Das gesamte Anwesen ist sehr gepflegt und wir konnten sicher parken. Der Ort Varazze, mit seinen vielen Spezialitäten- Gschäften hat uns auch sehr gut gefallen. Aber das schönste war die Promenade! Gabriella gab uns viele gute Tipps für Ausflüge in die Umgebung, die wir zum Glück alle ausprobiert haben :-) Das hat sich sehr gelohnt und wir kommen gerne wieder!
Antje
2017-01-03T00:00:00Z
Herzlichkeit und Professionalität der Gastgeber bürgen für einen optimalen Aufenthalt. Gute Tipps für den Einkauf ( gemeinsam zum nächsten Supermarkt ) und für die Sehenswürdigkeiten der Umgebung( inclusive Parkplatztipps, sehr wichtig ). Einladung zu Kaffee oder frischer noch warmer Focaccia und die kostenlose Bereitstellung von Kaffee, Milch,Joghurt, Butter ,Keksen u.s.w. sind wirklich nicht selbstverständlich. Es besteht eine optimale Verkehrsanbindung, nicht nur mit dem Auto.
Eckehard
2016-05-20T00:00:00Z
Если вы собираетесь отправиться в отпуск в Лигурию,то обязательно обратите внимание на это предложение. Это был наш первый опыт с airbnb и он оказался просто отличным. Дом очень уютный и чистый, обставлен со вкусом. Габриелла очень гостеприимная и отзывчивая хозяйка. Рекомендуем!
Sivkov
2016-08-25T00:00:00Z
Gabriella was an excellent hostess in every way and really heightened our experience of our visit to Varazze. Very friendly, extremely helpful and very generous. She provided many extras including food and drink items. These were very much appreciated and enjoyed. She really went out of her way to make us feel comfortable. She even put together a walking tour of Genova for us which worked absolutely beautifully. Parking was very easy and secure. One bar/restaurant very close by and a short drive to many more in Varazze as well as supermarkets. Train station in Varazze to get to Genova (~50min trip). Cottage had everything we needed and a very pretty garden area with outdoor furniture ideal for relaxing or dining. We would definitely like to return to Gabriella and Varazze.
Simon
2016-06-30T00:00:00Z
abbiamo soggiornato dalla signora gabriella per una settimana ci siamo trovati benissimo, lei una persona squisita ospitale e cordiale, il posto è davvero bello appena fuori da varazze un posto tranquillo in mezzo al verde del suo bellissimo giardino, abbiamo conosciuto una fantastica cagnolina, consiglio vivamente la sua casa perché di tutti i viaggi fatti questo l ho porterò nel cuore
valentina
2016-08-22T00:00:00Z
Gabriella was so sweet! She even picked us up at the train station! Beautiful property with flowers, fruit, and an electronic gate. Very safe, in a nice residential area away from the tourists, comfortable, and served all of our needs.
Kirsten
2016-07-06T00:00:00Z
This is a lovely house on the wonderful Italian coast. Gabriela does wonderful job keeping the place up, and providing guess with the basics and much more. Private little house with a nice cute yard.
Louis
2016-06-07T00:00:00Z
We stayed two nights in Gabriella's house and enjoyed the stay very much. Gabriella took great care and provided everything we wanted! The little house is very charming and the garden around is marvellous. The location in Varazze was great, because we made several trips from this starting point. Also Genua is just 20 minutes by car away.
Andrea
2016-05-07T00:00:00Z
Art der Unterkunft
Ganze Unterkunft
---
Objekttyp
Haus
---
Unterkunft für
2
---
Schlafzimmer
Varazze, Ligurien, Italien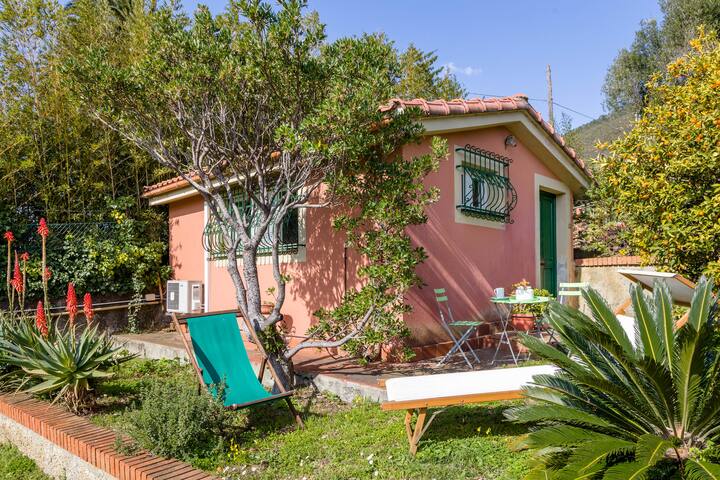 Wenn Sie entspannen suchen, ist dies für Sie perfekt; Unabhängige Haus auf kleine Hölle in der Nähe von Strand, in der gleichen Zeit seine 8 Minuten vom Bahnhof entfernt, alle 20 Minuten Hexe können Sie den Zug nach Genua Zentrum fangen.
wir bieten Ihnen alles, was Sie benötigen, Shampoo Handtücher, Bettwäsche, und wir sind auch bereit, zusätzliche Dinge zu bieten Ihnen auf vorherige Anfrage benötigen
Für uns war es ein bisschen wie in unser daheim in Italien zu kommen. Sehr unkompliziert, alles war parat. Mimi hat uns freundlich empfangen, hat prima geklappt.
Ted
2016-04-23T00:00:00Z
Mimi ist sehr schnell im Kontakt machen, sehr freundlich offen und hilfsbereit. Der Video film mit der Route zum Haus ist super hilfreich. Einmal anschauen und man fährt hin als wäre man da zuhause. Nette Nachbarn, obwohl man nicht unmittelbar nebeneinander wohnt.
Ted
2015-04-25T00:00:00Z
Mimi ist eine Super Gastgeberin, hilfsbereit und sympatisch. Die Unterkunft ist sauber, schön und mit autentischem italienischem Charme. Ein kleiner Nachteil ist die Autobahn, die ziemlich Nahe an der Unterkunft liegt und auf der Terasse nicht zu überhören ist. Trotzdem empfehlen wir diese Unterkunft herzlichst weiter. Danke Mimi!
Joel
2016-02-07T00:00:00Z
Mimi hat durch ihre zuvorkommende und unkomplizierte Art dafür gesorgt, dass ich mich sogleich wie Zuhause gefühlt habe. Eine aufmerksame, sympathische Gastgeberin. Schön und amüsant fand ich unsere Kaffeesitzungen. Vielen Dank dafür und vielleicht ein Wiedersehen im kommenden Jahr. Gemütliche und praktische Räumlichkeiten, gut besonnte und einladende Terrasse. Gute Lage für Ausflüge nach Genua.
Esther
2015-03-24T00:00:00Z
Per vedere il mare dalla finestra è magnifico
Luigina
2016-11-26T00:00:00Z
Tutto perfetto X un soggiorno tranquillo e piacevole. Grazie
Antonella
2017-01-30T00:00:00Z
Alloggio come da descrizione..host molto gentile e disponibile..unica pecca è il freddo dell alloggio
Alfonso
2017-02-25T00:00:00Z
We have a lot of trip with b and b, but this home is perfect, the description and the photography is the reallity Mimi is available but not intrusive. The house is cozy and warm, do not hesitate Near the sea, pretty village and Genoa Just, if you have to say something, the way to come home is very narrow but Mimi has a solution, so do not hesitate to tell him if your car is voluminous
Michele
2017-02-12T00:00:00Z
Art der Unterkunft
Ganze Unterkunft
---
Objekttyp
Haus
---
Unterkunft für
3
---
Schlafzimmer
Cogoleto, Ligurien, Italien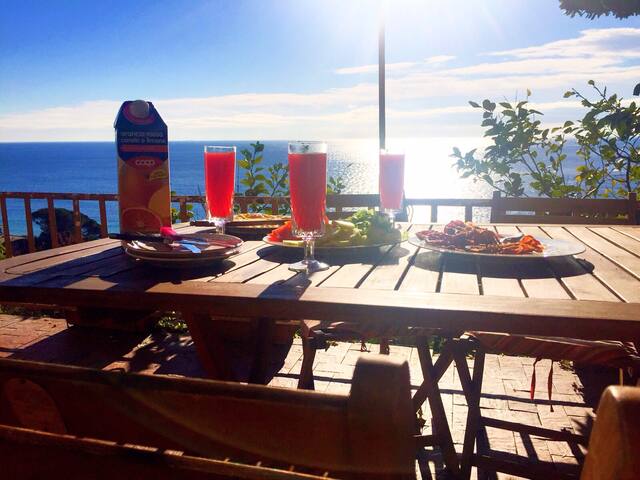 Incantevole cottage immerso nel verde con meravigliosa vista a meno di due km dal mare, dove si può godere di tranquillità, di un ampio spazio esterno, mangiare e acquistare prodotti biologici coltivati nelle fasce che circondano la casa.
Wir haben wundervolle Tage in der Wohnung verbracht, mit einem unvergesslichen Blick über die Bucht von Genua. Unsere Gastgeberin war überaus herzlich und hat uns mit eigenem Gemüse aus ihrem Garten sowie wunderbarem Essen, das wir bei ihr bestellen konnten, verwöhnt. Selten habe ich erlebt, dass unsere beiden Hunde (Labradore) so willkommen waren! Sie konnten sich frei auf dem mit vielen Olivenbäumen bestandenen Gelände bewegen, ohne dass sich jemand beschwert hätte. Im Gegenteil: immer gab es liebe Worte, die ein oder andere Ballspielerei - für uns als deutsche Hundehalter sehr wohltuend. Alle Betten waren bezogen, Handtücher lagen bereit, Wasser und Weißwein standen auch da. Wir konnten Lidia immer ansprechen, verständigt haben wir uns auf Italienisch und Englisch. Es ist ein wundervolles Fleckchen Erde dort oben, Voltri ein quirliger Ort, der uns allen gut gefallen hat. Der Weg zum Haus selber ist am Ende sehr schmal, auf breite, lange oder tiefer gelegte Autos würde ich verzichten. Und zum Glück wurden wir in Voltri an der Bar abgeholt und zum Haus geleitet - alles kein Problem. Nochmal ein herzliches Dankeschön an unsere Gastgeber: Ihr habt uns einen wunderbaren Urlaub beschert!!!
Silke
2016-05-28T00:00:00Z
casa davvero particolare, ottima esperienza e padrona di casa davvero ospitale e a cui piace viziare l'ospite. Ottima cena cucinata da lei e locazione suggestiva!
massimo
2016-07-25T00:00:00Z
Gentile accompagnatrice Lucilla. La signora padrona di casa fantastica e premurosa. Ci ha preparato una cena fantastica e regalato verdure fresche per il brodo dei bambini più piccoli. Panorama mozzafiato e casa accogliente.
Caterina
2016-07-04T00:00:00Z
Quel accueil magnifique nous a fait Lucilla ! Nous nous sommes tout de suite senti chez nous. Nous avons pu manger chez eux un excellent repas maison avec les produits du jardin. Le premier jour nous avons visité le centre de Gênes (très sympa), le lendemain nous avons suivi la côte jusque Savone. Il faut bien s'organiser pour le rdv à l'arrivée car la maison peut difficilement être trouvé seule ((SENSITIVE CONTENTS HIDDEN) maps nous arrête au milieu de l'autoroute...) et le chemin d'accès difficile. Une excellente adresse chez qui nous repartirons probablement.
Anthony
2016-11-01T00:00:00Z
Amazing stay at a wonderful location with a great host!
Charles
2016-06-15T00:00:00Z
Lucilla est une parfaite hôtesse, lors de notre arrivée elle nous a proposé le repas du soir, chaque jour une petite attention, elle a un très beau jardin et nous abreuvait en fruits et légumes , malgré le barrage de la langue nous nous comprenions bien, bref je recommande cette adresse
NADINE
2016-08-01T00:00:00Z
The host was very nice. Everything worked perfect. The flat is very nice and clean. The location is amazing. We had a very nice time. Thank You!
Peter
2016-10-14T00:00:00Z
C'était un bôn séjour Nous reviendrons volontiers
Géraldine
2016-12-04T00:00:00Z
Art der Unterkunft
Ganze Unterkunft
---
Objekttyp
Haus
---
Unterkunft für
7
---
Schlafzimmer
Genua, Ligurien, Italien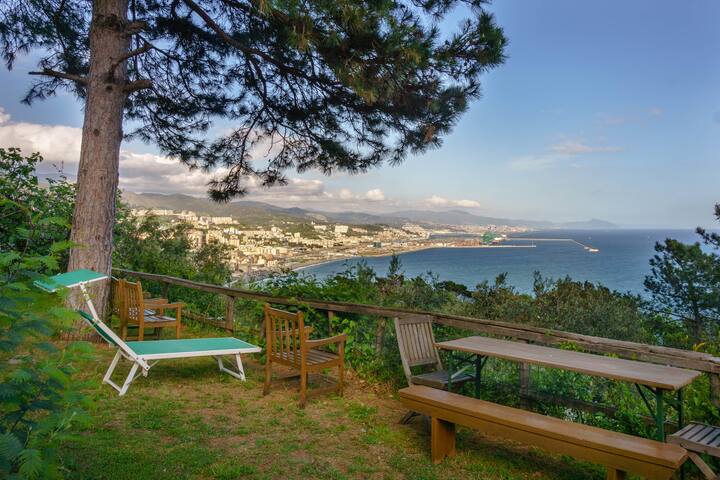 Moderne Wohnung mit Aufzug. Nur 2 Minuten zu Fuß von freien Stränden und dem Zentrum von Cogoleto, mit Supermärkten, Geschäften, Bahnhof und die Verbindung zum Flughafen Genua. Das Hotel liegt im Nationalpark del Beigua. Ideal für Familien mit 2 oder 3 Kinder
Ein Stockwerk Appartement im zweiten Stock mit Zentralheizung und Aufzug. Balkon mit seasight nur 2 Minuten zu Fuß vom Strand und dem Zentrum. Restorants, Supermärkte und Geschäfte in der Stadt. Die Wohnung befindet sich in der Beigua Natur Parg, ideal gelegen für alle Jahreszeiten wandern.
In der Nähe des Beigua Nationalpark; ideal für Trekking und in der Nähe des Altavia dei Monti Liguri.
Il soggiorno a casa di Elisabeth e' stato piacevole e comodo. La casa e' perfetta per due persone situata in palazzo tranquillo vicinissimo al mare. Elisabeth e' stata estremamente gentile e disponibile.
Irene
2016-01-03T00:00:00Z
Accoglienza perfetta. L'appartamento è comodo al mare ed è dotato di tutti i comfort. Lo consiglio a tutti.
cristina
2016-08-30T00:00:00Z
The apartment has a great location in Cogoleto. The contact with Elisabeth went very smoothly and we got a great help from her contacts in Cogoleto.
Åsa
2016-07-04T00:00:00Z
accoglienza ottima da parte dei proprietari. ubicazione buona per mare e servizi
Marilù
2015-08-01T00:00:00Z
L'accoglienza è stata gradevole, l'host disponibile e gentile. La posizione dell'alloggio è perfetta per l'accesso alla spiaggia ed al centro del paese. Torneremo sicuramente ospiti di questa casa.
Pierangelo
2016-08-14T00:00:00Z
Art der Unterkunft
Ganze Unterkunft
---
Objekttyp
Haus
---
Unterkunft für
4
---
Schlafzimmer
Cogoleto, Ligurien, Italien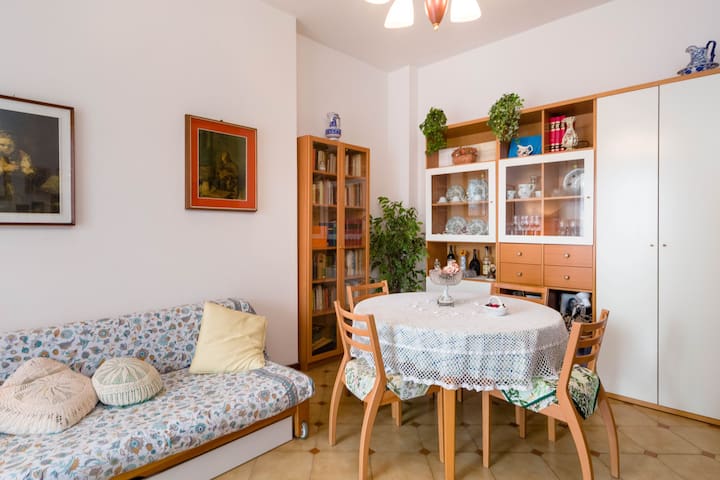 Arenzano - Airbnb
:
Durchschnittlich

4.51

von

5

Sternen aus

245

Gäste-Bewertungen