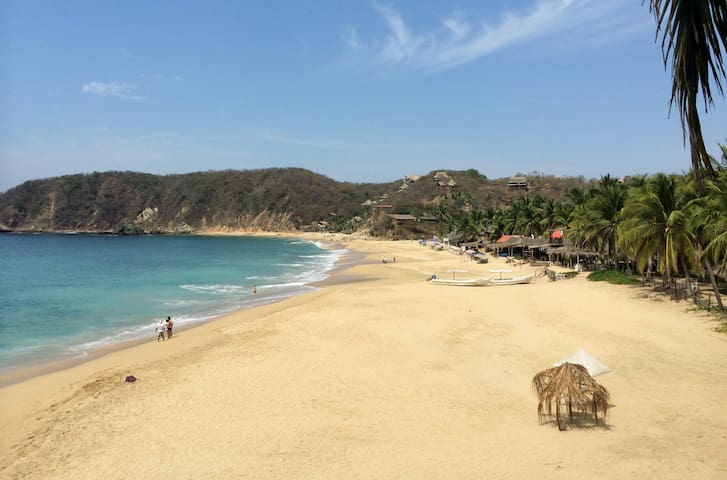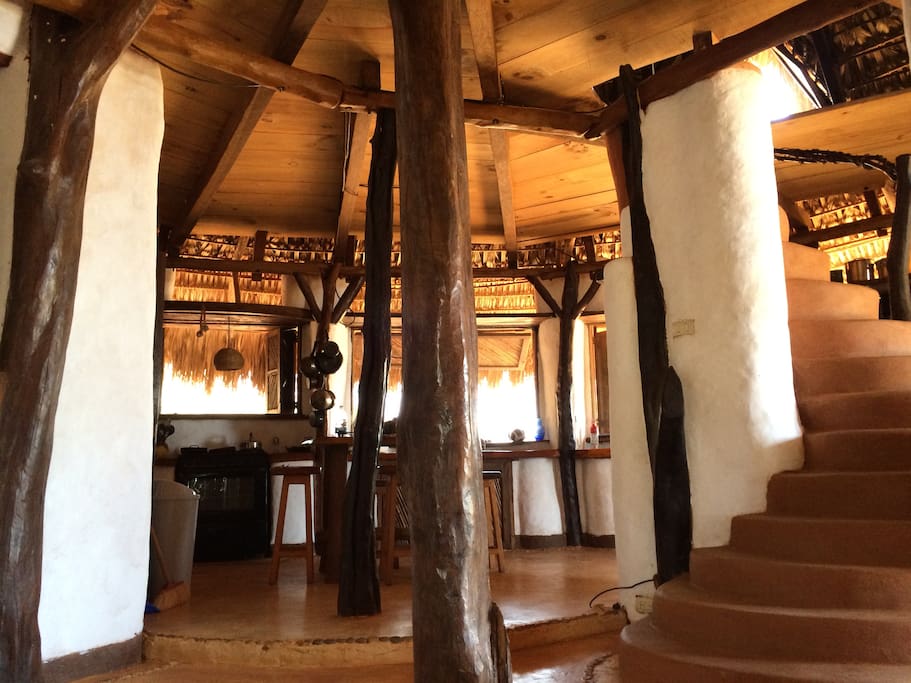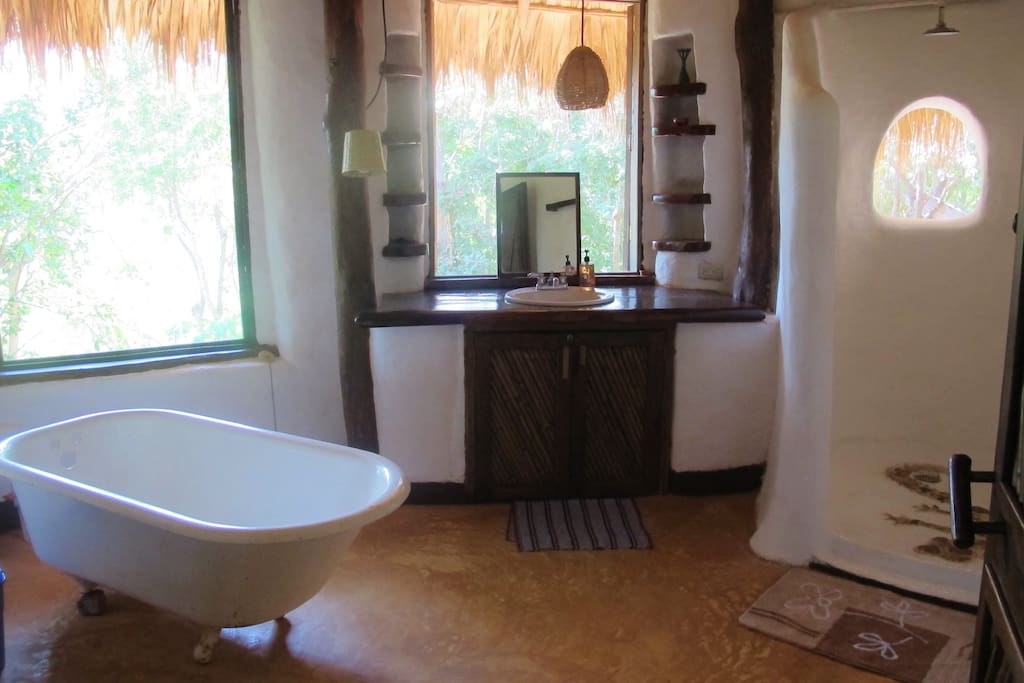 Casa de las Mariposas ist ein inspirierendes, geräumiges, offenes, schönes und friedliches Haus mit herrlichem Pazifikblick über Mazunte, Rinconcito und San Agustinillo Strände. Dieses handgeformte Haus würde nicht in einem Fantasy-Film wie dem Hobbit fernsehen. Ein kleines Stück Himmel versteckt in der natürlichen, ländlichen Westküste von Mexiko.
Casa de las Mariposas is an inspiring, spacious, open-plan, beautiful and peaceful home with stunning pacific views high over Mazunte, Rinconcito and San Agustinillo beaches. This hand-sculpted house would not look out of place in a fantasy film such as the hobbit. A little piece of heaven tucked away in the natural, rural west coast of Mexico.
Der Wohnraum
Casa de las Mariposas ist ein inspirierendes, schönes und ruhiges Familienhaus oberhalb der Strände von Mazunte, Rinconcito, Mermejita und San Agustinillo. (Siehe alle Fotos oben in der Liste 1 ist ein Blick auf den Strand von Mazunte von unserem Lieblingscafé). Mit atemberaubenden Blick auf den Pazifik in einer privaten, ruhigen und friedlichen Umgebung. Sie werden nie von Verkehr, Autohupen, Late-Night-Trommeln oder 2 Uhr morgens, 3 Uhr morgens und 4 Uhr morgens wachgerüttelt werden, wie es näher am Dorf und am Strand der Fall ist. 20 Minuten zu Fuß zu Rinconcito, Mazunte oder Mermajita Stränden, Geschäften und Restaurants und 20 Minuten zu den schönen und legendären Sonnenuntergang von Punta Cometa, was will man mehr. Dieses künstlerisch gebaute Haus ist völlig natürlich und würde am Set eines Fantasyfilms wie The Hobbit nicht fehlen. Es ist komplett rund, mit einem palmengedeckten Dach und mit meterdicken Lehmwänden gebaut, es behält das ganze Jahr über eine angenehme Temperatur, kombiniert mit der natürlichen Brise und dem Schatten des Palapadachs aus natürlicher Palme. Das geräumige, offene Wohnzimmer macht dieses Haus zu einem der größten, schönsten, bequemsten und erschwinglichsten in Mazunte zu dieser Zeit. Casa de las Mariposas ist so weit wie möglich durch Moskitonetze geschützt, verfügt über eine voll ausgestattete offene Küche mit Eis gekühltem Kühlschrank / Kühler, Gasherd und Backofen und Frühstückstisch. Es gibt eine Lounge / Leseecke und einen Essbereich mit Esstisch für 6 Personen. Ebenfalls im Erdgeschoss befindet sich ein Schlafzimmer mit abschließbarem Schrank für Wertsachen, 1 Doppelbett und ein malerisches, in die Wand gebautes Kabinenbett (fabelhaft für Kinder oder Hobbits). .. Das geräumige Badezimmer verfügt über 2 Ganzkörperspiegel, eine von Hand geformte Dusche und normale, im Gegensatz zu herkömmlichen Trockentoiletten, die sehr familienfreundlich sind. Im Obergeschoss finden Sie das große offene Schlafzimmer, es bietet 1 riesiges Kingsize-Bett und 1 Doppelbett, eine Kommode, einen Kleiderschrank und einen Sitzbereich sowie natürlich die obligatorische Hängematte. Alle Betten profitieren vom zusätzlichen Schutz einzelner Moskitonetze. Der Balkon mit Drop Down-Schreibtisch für Laptops mit Blick auf die Umgebung mit herrlichem Blick auf den Pazifik, können Sie sich versucht, Ihren gesamten Aufenthalt dort oben zu verbringen. Wir haben einen großen privaten Garten, der mit einem 15-minütigen diskreten Bewässerungsbesuch an 3 Wochentagen morgens von unserem treuen Mann-Freitag Salvador kommt. Er spricht Englisch sowie Spanisch und ist bereit, Ihnen bei allem zu helfen, was Sie brauchen. Das Haus ist komplett solarbetrieben mit kostenlosem Satelliten-WLAN, im besten Fall aber ausreichend für die meisten durchschnittlichen Bedürfnisse (das gesamte Dorf ist leider das gleiche) privater Parkplatz für bis zu 3 Fahrzeuge (4-Rad-Antrieb eine Notwendigkeit in der Regenzeit). Trinkwasser wird für Sie bereitgestellt und jeden zweiten Tag zu einem minimalen Preis geliefert. Wir haben ein kleines Team vor Ort, sollten Sie auf Probleme stoßen, werden sie sich am Nachmittag oder am nächsten Morgen nach Ihrer Ankunft vorstellen, um zu prüfen, ob alles so ist, wie Sie es sich erhofft haben, und um Fragen oder Fragen zu beantworten. Bevor Sie Ihre Reise nach Mazunte beginnen, erhalten Sie ihre Kontaktdaten mit detaillierten Anweisungen, wie alles funktioniert und wie Sie sich fortbewegen können. Wir bitten Sie, diese auszudrucken und für Ihren Aufenthalt mitzubringen. Sie haben privaten Zugang zum gesamten Haus und Garten, da wir leider nicht mehr vor Ort wohnen. Die Straße zum Haus ist leicht zu Fuß 15 Minuten zu Fuß zum Strand oder Dorf, aber eine längere 25 Minuten zu Fuß, nicht für ältere Menschen oder sehr ungeeignet, vor allem in der Hitze des Tages, lohnt es sich organisiert zu sein (ein Taxi Das Haus vom Dorfzentrum oder Strand ist nur 20-30 Pesos). Bringen Sie jeden Abend eine gute Taschenlampe mit! Mazunte hat nur Straßenlaternen auf Hauptstraßen, das ist also wichtig. Insektenabwehrmittel können vor Ort gekauft oder selbst mitgebracht werden, trotz der Fliegengitter finden Mücken immer ihren Weg ins Haus. Die meisten anderen Häuser und Restaurants sind in Mazunte und den umliegenden Dörfern komplett geöffnet, so dass Sie zu jeder Tageszeit vor Moskitos geschützt sein sollten. Sie können keine guten Taschenlampen vor Ort kaufen, bitte bringen Sie Ihre eigenen mit. Das Haus ist sehr privat mit niemandem übersehen, so Interaktion mit den Einheimischen und das Dorf ist ganz unter Ihrer Kontrolle. Die Schönheit des Lebens in diesem Ort ist die Privatsphäre und Ruhe, die es zu jeder Zeit bietet. Sicherheit ist kein Problem, wir hatten in den letzten 12 Jahren ein paar unglückliche Einbrüche, die erste, bei der Gäste alle Fensterläden offen ließen und zum Strand gingen und eine andere, wo das Kick-Lock an der Haustür nicht geschlossen war. Beide Vorkommnisse waren für uns schockierend und wir haben sofort Stangen in die oberen Erdgeschossfenster eingebaut und vorübergehend ein paar winzige Kameras installiert, es wurde bald entdeckt, dass der Sohn unseres Gärtners Vorteil des Gastes Fehler und unnötig zu sagen, weder er noch unser Gärtner haben für uns seit mehr als 18 Monaten gearbeitet oder wurden in der Gemeinde gesehen. Auf eine glücklichere Anmerkung gibt es eine kleine schwarze Katze namens "Oso", die zu unserem Nachbarn gehört, sie wahrscheinlich während Ihres Aufenthalts besuchen wird und endlose Wege entdeckt hat, um ins Haus zu kommen, sie ist sehr sanft und liebevoll, aber wir bitten die Gäste nicht um sie zu füttern oder auf Betten oder Möbeln zu erlauben, sind Streicheleinheiten optional, aber fühlen Sie sich frei, sie zu bitten zu gehen, sollten Katzen nicht Ihr Ding sein (wir können nicht garantieren, dass sie den Hinweis bekommt, dass sie die Herzen der meisten Gäste geschmolzen hat). Die Fahrt zum Haus dauert einige Minuten, aber es sollte beachtet werden, dass die unbefestigte Straße für unerfahrene Fahrer schwierig zu verhandeln sein kann. Ein 4xrad oder "Bocho" (lokaler Name für VW Käfer) sind die besten Fahrzeuge dafür besonders in der Regenzeit. Es gibt lokale Taxis im Zentrum des Dorfes für Gäste ohne Fahrzeuge oder diejenigen, die ihre Fahrzeuge auf den gepflasterten Straßen halten möchten. Wie bereits erwähnt, können Sie für eine kleine Gebühr von ca. 20-30 Pesos ein Taxi den Hügel hinauf und in wenigen Minuten vor der Tür stehen, wir haben auch Anschlüsse für Flughafen und Busbahnhof abholen und absetzen für diejenigen, die es benötigen viel reduzierte Preise als das Flughafentaxi. (Alle Details bei Buchung verfügbar) Alles, was Sie für einen komfortablen und unterhaltsamen Aufenthalt benötigen, ist im Dorf Mazunte mit vielen guten Restaurants zur Auswahl sowie lokalen Festivals, Live-Musik und einer großen Auswahl an Ausflügen und Touren einschließlich Schwimmen mit Schildkröten, Whale Watching und Krokodilspotting Touren alles in Reichweite und zu sehr günstigen Preisen. Das neu renovierte und restaurierte Schildkrötenmuseum bietet einen großartigen Einblick in die Welt dieses viel beachteten Seetieres und während der Saison gibt es tägliche Gelegenheiten, Babyschildkröten in die Wildnis zu entlassen, ein Erlebnis, das Erwachsene und Kinder nie vergessen werden. San Agustinillo, Zipolite und Puerto Angel sind nur eine kurze Fahrt entfernt, Taxi oder Collectivo fahren zu minimalen Kosten und jeder Strand bietet dem Besucher eine ganz andere Erfahrung. Es gibt ein paar Pools zur Auswahl, wenn Sie dies wünschen. Es ist sehr einfach und wirtschaftlich zu umgehen. Die Stadt Pochutla ist nur 25 Minuten entfernt und einen Besuch wert am Montag Markttag, bietet es einen großen Supermarkt, wenn Sie bevorzugen oder für die Dinge, die Sie nicht vor Ort finden. Nur 20 Autominuten entfernt besuchen Sie die Mangroven und die Lagune von Ventanilla mit ihrem natürlichen Krokodil und Vogelschutzgebiet. Die atemberaubende Bootstour ist ein Muss für alle Naturliebhaber. Am frühen Morgen Reiten entlang der langen Weite des natürlichen Ventanilla Strand ist unglaublich und Whale Watching Boot Touren sind auch in der Saison verfügbar. Etwas weiter können Sie Wildwasser-Rafting betreiben oder Wasserwanderungen und Vogelbeobachtungstouren entlang der Flüsse Copalito und San Francisco unternehmen. Huatulcos Stadt, atemberaubende Buchten und der internationale Flughafen (HUX) sind innerhalb einer Stunde von Mazunte aus erreichbar und können mit dem Auto, Bus oder Taxi erreicht werden. In die entgegengesetzte Richtung und auch eine Stunde Fahrt ist die Stadt Puerto Escondido und der internationale Flughafen (PAX). Berühmt für seine fabelhaften Wellen, Surfwettbewerbe und sein Nachtleben ist es einen Besuch wert. Die schöne und historische Stadt Oaxaca ist eine erstaunliche 6-stündige Fahrt oder Kleinbus (von Mazunte oder Pochutla) durch tropische Wälder und Kaffeeplantagen in großer Höhe, die Aussicht ist spektakulär, wenn auch ein wenig mulmig für diejenigen mit empfindlichen Reisen Bummeln. Es ist auch eine oder 10 Stunden klimatisierte Busfahrt von Pochutla nach Oaxaca. Auch mit seinem eigenen internationalen Flughafen (OAX), Flüge von Oaxaca an die Küste sind zweimal täglich, billigsten, wenn im Voraus gebucht. Schließlich, bringen Sie eine positive Einstellung, eine Bereitschaft, eine gute bergauf gehen, eine gute Taschenlampe / Blitzlicht zu genießen, wie Straßenlaternen sind nur auf den Hauptstraßen von Mazunte und Insektenschutzmittel gefunden. Wir sind weder ein Hotel, noch erheben wir den Anspruch, Hoteleinrichtungen oder Service anzubieten. Wir sind ein völlig originales, handgefertigtes Familienhaus in der schönen, ländlichen Küstenregion von Oaxaca. Wir werden Ihnen die Gelegenheit geben, ein Stück des echten Mexikos zu erleben, das viele Reisende so oft vermisst haben. Wir haben ein kleines lokales Team, um den reibungslosen Ablauf zu gewährleisten. Jeder hier läuft entspannt und schnell. Erinnern Sie sich bitte, wir können nicht die Wildnis oder die Wanzen oder öffentliche Verkehrsmittel, öffentliche Straßen oder das Wetter kontrollieren, bitte kommen Sie bereit und bereit, Ihre Erfahrung zu genießen, wie das Leben an der Küste von Oaxaca gelebt werden soll ... mit einem super Entspannte, fröhliche Haltung und ein offener Geist. Gute Reise. Saludos, Naiya x
Casa de las Mariposas is an inspiring, beautiful and peaceful family home set above and overlooking the beaches of Mazunte, Rinconcito, Mermejita and San Agustinillo. (See all photos included at the top of the listing picture 1 is a view of Mazunte beach from our favourite cafe).
With stunning Pacific views in a private, calm and peaceful natural environment. You will never be woken by traffic, car horns, late night drumming or 2 am, 3 am and 4am rooster calls as is the case closer to the village and beach.
20 minutes stroll down to Rinconcito, Mazunte or Mermajita beaches, shops and restaurants and 20 minutes to the beautiful and legendary sunset's of Punta Cometa what more could you ask for.
This artistically built home is entirely natural and would not be out of place on the set of a fantasy film such as The Hobbit. It is completely round, with a palm thatched roof and built with meter thick clay walls, it maintains a comfortable temperature year round, combined with the natural breeze and shade from the natural palm palapa roof. The spacious open plan living makes this home one of the largest, most beautiful, comfortable and affordable available in Mazunte at this time.
Casa de las Mariposas is protected as much as possible by mosquito screens, has a fully equipped open plan kitchen with ice cooled fridge/cooler, gas cooker and oven and breakfast table. There is a lounge/reading area and dining area with dining table to seat 6. Also found downstairs is a bedroom with lockable wardrobe for valuables, 1 double bed and a quaint cabin bed built/sculpted into the wall (fabulous for children or hobbits).
The spacious bathroom has 2 full length mirrors, hand-sculpted shower and normal, flushing as opposed to dry toilet facilities more commonly found in the area, very family friendly.
Upstairs you will find the large open plan bedroom, it offers 1 enormous king and 1 double bed, a chest of drawers, wardrobe and seating area as well as the obligatory hammock of course. All beds benefit from the added protection of individual mosquito nets.
The balcony with drop down desk for laptops looks out over the surrounding area with stunning pacific views, you may find yourself tempted to spend your entire stay up there.
We have a large private garden which comes with a 15 minute discrete watering visit 3 weekday mornings from our trusty Man-Friday Salvador. He speaks English as well as Spanish and is willing to help with anything you may need. The house is completely solar powered with complimentary satellite wifi, sluggish at best but sufficient for most average needs (the entire village is the same unfortunately) private parking for up to 3 vehicles (4 wheel drive a necessity in the rainy season). Drinking water is supplied for you and delivered every other day for a minimal cost should you run out.
We have a small local team on call should you run into any problems, they will introduce themselves in the afternoon or next morning after your arrival to check that everything is as you'd hoped and to answer any questions or queries you may have. You will be issued with their contact details before your journey to Mazunte begins along with detailed instructions on how everything works and how to get around, we ask that you print and bring this with you for you stay.

You will have private access to the entire house and garden as we sadly no longer live locally.
The road to the house is an easy 15 minute walk downhill to the beach or village but a longer 25 minute walk up, not for the elderly or very unfit, especially in the heat of the day, it pays to be organised (a taxi to the house from the the village centre or beach is only 20-30 pesos).
Do bring a good torch each for evening walks! Mazunte only has street lights on main roads so this is essential. Bug repellent can be purchased locally or bring your own, despite the screens mosquitos will always find their way into the house. Most other homes and all restaurants are completely open in Mazunte and surrounding villages so you should aim to be protected from biting mosquito's at all times of day. You cannot purchase good torches locally at all please bring your own.
The house is very private with no-one overlooking so interaction with the locals and the village is entirely under your control. The beauty of living in this location is the privacy and peace it offers at all times. Security is not a problem, we have had a couple of unfortunate break-ins over the past 12 years, the first where guests left all the shutters open and went to the beach and another where the kick-lock on the front door was not closed, both incidents were shocking for us and we immediately fitted bars in the upper ground floor windows and temporarily installed a couple of tiny cameras, it was discovered soon after that our gardener's son had taken advantage of the guest errors and needless to say neither he nor our gardener have worked for us for more than 18 months now or been seen in the community.
On a happier note there is a little black cat called 'Oso' who belongs to our neighbour, she is likely to visit during your stay and has discovered endless ways t get into the house, she is very gentle and affectionate but we ask guests not to feed her or allow her on beds or furniture, cuddles are optional but feel free to ask her to leave should cats not be your thing (we cannot guarantee she will get the hint she has melted the hearts of most of our guests).
The drive up to the house takes several minutes but it should be noted that the dirt road can be difficult to negotiate for inexperienced drivers. A 4xwheel drive or 'bocho' (local name for VW Beetle) are the best vehicles for this especially in the rainy season. There are local taxis in the centre of the village for guests without vehicles or those wanting to keep their vehicles on the paved roads. As mentioned before, for a small charge of around 20-30 pesos you can get a taxi up the hill and be at the door in minutes, we also have connections for airport and bus station pick up and drop off for those that require it at much reduced prices than the airport taxi's. (Full details available upon booking)

Everything you need for a comfortable and fun stay is available in the village of Mazunte with many great restaurants to choose from as well as local festivals, live music and a wide choice of excursions and tours including swimming with turtles, whale watching and crocodile spotting tours all within reach and at very reasonable prices.
The newly updated and refurbished turtle museum offers a great insight into the world of this much respected sea animal and during the season there are daily opportunities to release baby turtles into the wild, an experience adult and child alike will never forget.
San Agustinillo, Zipolite and Puerto Angel are just a short drive, taxi or collectivo ride away at a minimal cost and each beach offers the visitor a completely different experience. There are a couple of swimming pools to choose from if you so desire as well. It is very easy and economical to get around.
The town of Pochutla is only 25 minutes away and well worth a visit on Monday market day, it offers a large supermarket if you prefer to stock up or for those items you may not find locally.
Just 20 minutes drive away visit the mangroves and lagoon of Ventanilla with its natural crocodile and bird sanctuary the stunning boat tour is a must for all nature lovers. Early morning horse riding along the long expanse of natural Ventanilla beach is incredible and whale watching boat tours are also available in season. Further afield you may wish to go white water rafting or take water hikes and bird watching trips along the Copalito and San Francisco rivers.
Huatulco's town, breathtaking bays and international airport (HUX) are within an hour from Mazunte and can been reached by car, bus or taxi. In the opposite direction and also one hour's travel is Puerto Escondido town and international airport (PAX). Famous for its fabulous waves, surfing competitions and nightlife it's well worth a visit. The beautiful and historical city of Oaxaca is an amazing 6 hour drive or minibus ride (from Mazunte or Pochutla) through tropical forests and high altitude coffee plantations, the views are spectacular although a little queasy for those with sensitive travel tummies. The is also a or 10 hour airconditioned bus ride from Pochutla to Oaxaca. Also with it's own international airport (OAX), flights from Oaxaca to the coast are twice daily, cheapest when booked in advance.

Finally, bring a positive attitude, a willingness to enjoy a good uphill walk, a good torch/flash-light as street lights are only found on the main roads of Mazunte and bug repellent.
We are not a hotel nor do we claim to offer hotel facilities or service, we are a totally original handmade family home in beautiful, rural, coastal Oaxaca. We will give you the opportunity to experience a little piece of the real Mexico so often missed by many travellers, we have a small local team in place to help things run smoothly, everyone around here run at the relaxed speed they live their lives by. Do please remember, we cannot control the wildlife or the bugs nor public transport, public roads or the weather, please come willing and prepared to enjoy your experience the way life is meant to be lived on the coast of Oaxaca ... with a super-relaxed, happy attitude and an open mind.
Happy travels.
Saludos, Naiya x
Zugang für Gäste
Das ganze Haus und alle Einrichtungen werden nur Ihre während Ihres Aufenthaltes sein.
The entire house and all facilities will be only yours during your stay.
Interaktion mit Gästen
Sie haben die Eigenschaft für sich selbst so lokale Interaktion ist ganz unter Ihrer Kontrolle, aber die Schönheit des Lebens in diesem Ort ist die Privatsphäre und Frieden in der Natur bietet es zu jeder Zeit.
You will have the property to yourselves so local interaction is entirely under your control but the beauty of living in this location is the privacy and peace within nature it offers at all times.
Weitere wichtige Infos
Bringen Sie eine Fackel, das wird nicht zur Verfügung gestellt und ist wichtig, um in den Abenden zu bekommen. Wir bieten Badetücher, die im Haus bleiben müssen und eine Handvoll alte Handtücher für den Strand. Bug Spray / Repellent ist ein Muss für den Abend, das Haus ist abgeschirmt, aber es ist unmöglich, Moskito Beweis. Dies ist ein solarbetriebenes Haus, der Kühlschrank ist mit Eis gekühlt, so dass Sie mehr Power für Musik und einige Fan-Nutzung, das wird kostenlos geliefert werden alle zwei Tage. Abgesehen von Telefonladegeräten, Kameras und einem Laptop bitten wir darum, dass keine elektrischen Gegenstände ins Haus gebracht werden, um das System reibungslos und voll auszulassen. Wir müssen betonen, dass Fensterläden geschlossen sein sollten, wenn man das Grundstück verlässt, um den kleinen Diebstahl zu vermeiden, wir haben die Sicherheit im Haus nach einem kleinen Diebstahl durch Hinzufügen von Stäben zu den oberen Fenstern, aber da entdeckt, dass es der Gärtner Sohn war. Beide arbeiten nicht mehr für uns und haben das Gebiet verlassen, es gab keine weiteren Zwischenfälle.
Bring a torch, this will not be provided and is essential for getting about in the evenings. We provide bath towels which must remain in the house and a handful of old towels for beach use. Bug spray/repellent is a must for the evening, the house is screened but it's impossible to mosquito proof.
This is a solar powered house, the fridge is cooled by ice allowing you more power for music and some fan use, this will be delivered free of charge every two days. Apart from phone chargers, cameras and a laptop we ask that no electrical items are brought into the home to keep the system running smoothly and to its full capacity.
We must stress that window shutters should be closed when leaving the property to avoid petty theft, we have upped security in the house after a minor theft by adding bars to the upper windows but since discovered it was the gardeners son. Both no longer work for us and have left the area, there have been no further incidents.
Familien- / kinderfreundlich
Zusätzliche Personen 12 € / Nacht nach dem ersten Gast
Kommuniziere immer über Airbnb
Um deine Zahlung zu schützen, solltest du niemals außerhalb der Airbnb-Website oder -App kommunizieren oder Geld überweisen.
Schlafzimmer 1
1 Doppelbett (1,80 × 2 m), 1 Doppelbett (mind. 1,50 x 2 m)
Schlafzimmer 2
2 Doppelbetten
Keine Partys oder Veranstaltungen
Der Check-in ist jederzeit nach 15:00
Eigenständiger Check-in mit lockbox
We can be flexible with check in/out times but this is dependant on prior or future guests - let us know your schedule in advance and where possible we will always help.
We ask that you respect the local laws and our friendly neighbours by restricting loud music to between the hours of 8.00 am and 10.00 pm.
Smoking is permitted outside the house only or on the balcony.
Other than a laptop, travel speakers, mobile phones and cameras, guests should not bring or use their own electrical items into the house, hair-dryers, tongs and straighteners are not permitted neither are electric coffee makers or power tools of any kind. Electrical items of this kind will drain all available power very quickly leaving you in the dark.
Strictly no bonfires or B.B.Q.'s as a fire safety precaution and candles or naked flames are not permitted upstairs or anywhere near the palapa roof.
We welcome pets but we ask that dogs are not allowed to roam free in the gardens or left alone in the house and no persistently barking, dangerous or grumpy dogs please.
Rubbish is an issue in the area and guests are expected to follow the guidelines provided when sorting and disposing of their trash.
NO toilet paper, sanitary items or wet wipes to be flushed down the toilet please, this is standard in Mexico, bins are provided.
Long term lets, over a month or more are available at reduced rate depending on demand and season, long term prices drop considerably during the rainy season.

Cleanliness is the responsibility of the guest with all items cleaned and put away before departure.
There are good towels for showering and old towels supplied for beach use, please help us keep costs down by keeping our good towels in house and be warned Aloe Vera bleaches fabric.
A full laundry service for your clothing is offered by many places nearby, inexpensively.
There is a £10 per week extra cleaning charge for pets.
Finally pre-arranged airport pick up and drop off may be possible from a local trusty taxi driver at an average cost of 500-600 pesos depending on availability (book directly in advance, we will forward info).
Le pedimos que respete las leyes locales y nuestros vecinos amistosos restringiendo música fuerte entre las horas de 8.00 am y 10.00 pm y tanto como damos la bienvenida a las mascotas que pedimos que los perros no se les permite vagar libre en los jardines o dejados solos en En cualquier momento en la casa y no persistente ladridos, perros peligrosos o gruñones por favor. Se permite fumar fuera de la casa o en el balcón. Aparte de un portátil y los teléfonos móviles los huéspedes no deben traer o utilizar sus propios artículos eléctricos en la casa, secador de pelo, pinzas y alisadores no están permitidos tampoco son cafeteras eléctricas o herramientas eléctricas de cualquier tipo. Los artículos eléctricos de este tipo drenarán toda la energía disponible muy rápidamente.
Estrictamente no hay hogueras o B.B.Q. como precaución de seguridad contra incendios y velas o llamas desnudas no se permiten arriba o en cualquier lugar cerca del techo de palapa.
Basura es un gran problema en la zona y se espera que los huéspedes sigan las directrices proporcionadas al clasificar y deshacerse de su basura.
No hay papel higiénico, artículos sanitarios, toallitas húmedas o fluidos de limpieza para ser lavado por el inodoro por favor.
A largo plazo permite, más de un mes o más están disponibles a tarifa reducida dependiendo de la demanda y la temporada, los precios a largo plazo caen considerablemente durante la temporada de lluvias.
Podemos ser flexibles con los horarios de entrada y salida, pero esto depende de los huéspedes anteriores o futuros - háganos saber su horario con antelación y siempre que sea posible siempre le ayudaremos.
Limpieza es la responsabilidad del huésped con todos los artículos limpios y guardar antes de la salida.
Hay buenas toallas para ducharse y las viejas toallas suministradas para el uso de la playa, por favor, ayudarnos a mantener los costos por mantener nuestras buenas toallas en la casa y ser advertido Aloe Vera blanqueadores tela.
Un servicio completo de lavandería para su ropa es ofrecido por muchos lugares cercanos, de bajo costo.
Finalmente pre-arreglado aeropuerto de recogida y entrega puede ser posible de un taxista local taxista a un costo promedio de 500-600 pesos dependiendo de la disponibilidad (reservar con antelación).

.
3 Nächte Mindestaufenthalt.
Hi there, My name is Naiya, my mum is called Sarah and this is a snippet of our story.
In 1999 my mum began a road trip that unknown to her would completely change her life. The journey started in a trailer park in West Virginia where she found a 1972 Winnebago covered in canvas and abandoned by it's owners for many years. the plan was to drive all the way down through Mexico to Belize and Costa Rica and on to South America.
The adventure started well and she saw no reason not to complete her journey from beginning to end, the Winnebago had other plans.
A few days before Christmas with a puff and a splutter the engine died and she rolled into a beautiful little beach village called Mazunte on the west coast of Oaxaca. It took a month to find and fix the problem and during this time she fell in love with Mexico and Mazunte and a whole new life as she saw it could be. That month changed her world and started mine, her first decision was to have a baby, she was the happiest, healthiest and most relaxed she had ever been in life and just knew this was the place to do it. It happened immediately and she spent 7 beautiful months on the beach with me growing inside her, it was incredible but having decided to give birth to me in the UK and fearing that se would never return she gathered every last penny she had and bought a chunk of land on a hill over looking the village and the beautiful ocean, it was a crazy decision but this way she would have to come back. We left for the UK with a heavy heart and a big round tummy a week later.
My mum and I managed to return many times as I grew bigger and stronger, doing little bits of work on the land each time, first a bodega where we could store tools and live while we would be building then foundations and on one occasion we gathered a team of helpers and 2 Italian carpenters and managed to construct the roof.
It was so frustrating for her not having the money to pay builders and architects to create our dream but working and saving money now in the States gave her time to understand the land and people and really appreciate every inch and moment we would spend there. Between running a business and being a mum she spent hours and hours every day and night on-line and in libraries learning everything she could about building on a budget and gathering ideas and pictures from wherever she could a plan was formed.
She sold up and packed up we and moved to Mexico permanently when I was only 3. That was it, she wanted to build our new lives for us away from the craziness of the western world and she was going to do it! Having plenty of ideas by now and hundreds of sketches but very little money we arrived with tools and a few books from Amazon on natural building. We lived in the dirt for 3 long years as the house slowly grew around us (we have so many stories). Our trusty worker Roman (now the gardener), myself and my courageous mum did almost all the work together, it must have been a long and difficult journey for her and I know she was lonely at times but we achieved the impossible dream and created this our beautiful home where we lived so very happily for 7 more years.
We now live in the UK, we came back just for school really and we'll stay until I finish all my studies, raising money by renting our home to you to keep it maintained and help towards my future University fees, it's been tough on my Mum leaving our dream but it's for all the right reasons and I love her for doing it for me.

As for the Winnebago, she sold her to a circus in Pochutla to buy wood to build our roof with. We watched her disappear into the sunset, driven by the ringmaster, with a lion in a cage towing behind her ... me waving madly, perched as always on the side of Mum's hip, Mum smiling with tears rolling down her face (true story).

Our motto: A little courage can take you anywhere.
Antwortrate:
100%
Antwortzeit:
innerhalb einiger Stunden
Entdecke weitere Optionen in und um Mazunte
Noch mehr Unterkünfte in Mazunte: