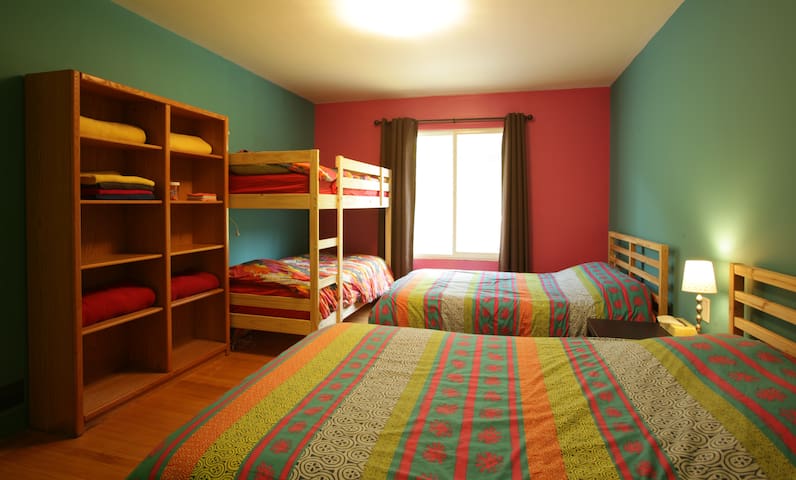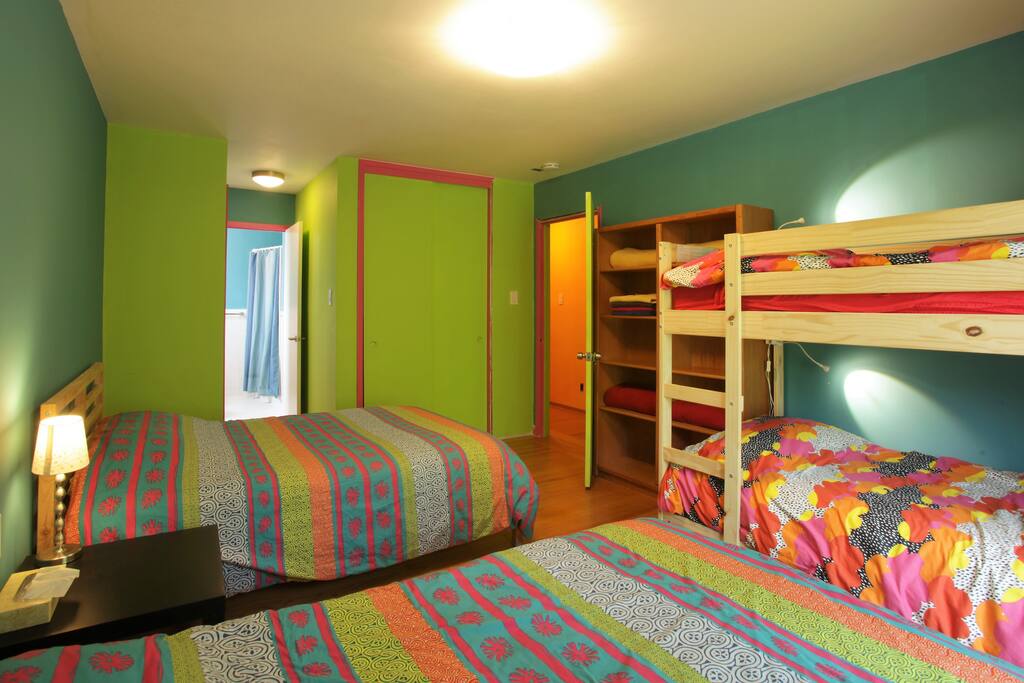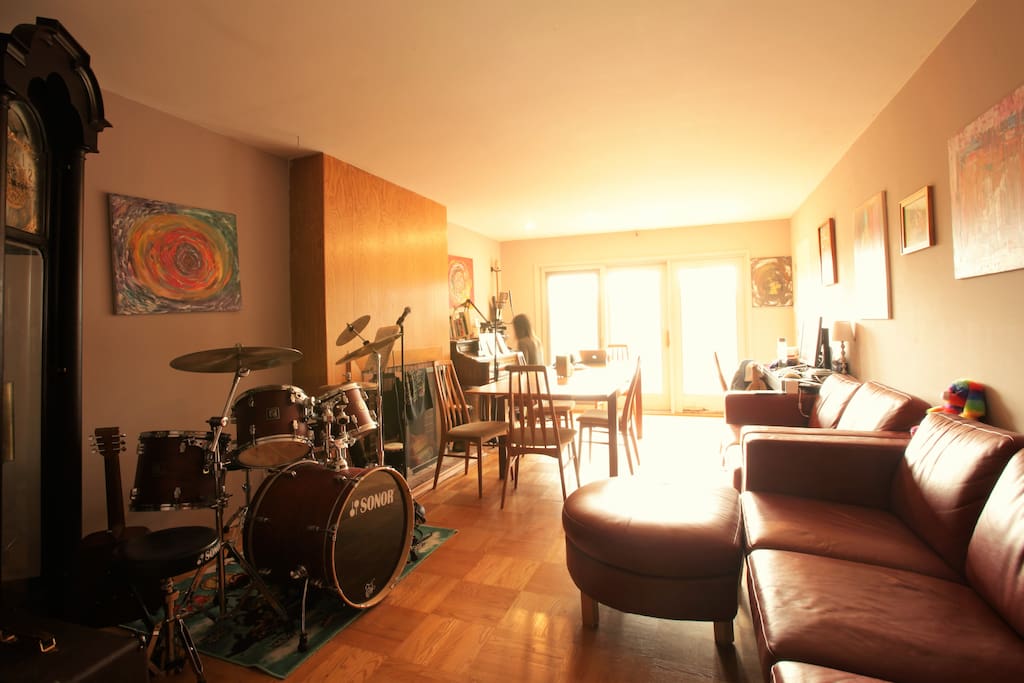 Das ist mein größter Raum. Bis zu sechs Personen können passen. Es gibt ein eigenes Badezimmer. Wenn du dieses Zimmer buchst, ist es nur für dich - niemand wird hier anders schlafen als die Leute in deiner Gruppe.
This is my largest room. Up to six people can fit. There is a private bathroom. When you book this room, it's just for you -- nobody else will sleep here other than the people in your group.
Der Wohnraum
Dies ist ein freistehendes Haus mit 5 Schlafzimmern in der Nähe von Golden Gate Park und Twin Peaks. Bevor ich das Haus weiter beschreibe, gibt es einen besonderen Punkt, den ich erwähnen möchte: Bevor du mich kontaktierst, bitte eine Internet-Suche nach diesem Satz: "Wie spät ist es in San Francisco, Kalifornien USA?" Wenn die Zeit in San Francisco zwischen 12 Uhr und 8 Uhr ist, bitte keine Nachricht an mich senden, eine Buchungsanfrage senden oder versuchen, eine bestehende Reservierung mit mir zu ändern, denn diese Aktionen werden mein Telefon zu einem Piepton führen, der mich wecken wird und ich werde haben Ihnen sofort entsprechen. Ich kann mein Telefon nicht ausschalten, um nicht aufgewacht zu werden, denn ich muss jederzeit für meine aktuellen Gäste zur Verfügung stehen, die vielleicht spät sind, aber meine Hilfe brauchen. Ich kann auch nicht ignorieren Ihren Versuch, mich zu kontaktieren, denn Airbnb ist Timing meine Antworten. Wenn ich eine Nachricht ignoriere die ganze Nacht lang, die meine Antwortrate durchschnittlich schädigen wird. Ich lasse dich nicht hier bleiben, wenn du mich von Mitternacht bis 8 Uhr weckst. Natürlich, wenn Sie ein aktueller Gast hier in meinem Haus sind und einige Notfälle verlangen, dass Sie mich wecken, das ist OK und willkommen. Auch wenn Sie eine Reservierung stornieren müssen und Sie sind innerhalb von 8 Stunden nach dem Cutoff-Fenster für eine Teilrückerstattung, können Sie stornieren, obwohl das mich wecken wird. Ich möchte nicht, dass du dein ganzes Geld verlierst, nur um mich nicht aufzuwecken. Nun, auf meine Beschreibung von meinem Haus. Mine ist ein freistehendes 5-Zimmer-Haus in zentraler Lage in der Nähe von Golden Gate Park und Twin Peaks. Ich biete vier meiner Schlafzimmer hier auf Airbnb, wenn auch nicht jede Nacht des Jahres. Dies ist eine Herberge und es wird sehr beschäftigt hier mit über ein Dutzend Gäste pro Nacht, während der Spitzenzeiten. Es werden andere Gäste hier während deines Aufenthaltes, möglicherweise ein Dutzend oder mehr, wenn auch in der Regel weniger. Dies ist vielleicht nicht der Ort, wenn Sie ruhige private Zeit mit Ihrem bedeutenden anderen wollen, obwohl ich Paare hier auf ihren Flitterwochen gehabt habe. Mein Partner und ich erwarte ein Baby am 4. Oktober 2017. Ich kann nicht in der Lage sein, dein Zimmer vorzubereiten oder dich zu begrüßen, wenn ich im Krankenhaus bin, das auf die Ankunft unseres Kindes wartet, aber wenn dies geschieht, werde ich dir die Tür geben Code, ein Stapel von sauberen Bettwäsche und Anweisungen, so dass Sie sich selbst genügen können. Ich werde auch $ 50 an Sie zurückgeben, um Sie dafür zu entschädigen, dass Sie sich reinigen und Ihr eigenes Zimmer machen müssen. Beachten Sie meinen Geburtstag ist der 6. Oktober und ich habe keine Gäste an diesem Tag, also buchst du nicht an diesem Tag, auch wenn Airbnb es offen zeigt, da sie Schwierigkeiten haben, Tage zuverlässig zu blockieren. Bitte lesen Sie meine Liste und mein Profil, bevor Sie mich kontaktieren. Es gibt viele kostenlose unbegrenzte Zeit Parkplätze vor meinem Haus auf der Straße. Anmerkung Ich überprüfte die Kiste, die freie Parkplätze auf Räumlichkeiten sagt, damit mein Platz auf der Suche nach Plätzen mit freiem Parken auftauchen würde. Ich möchte klar sein, dass es keine Parkplätze in meinem Haus gibt, aber es gibt Parkplätze auf der anderen Straßenseite vor meinem Haus. Dies ist Straßenparkplatz, der aufgedeckt wird. Wenn Sie mit Fahrrädern anreisen, können Sie Ihre Fahrräder in Ihrem Zimmer parken. Sie sind herzlich eingeladen, die Küche zu benutzen. Es gibt ein großes Wohnzimmer mit einem großen Speisesaal Tisch, den man essen oder arbeiten kann. Es gibt ein Deck, das eine fabelhafte Aussicht auf bewaldeten Hügeln hat. Das nächstgelegene Haus ist zurück weg, also fühlst du dich wie in einem Wald. Du bekommst dein eigenes Schlafzimmer mit zwei großen Betten, die jeweils echte Matratzen haben. Ich habe auch Handtücher, Bettwäsche und Decken. Es gibt auch ein Etagenbett mit zwei einzelnen Matratzen, so dass das Zimmer für bis zu sechs Personen geeignet ist. Es gibt zwei fünf breite Schränke, eins mit mit Kleiderbügeln. Es gibt begrenzten Platz im Raum zu manövrieren, wenn Sie eine große Party haben, also bitte nicht hier bleiben, wenn Sie viel Platz benötigen, um Ihre Taschen um den Raum zu setzen. Ich habe erfolgreich gefeiert Parteien von sechs in diesem Raum, aber bitte erkennen, dass das Zimmer ist nicht riesig und sechs Leute fühlen sich ein bisschen eng. Dieses Zimmer ist das "Hauptschlafzimmer", so dass es ein eigenes Bad hat, das man nicht mit anderen teilen muss. Sie können nur Ihr eigenes Bad benutzen, nicht eines der anderen Badezimmer im Haus, also denken Sie daran, wenn Sie fünf Freunde mit Ihnen mitbringen, dass Sie alle nur ein Badezimmer teilen müssen, auch wenn andere Badezimmer frei zu sein scheinen. Das sind für meine anderen Gäste. Wenn du kochen möchtest, während du hier bist, kannst du das Essen im Kühlschrank aufbewahren, aber du solltest es in einer Tasche halten und deinen Namen darauf legen, damit meine anderen Gäste nicht zufällig denken, dass es Essen ist, das von mir für sie zur Verfügung gestellt wird. Es gibt nur einen großen Kühlschrank für meinen Gebrauch, den Gebrauch meiner Freundin und alle meine airbnb Gäste. Der Kühlschrank ist in der Regel verpackt, also nicht erwarten, einkaufen gehen und speichern Sie eine Menge von Ihrem eigenen Essen in den Kühlschrank. Die nächstgelegene U-Bahnstation (MUNI) ist Forest Hill. Sie können dort in 15 Minuten laufen. Der 36 MUNI Bus hält dort und bringt Sie zu und von der Haus. Die Bushaltestelle befindet sich direkt vor dem Haus. Dieser Bus ist leicht benutzt und kommt nur alle 30 Minuten, so viele lieber zu Fuß zum Bahnhof. Das Haus liegt zentral in der Nähe des geographischen Zentrums von San Francisco, aber es ist nicht in der Nähe von Bars, Geschäften, Touristenattraktionen, Nachtleben oder irgendetwas anderes als private Residenzen. Das heißt, diese Lage ist ungewöhnlich ruhig und sogar friedlich für eine belebte Stadt wie San Francisco. Manche nennen es heiter. Wenn Sie hier bleiben, bitte nicht später in einer Bewertung schreiben, dass das Haus nicht in der Nähe von Attraktionen ist oder bewerten Sie die Lage anders als fantastisch auf einer Sternbasis. Sie können den Standort auf der Karte sehen, bevor Sie buchen, und Sie können die Straßenansicht benutzen, um die Straßen hinunter zu wandern, um zu sehen, wie großartig die Nachbarschaft ist. Es gibt keinen Grund, dass ein Gast den Ort anders als fünf Sterne bewerten sollte. Wenn Sie hier bleiben und sich dazu neigen, die Lage nicht zu bewerten, sind fünf Sterne, das heißt, dass Sie den falschen Platz für Ihre Bedürfnisse gebucht haben, und das ist Ihre Schuld allein, denn ich warne Sie so deutlich hier, dass es in der Nähe meines Hauses nichts zu tun gibt. Wir hoffen jedoch, dass sie bei Ihrer Reiseplanung weiterhilft. Die Stars sind für die Gastgeber sehr wichtig, und ich habe seit dem 1. Juni 2016 fünf Sterne auf der ganzen Bühne. Ich kann nichts tun, um die Lage zu ändern, aber ich kann die Gäste hier aussprechen, indem ich sie bitte brauche, woanders zu bleiben Sie fühlen sich nicht das ist eine großartige Lage. Lesen Sie meine vielen Bewertungen, die den Ort loben. Die Lage ist im geographischen Zentrum der Stadt, also halte ich es für eine tolle Lage, aber bitte nicht erwarten, zu den spannenden Plätzen von meiner Haustür zu gehen. Ich stelle Frühstück Zutaten, einschließlich Saft, Brot, Pfannkuchen, Eier, Tee und Kaffee. Die Kaffeebohnen sind im Gefrierschrank, und ich biete eine Kaffeemühle. Manchmal gibt es spezielle Extras wie Joghurt und Obst, aber bitte nicht enttäuscht sein oder beschweren, wenn Sie diese Artikel nicht finden, wenn Sie besuchen. Ich verstehe, dass einige Airbnb-Gastgeber irgendwelche Nahrung zur Verfügung stellen. Ich stelle viel zu essen Ich verstelle Frühstück Essen, das Sie jeden Morgen ohne Gebühr vorbereiten, und das spart Ihnen viel Geld gegen das Essen. Bitte belasten Sie diesen Vorteil, wenn Sie meine Preise bewerten. Beachten Sie, dass das Essen, das ich zur Verfügung stelle, bekomme ich in den gleichen Lebensmittelgeschäften Ich kaufe für mein eigenes Essen. Ich gebe keine Einzelbehälter mit Butter oder Frischkäse. Vielmehr gibt es eine volle Größe Stick von Butter und eine volle Größe Schüssel mit Frischkäse, dass jeder Aktien. Das Brot ist in normalen Einzelhandelsbeuteln, die ein halbes Dutzend oder mehr Portionen enthalten. Der Saft ist in einem großen Krug, nicht in einzelnen Flaschen. Die Kaffeebohnen sind in einer großen Tasche, nicht in einzelnen Pakete wie in einem Motel oder Hotel. Wenn Sie glauben, dass die Art und Weise, wie ich mit dem Essen umgehen kann, nicht ordnungsgemäß oder nicht sicher ist, kann ich nur sagen, dass ich seit 2008 Gastronomie für Gäste gegeben habe, als ich anfing zu Gastgeber, und niemand hat jemals beschwert, dass sie krank wurden. Wenn mein Essen auf diese Weise macht Sie unangenehm, dann bitte nicht essen. Ich habe Shampoo und Bar Seife für Sie in der Dusche, und flüssige Handseife in Pumpenspendern an der Eitelkeit sinken und durch die Spüle. Bitte bringen Sie Ihre eigene Seife, wenn Sie eine frische Bar benötigen. Ich verstelle nicht die einzeln verpackten Stäbe, die Sie in Hotels finden, aber die herkömmlichen großen Stäbe, die in den privaten Häusern benutzt werden, und mehrfache Gäste benutzen die gleiche Stange, bis er erschöpft ist. Das ist viel weniger verschwenderisch als hunderte von einzelnen Bars, die ich sonst pro Jahr verwenden würde, aber wenn es Sie stört, bringen Sie bitte Ihre eigene Seife. Anmerkung Ich benötige meine Airbnb Gäste, um 'verifizierter Identifikation' zu haben, um hier zu buchen Das ist für die Sicherheit meiner anderen Gäste. Bitte überprüfen Sie Ihre ID, bevor Sie mir eine Reservierungsanfrage schicken, oder Sie dürfen nicht hier bleiben. Ruhige Stunden sind zwischen 22 und 7 Uhr. Ich bitte Sie, nach 10 Uhr leise zu flüstern, und beobachten Sie keine Filme ohne Ohrhörer. Sie müssen sich um 10 Uhr in Ihr Zimmer zurückziehen, da ich nicht erlaube, das Wohnzimmer, den Essbereich oder die Küche während der ruhigen Stunden zu benutzen. Bitte planen Sie nicht vor 7 Uhr aufzuwachen. Dies bedeutet, wenn Sie einen frühen Flug oder andere Transit Reise haben, sollten Sie woanders bleiben. Wie ich bereits erwähnt habe, biete ich bis zu vier Räume in meinem Haus an Airbnb Gäste, was bedeutet, dass es ein Dutzend oder mehr Gäste geben könnte. Wenn Sie um 5 Uhr aufwachen und anfangen, um Ihr Zimmer oder die Gemeinschaftsbereiche zu gehen, ist es wahrscheinlich, dass Sie wenigstens einige dieser Gäste aufwachen, was ihnen nicht gerecht ist, und schmerzt mich auch, weil ich hier lebe und Leute hören kann Herumlaufen auf den Parkettböden. Außerdem muss ich mich um meine Rezensionen kümmern, da ich mich bemühe, ein Fünf-Sterne-Ranking zu erreichen. Wenn Sie ein Dutzend anderer Gäste aufwachen, weil Sie frühzeitig abreisen müssen, werden zumindest einige dieser Gäste nicht geneigt sein, die Erfahrung zu bezahlen, die hier so hoch bleibt, als ob sie gut schliefen. Du solltest auch nicht vor 7 Uhr schlafen gehen, wenn du hier bleibst. Wenn ein Dutzend p
This is a detached 5 bedroom house near Golden Gate Park and Twin Peaks. Before I further describe the house, there is a special point I want to mention:
Before you contact me please run an Internet search for this phrase: "What time is it in San Francisco, California USA?" If the time in San Francisco is between 12 midnight and 8am please do not message me, send a booking request or attempt to alter an existing reservation with me, because those actions will cause my phone to beep which will wake me up and I will have to correspond with you immediately. I can't turn off my phone to avoid being woken up, because I have to be available at all times for my current guests, who may be out late but need my help. I also can't ignore your attempt to contact me, because airbnb is timing my replies. If I ignore a message all night long that will damage my response rate average. I will not let you stay here if you wake me up from midnight to 8am my time. Of course, if you are a current guest here in my home and some emergency requires you to wake me up, that is OK and welcome. Also, if you need to cancel a reservation and you are within 8 hours of the cutoff window for getting a partial refund, you may cancel even though that will wake me up. I don't want you to lose all your money just to not wake me up.
Now, on to my description of my home.
Mine is a detached 5 bedroom house in a central location near Golden Gate Park and Twin Peaks. I offer four of my bedrooms here on airbnb, though not every night of the year. This is a hostel and it gets very busy here with over a dozen guests per night, during peak times.
There will be other guests here during your stay, potentially a dozen or more, though usually fewer. This is perhaps not the place if you want quiet private time with your significant other, though I have had couples stay here on their honeymoons.
My partner and I are expecting a baby on October 4th, 2017. I may not be able to prepare your room or greet you if I am at the hospital awaiting the arrival of our child, but if this happens, I will provide you the door code, a stack of clean linens and instructions so you can be self sufficient. I will also return $50 to you to compensate you for having to clean and make up your own room. Note my birthday is October 6th and I don't have guests that day, so do not book that day, even if airbnb shows it open, since they have trouble blocking days reliably.
Please read my listing and my profile before contacting me.
There is plenty of free unlimited time parking in front of my house on the street. Note I checked the box that says free parking on premises so that my place would show up in searches for places with free parking. I want to be clear that there is no parking inside my house, but there is parking across the street in front of my house. This is street parking that is uncovered. If you arrive with bikes, you may park your bikes in your room.
You are welcome to make use of the kitchen. There is a large living room with a large dining room table you can eat or work at. There is a deck out back that has a fabulous view of wooded hills. The nearest house out back is a block away, so you feel like you are living in a forest.
You get your own bedroom with two full size beds that each have real mattresses. I also provide towels, sheets and blankets. There is also a bunk bed with two single mattresses, so the room is suitable for up to six people. There are two five foot wide closets, one with with hangers. There is limited space in the room to maneuver if you have a large party, so please do not stay here if you require plenty of space to set your bags around the room. I have successfully hosted parties of six in this room, but please recognize the room is not huge and six people will feel a bit cramped.
This room is the 'master bedroom' so it features its own private bathroom you won't have to share with anyone else. You may use only your own bathroom, not any of the other bathrooms in the house, so keep in mind if you bring five friends with you that you all have to share just one bathroom, even if other bathrooms appear to be free. Those are for my other guests.
If you want to cook while you're here, you can store food in the fridge, but you should keep it in a bag and put your name on it so my other guests don't accidentally think it's food provided by me for them. There is just one large refrigerator for my use, the use of my girlfriend and all of my airbnb guests. The fridge is usually packed, so don't expect to go shopping and store a lot of your own food in the fridge.
The closest underground Municipal Railway (MUNI) station is Forest Hill. You can walk there in 15 minutes. The 36 MUNI bus stops there and will take you to and from the house. The bus stop is right in front of the house. This bus is lightly used and only comes every 30 minutes, so many prefer to walk to the station.
The house is centrally located near the geographic center of San Francisco, but it is not close to bars, shops, tourist spots, nightlife or anything other than private residences. That means this location is unusually quiet and even peaceful for a busy city like San Francisco. Some call it serene.
If you stay here, please don't later write in a review that the house is not near attractions or rate the location other than fantastic on a star basis. You can see the location on the map before you book, and you can use street view to wander down the streets to see how awesome the neighborhood is. There is no reason any guest should rate the location other than five stars. If you stay here and feel inclined to not rate the location five stars, that means you booked the wrong place for your needs, and it is your fault alone, because I am warning you so plainly here there is nothing to do nearby my house.
Please do not stay here if you feel this location is not a great location. The stars matter to hosts very much, and I have five stars across the board as of June 1, 2016. I can't do anything to change the location, but I can talk guests out of staying here by asking them to stay elsewhere if they don't feel this is a great location. Read my many reviews that praise the location.
The location is in the geographic center of the city, so I consider it a great location, but please don't expect to walk to the exciting places from my front door.
I provide breakfast ingredients, including juice, bread, pancakes, eggs, tea and coffee. The coffee beans are in the freezer, and I provide a coffee grinder. Sometimes there are special extras like yogurt and fruit, but please don't be disappointed or complain if you don't find these items when you visit. I understand few airbnb hosts provide any food. I provide plenty of food. I provide breakfast food you prepare every morning without charge, and this will save you a lot of money versus eating out. Please weigh this benefit when you evaluate my prices.
Note that the food I provide I get at the same grocery stores I shop for my own food. I do not provide single serving containers of butter or cream cheese. Rather, there is a full size stick of butter and a full size bowl of cream cheese that everyone shares. The bread is in normal retail bags that contain half a dozen or more servings. The juice is in a large jug, not in individual bottles. The coffee beans are in a large bag, not in individual packages like at a motel or hotel. If you believe the way I handle food is improper or not safe, all I can say is I have been providing food to guests since 2008 when I began hosting, and nobody has ever complained that they became ill. If my providing food in this manner makes you uncomfortable, then please do not eat it.
I have shampoo and bar soap for you in the shower, and liquid hand soap in pump dispensers at the vanity sink and by the kitchen sink. Please bring your own bar soap if you require a fresh bar. I don't provide the individually wrapped bars you find in hotels, but the conventional large bars used in private homes, and multiple guests use the same bar until depleted. This is much less wasteful than hundreds of individual bars I would otherwise use per year, but if it upsets you, please bring your own bar soap.
Note I require my airbnb guests to have 'verified ID' to book here. This is for the safety of my other guests. Please verify your ID before you send me a reservation request, or you won't be allowed to stay here.
Quiet hours are between 10pm and 7am. I ask that you whisper quietly after 10pm, and not watch any movies without earbuds. You'll have to retire to your room by 10pm, as I don't allow use of the living room, dining area or kitchen during quiet hours. Please do not plan to wake up prior to 7am. This means if you have an early flight or other transit trip, you should stay somewhere else. As I mentioned above, I offer up to four rooms in my house to airbnb guests which means there could be a dozen or more guests. If you wake up at 5am and start walking around your room or the common areas, it's likely you'll wake up at least some of these guests, which is not fair to them, and hurts me too because I live here and can hear people walking around on the hardwood floors. Additionally, I have to be concerned about my reviews, as I strive to achieve a five star ranking. If you wake up a dozen other guests because you have to leave early, at least some of those guests will not be inclined to rate the experience staying here as highly as if they slept soundly.
You should also not plan to sleep soundly past 7am if you stay here. When a dozen people start walking around, cooking breakfast, showering and talking with each other, the house is full of energy. It can be a quite noisy depending on the mix of guests that morning.
This mix of guests starting their day is one of the most compelling reasons to stay here, however. I have guests from dozens of countries stay here each year. You will meet fascinating and lovely guests during breakfast. It's nothing like the breakfast room at a hotel, where people silently eat and never talk to anyone not in their party. If breakfast as I describe sounds unappealing to you, there are many other less busy places to stay in San Francisco.
I write this explanation to help make your stay delightful and charming, not to scare you. Staying here is an experience most of my guests really, really like, as you can see in my over 600 reviews. I don't have any reviews I consider to be bad, and I want to keep it that way. I want you to enjoy the experience as well, and if you think you'll not enjoy such a social experience, I encourage you to stay with one of the many other kind hosts in San Francisco.
For guests that book after July 26, 2016, I no longer offer pick up or drop off service. Ride sharing companies such as Uber and Lyft now operate legally at area airports, and their prices are lower than taxicabs. I used to offer pick up and drop off, and you will see mention of this in some of my reviews. It's quicker for you to hop in a ride share car than for you to wait for me to arrive in my car. The San Francisco airport is four cities away from San Francisco, so it takes 30 minutes to drive there. The ride share companies charge about $30 for this trip. Please do not ask me to pick you up or drive you anywhere during your stay. You must have a smart phone to use these services. There is free WiFi at the San Francisco airport. The network name is: San Francisco Free WiFi and there is no password required. Please load the app before you leave home and enter your credit card details then, so the app is ready for when you arrive. I offered rides at any hour for years... most recently at 4:30am. I am exhausted and am happy Uber and Lyft exist.
Zugang für Gäste
Von 7.00 bis 22.00 Uhr: Küche, Wohnzimmer, Esszimmer, Außenterrasse. Es ist sehr wichtig, dass Sie diese Regel verstehen und nachdenklich darüber nachdenken, bevor Sie buchen. Wenn Sie in ruhigen Stunden hierher kommen, müssen Sie sich in Ihr Zimmer zurückziehen, bis die ruhigen Stunden ablaufen, auch wenn Sie verhungern und in einem Flugzeug den ganzen Tag und die Nacht sind. Sie können nicht bestellen, um Essen in ruhigen Stunden geliefert werden, und Sie können nicht in Ihrem Zimmer essen. Bitte bleiben Sie nicht hier, wenn Sie damit nicht in Ordnung sind. Das bedeutet, dass du nicht leise im Wohnzimmer oder im Speisesaal sitzen kannst, auch um an deinem Computer zu arbeiten oder ein Buch zu lesen. Bitte fragen Sie mich nicht nach einer Ausnahme, denn ich möchte Ihnen behilflich sein und Ihnen eine Ausnahme geben, aber ich sollte nicht zugunsten meiner vielen anderen Gäste. Dieses Zimmer hat keinen Schreibtisch oder eine Umgebung zu arbeiten.
From 7am to 10pm: Kitchen, living room, dining room, outside deck.
It is very important you understand this rule and thoughtfully reflect on it before you book. If you get here during quiet hours, you have to retire to your room until quiet hours expire, even if you are starving and have been on a plane all day and night. You can't order food to be delivered during quiet hours, and you can't eat in your room. Please do not stay here if you are not OK with this.
This means you may not sit quietly in the living room or dining room, even to work on your computer or read a book. Please do not ask me for an exception, because I want to be helpful and grant you an exception, but I should not, for the benefit of my many other guests.
This room has no desk or area to work.
Interaktion mit Gästen
Ich spreche gern mit meinen Gästen. Manchmal gehe ich sogar mit meinen Gästen zu Abend und / oder nimm sie Sightseeing. Ich wohne im Haus in meinem eigenen Schlafzimmer, und ich arbeite von zu Hause aus, also bin ich da, um Fragen zu beantworten und dir zu helfen, das Beste aus deinem Besuch zu machen. Wenn du ankommst, werde ich dir eine kostenlose Karte von San Francisco anbieten. Ich werde auch vorschlagen, dass wir am Speisetisch sitzen, um zu diskutieren, was du in der Stadt machen willst. Ich werde auf die Karte die Orte, die Sie erwähnen, darauf hinweisen. Ich werde auch vorschlagen, andere Orte, die Sie nicht gehört haben oder betrachtet haben. Viele meiner Gäste schreiben später in ihre Rezensionen, wie viel Wert sie aus dieser Konversation erhalten haben. Viele Gastgeber auf Airbnb verbringen nicht die Zeit, um ihren Gästen zu helfen, das Beste aus ihrem Besuch zu machen. Ich liebe es, meinen Gästen zu helfen, und du wirst meine Begeisterung spüren, wenn wir uns treffen. Ich liebe San Francisco und ich werde Ihnen helfen, San Francisco zu lieben. Ich bin nicht wie der Concierge in einem schicken Hotel. Ich sammle keine Provisionen von einem der Orte, die ich empfehle.
I like to talk with my guests. I sometimes even have dinner with my guests and/or take them sightseeing. I live at the house in my own bedroom, and I work from home, so I am around to answer questions and help you make the most of your visit.
When you arrive, I will offer you a free map of San Francisco. I will also suggest we sit at the dining room table to discuss what you want to do while in the City. I will point out on the map the places you mention. I will also suggest other places you may not have heard of or considered.
Many of my guests later write in their reviews how much value they obtained from this conversation. Lots of hosts on airbnb don't spend the time to help their guests make the most of their visit. I love helping out my guests, and you'll sense my enthusiasm when we meet. I love San Francisco and I'll help you love San Francisco too.
I am not like the concierge at a fancy hotel. I don't collect commissions from any of the places I recommend.
Weitere wichtige Infos
Meine San Francisco Kurzzeitvermietung Registrierungsnummer ist STR-0000346. Mein Partner ist schwanger und lebt hier Sie ist Ende September - Anfang Oktober 2017. Ich werde auch weiterhin Gastgeber Gastgeber während dieser Zeit, aber Gäste, die während dieser hektischen Zeit zu lesen, sollten verstehen, dass ich muss Ihnen die Tür Code, um in das Haus zu bekommen, anstatt Grüße dich persönlich wie ich normalerweise tue Auch im Falle einer langen Arbeit, während der ich im Krankenhaus sein werde, kann ich nicht in der Lage sein, Ihr Zimmer für Sie vorzubereiten. Wenn dies geschieht, werde ich frische Bettwäsche und Handtücher für Sie verlassen, um Ihr eigenes Zimmer vorzubereiten, und ich werde Ihnen $ 50 für die Unannehmlichkeiten für Sie zurückerstatten. Ich erwarte nicht, dass dies geschehen wird, aber das ist mein erstes Kind, also möchte ich mich im Voraus vor jeder Buchung vorbereiten. Ich habe diese Ankündigung am 24. Juni 2017 bekannt gegeben. Ich werde die Küche mit viel Essen wie immer bestückt haben, und das Haus wird wie immer sauber sein. In meinem privaten Bereich wohnt ein Welpe. Sie kann sich am 29. Juni 2017 in die gemeinsamen Bereiche des Hauses wagen, wenn Sie vor dem 30. April 2017 gebucht haben. Wenn Sie nach dem 30. April 2017 buchen, kann der Welpe während Ihres Besuchs in die öffentlichen Bereiche wagen, wenn die anderen Gäste wohnen Hier auch nach dem 30. April gebucht. Ich änderte den "Hund lebt hier" Wert zu "überprüft" am 30. April 2017, am Tag nach der Verabschiedung unserer sieben Wochen alten süßen Border Collie. Ich halte das Haus um ca. 68F oder 20C von 7.00 bis 23.00 Uhr. Von 23.00 bis 7.00 Uhr behalte ich das Haus bei 60F. Ich habe einen Safe beim Schlafen von Keramikheizung kann ich zu Ihrem Zimmer hinzufügen, wenn Sie danach fragen, wenn Sie ein wärmeres Zimmer zum Schlafen benötigen. Die Golden Gate Bridge kostet Geld, um zu reisen, wenn sie nach San Francisco fahren. Leider, die Brücke nicht akzeptieren Bargeld oder jede andere Zahlung an der Brücke. Sie müssen online bezahlen, bevor Sie über sie fahren, oder innerhalb von 48 Stunden nach dem Fahren. Suchen Sie nach 'pay Golden Gate Bridge toll' auf der Suchmaschine, die Sie bevorzugen. Beachten Sie, dass einige Nicht-United States Kredit- und Debitkarten nicht auf der Zahlungswebsite arbeiten. Wenn deine Karte nicht funktioniert, bring mir die Brückenmaut von $ 7,50 pro eingehender Kreuzung, und ich bezahle deine Maut auf meiner Kreditkarte. Ich sende Ihnen die Quittung, die Sie für mindestens zwei Monate sparen sollten. Wenn Sie nichts tun, wird Ihre Autovermieterin fast mit Sicherheit eine wild aufgeblasene Rate berechnen, die das Zehnfache der tatsächlichen Maut erreichen kann. Das Fräsen ist so schlimm, dass San Francisco im März 2017 Hertz, Dollar, Thrifty und andere zum Aufladen viel zu viel verklagte. Ich habe auch eine gültige San Francisco Business Lizenz für meine kurzfristigen Mietaktivitäten. Außerdem habe ich von meiner nächsten Tür Nachbar die ausdrückliche Erlaubnis und Segen zu Gastgeber. Ich habe große Sorge, ein guter Bürger für die in der Nähe und in der Stadt zu sein, in der ich lebe. Du brauchst dich nicht zu schleichen, um hier zu bleiben wie bei einigen Airbnb-Listen. Ich ermutige dich, dich zu meinen Nachbarn vorzustellen und hallo zu sagen, weil es ihnen hilft, die Freude zu schätzen, die ich von einem Gastgeber empfange. Ich überprüfte die Schachteln, die darauf hindeuten, dass ich Gäste aller Altersstufen erlaube, hier zu bleiben. Beachten Sie, dass das Haus nicht "kindersicher" ist, also müssen Sie Ihre Kinder und Kinder betreuen. Es gibt Reinigungsprodukte in Schränken, die Kinder erreichen können. Ich habe viele Kinder und Kinder hier ohne Probleme, einschließlich Säuglinge so jung wie 8 Wochen alt. Wenn Sie Kinder in einem Zimmer mit einem Etagenbett bleiben, seien Sie sicher, den Sicherheitsaufkleber auf der oberen Koje zu lesen, da der Hersteller Informationen hat, die sie wollen, dass Sie wissen. Viele Leute wissen nicht, dass die Anwohner von San Francisco lieber die Stadt mit ihrem vollen Namen San Francisco anrufen. Sie können die Stadt "SF" abkürzen und anrufen. Die Leute werden auch wissen, was du meinst, und wird nicht beleidigt sein, wenn du San Francisco die Stadt nennst. Aber bitte beziehen Sie sich nicht auf San Francisco als "Frisco" oder "San Fran", da einige Leute diese Begriffe stark ablehnen. Ich bevorzuge dich in meiner Stadt als San Francisco in jeder Rezension, die du verlassen kannst.
My San Francisco Short Term Rental Registration Number is STR-0000346.
My partner is pregnant and lives here. She is due in late September - early October, 2017. I will continue to host guests during this period, but guests that book during this hectic time should understand that I may have to give you the door code to get in the house, rather than greeting you personally like I normally do. Also, in the event of a long labor during which I will be at the hospital, I may not be able to prepare your room for you. If this happens, I will leave fresh linens and towels for you to prepare your own room, and I will refund $50 to you for the inconvenience to you. I don't expect this will happen, but this is my first child, so I want to fully prepare in advance of anyone booking these days. I posted this notice June 24, 2017. I will have the kitchen stocked with lots of food as always, and the house will be clean as always.
There is a puppy living in my private area. She may venture into the shared areas of the house beginning June 29, 2017 if you booked prior to April 30, 2017. If you book after April 30, 2017, the puppy may venture into the public areas during your visit if the other guests living here also booked after April 30th. I changed the 'dog lives here' value to 'checked' on April 30, 2017, the day after we adopted our seven week old sweet Border Collie.
I keep the house at about 68F or 20C from 7am to 11pm. From 11pm to 7am I keep the house at 60F. I do have a safe while sleeping ceramic heater I can add to your room if you ask for it, if you require a warmer room to sleep in.
The Golden Gate Bridge costs money to travel over when driving into San Francisco. Sadly, the bridge does not accept cash or any other payment at the bridge. You must pay online either before you drive across it, or within 48 hours of driving across it. Search for 'pay Golden Gate Bridge toll' on the search engine you prefer. Note that some non United States credit and debit cards don't work on the payment website. If your card doesn't work, bring me the bridge toll of $7.50 per inbound crossing, and I will pay your toll on my credit card. I will email you the receipt, which you should save for at least two months. If you do nothing, your car rental company will almost certainly charge you a wildly inflated rate that can reach ten times the actual toll. The gouging is so bad that San Francisco in March 2017 sued Hertz, Dollar, Thrifty and others for charging far too much.
I also hold a valid San Francisco Business License for my short term rental activities. Furthermore, I have from my next door neighbors the explicit permission and blessing to host. I take great care to be a good citizen to those nearby and to the City in which I live. You do not need to sneak around to stay here like at some airbnb listings. I encourage you to introduce yourself to my neighbors and say hello because it helps them to appreciate the joy I receive from being a host.
I checked the boxes that indicate that I allow guests of all ages to stay here. Note the house is not 'child proofed' so you will have to supervise your infants and kids. There are cleaning products in cabinets that children can reach. I have had many infants and children stay here without a problem, including infants as young as 8 weeks old. If you have kids stay in a room with a bunk bed, be certain to read the safety sticker on the upper bunk, as the manufacturer has information that they want you to know.
Many people don't know that local residents of San Francisco prefer you call the city by its full name of San Francisco. You may abbreviate and call the city 'SF.' People will also know what you mean, and won't be offended, if you call San Francisco 'the City.' But please do not refer to San Francisco as 'Frisco' or 'San Fran' as some people strongly dislike those terms. I prefer you refer to my city as San Francisco in any review you may leave.
---
Kostenloser Parkplatz auf dem Grundstück
Familien- / kinderfreundlich
---
Zusätzliche Personen 17 € / Nacht bei mehr als 2 Gästen
Wochenendpreis 86 € / Nacht
Unterstützung der Mindestlohnvereinbarung
Leute, die die Unterkunft dieses Gastgebers reinigen, erhalten einen garantierten Mindestlohn.
Erfahre mehr
Kommuniziere immer über Airbnb
Um deine Zahlung zu schützen, solltest du niemals außerhalb der Airbnb-Website oder -App kommunizieren oder Geld überweisen.
---
Schlafzimmer 1
2 Doppelbetten, 1 Etagenbett
---
Nicht für Haustiere geeignet
Keine Partys oder Veranstaltungen
Die Check-in-Zeit ist 18:00–21:00
Please read these house rules carefully prior to booking, since there are fees for violating some of them. Please don't be intimidated by all these rules. They are here to assure you that this is a well-run short term rental that people enjoy.
1. I charge $50 extra (paid after review period expires) if any member of your party first arrives or checks in after 9:00pm (21:00) or checks out before 7:00am.
2. Check in hours are from 6:00pm to 9:00pm (18:00 to 21:00) by appointment for an exact time, such as 7:00pm. If you miss your appointment, I will wait for you for $10 an hour. You must give me an exact arrival time, not a range or a limit such as 'before 21:00' as that ties me at the house for hours. Also, please don't be early, as it's stressful if you are here and I am still cleaning your room. If you write 'around' by the time you state, the late fee begins 1 hour from the time you write, so, if you write 'around 7:30pm' then the late fee begins at 8:30pm if you have not checked in by then. Wording similar to 'around' works the same way. You must give me your precise arrival time no later than 24 hours in advance, or I will set your arrival time to 18:00 for you, and asses late charges starting at 19:00. This is to discourage guests who tell me 'I'll let you know my arrival time when I know it' generally the day of arrival. That type of message ruins my day as I cannot make any plans to live my life, so I no longer allow vague or last minute arrival time notifications.
3. Early arrival is allowed for an extra charge of $20, with the same stipulation you must set an exact time and arrive at the precise time, not early or late. I will wait for you if you are late for $10 an hour. If you write 'around' by the time you state, the late fee begins 1 hour from the time you write, so, if you write 'around 10am' then the late fee begins at 11am if you have not checked in by then. Wording similar to 'around' works the same way. You must tell me your precise arrival time at least 24 hours in advance or your arrival time will be 18:00 exactly. For you to arrive early, I have to alter my day substantially, thus the charge.
4. Check out time is from 7:00am to 12:00pm noon.
5. Never open the house entrance door for anyone not in your group
6. Please do not wake up before 7am unless you will stay in your bed. You may use the toilet anytime.
7. Showering allowed from 7am to 12 midnight (24:00).
8. Quiet hours are from 10:00pm to 7:00am (22:00 to 7:00). Plan to be silent after 10pm except for a few brief sentences such as 'should I turn out the light' or 'did you see where I put my toothpaste?' No conversations or packing your luggage.
9. I live here with my partner and we live our lives and sometimes make noise, except during quiet hours.
10. Curfew is at 3:00 am.
11. Parking is free right across the street in front of my house and only in front of my house.
12. All guests must be accounted for on your Airbnb reservation before you arrive, even newborns. If you try to sneak anyone in, if I let them stay, you will have to pay a $50 penalty per unaccounted for person per night, paid via the Resolutions Tool after the review period expires, in addition to adding them to the reservation via an Alteration Request at the then current price if possible. If not possible then you pay via the Resolutions Tool.
13. You may not have guests of your own visit you at the house unless you add them to the reservation before they arrive, and rule #12 applies if you fail to add them to the reservation before they arrive.
14. Announce your arrival by Airbnb message. The wifi signal works outdoors and I disclose the network name and password once you book.
15. Check in takes 10-15 minutes and is mandatory for all in your group that can understand English.
16. Smoking is allowed only on the back upper deck, not out front or indoors.
17. No third-party bookings, which means you must sleep here each night. If you make such a booking, it will have to be unwound... in other words, the reservation is not valid.
18. You alone must correspond with me so don't turn your account over to anyone.
19. No drunkenness or other drug intoxication allowed, unless you are consuming prescribed medication, including cannabis, in quantities directed by your physician. Once recreational cannabis is allowed by law in San Francisco, then you may consume it outdoors on the back deck in moderation.
20. Eating is permitted only in the dining room, kitchen and on the upper back outdoor deck.
21. Food deliveries allowed only from 9am to 9pm.
22. I do not offer discounts or provide refunds so be careful booking.
23. No parties, events, screaming, fighting, photo shoots or video productions.
24. Use only the Airbnb calendar to communicate dates as I will ignore other communications about dates.
25. You may store your bags here in the public living room until 21:00 on the last day of your reservation.
26. If you book here and then alter the days, you will pay the same price for the new days, unless the new days cost more.
27. No illegal drug use, possession, storage or distribution.
28. You may not store your luggage here on days before or after your reserved days.
29. No pets, but Service Animals are allowed with English language government issued documentation.
30. If you telephone or SMS Text me, send the same message via airbnb at once as a message to be sure it's in our airbnb message thread.
31. Please do not play amplified sounds here unless you listen via ear phones.
32. Use the garbage can not the sink garbage disposal to dispose of food.
33. Do not spit, urinate, defecate or regurgitate other than in the toilet assigned to your room.
34. No burning of candles, incense, wood, paper, sparklers, fireworks, matches, lighters, oil lamps or other solids, liquids or gases.
35. Do not walk around public areas of the house topless, in the nude or in your underwear. This rule applies to all genders.
36. There are no back up bathrooms no matter how dire the circumstances... you'll have to travel to a public restroom in such an emergency.
37. No firearms or weapons allowed unless a government law gives you an exception, and even then, lock them up and keep them unloaded.
38. Do not leave people in your group under 18 without an adult from your group present as well.
39. You must be comfortable using Airbnb and have the equipment with you to readily do so.
40. Starting a week before your arrival, I restrict date alterations to earlier dates and I don't allow you to shorten your overall stay.
41. Your party must arrive together at one time unless you coordinate with me in advance.
42. Everyone in your party able to read should read these house rules the day before check in.
43. Tell me before you book if you are an airbnb 'Business Traveler.'
44. Do not photograph or capture video of anyone not in your party without their explicit permission.
45. My cancellation policy is set to Strict. You may not reduce your penalty for cancelling by first reducing the number of days in your stay and then cancelling, and if you do you agree to pay the additional amount I would collect before the reduction in days, paid via the Resolutions Tool.
46. Don't leave any house exit door unlocked if you are not present at the door.
47. Please clean up after yourself in the public areas of the house.
48. Follow California law regarding alcohol.
49. You forfeit your reservation if you do not check in on the first day, which concludes at 23:59.
50. If you borrow something from me, you promise to hand it back to me.
51. Be careful when booking since I have a Strict cancellation policy.
52. If you Instant Book for a same day stay, check with me first to be sure I am home.
53. Please don't leave your room a mess when you check out.
54. You my primary registered guest must receive the house tour for your group to be considered 'checked in.' Nobody else can check in for you.
55. Please lock your bedroom door when away and if you want to be certain nobody walks in on you, many Airbnb guests stay here at once, including young children and infants. My partner and I have an infant child.
56. If you complain in a review about something I disclose in my listing, you can't stay here again.
57. If airbnb cancels your reservation, you may not stay again without my advance written permission you obtain after you remind me that airbnb had previously cancelled your reservation.
58. I correspond only with my primary registered guest.
59. My cancellation policy is called Strict by airbnb. If you book from a jurisdiction that has a law or laws that override and weaken the Strict policy, there will be a surcharge you must agree to when booking, by having me issue you a Special Offer at a higher price, probably about 10% higher, to account for the higher risk I will lose money if you cancel under a weaker policy. If for any reason, even software error or my error, you don't pay as you book, you will still have to pay the surcharge before you arrive or cancel your reservation at your expense. The burden is on you not me to be sure you pay this fee, no matter what unforeseen circumstance may arise. As of September 23rd, 2017, South Korean airbnb accounts are subject to surcharge. There may be other jurisdictions I am not yet aware of.
60. Sorry, but I do not accept Alteration Requests to reduce the number of guests. It's better to book for fewer guests and add more later than to book too many and feel bad about paying for your guests that decide not to travel.
61. You must have an airbnb 'Verified ID' before you make any contact with me and before you try to book a stay here. If you Instant Book a reservation without already being Verified, you must pay the full amount of the booking whether or not the booking is completed. In other words, if your ID is never verified and you can't stay here, you still have to pay the full cost of staying here by whatever means airbnb provides for, perhaps as outlandish as making a phantom booking for a non existent room simply to use the airbnb payment facility, since the Resolutions Tool is not available in this instance.
62. Place only human waste and toilet paper in the toilet. No dental floss, baby wipes, tampons, sanitary napkins and other such items.
Außerdem musst du Folgendes beachten:
Treppensteigen ist erforderlich - One flight of stairs to the second floor of the house, where the guest rooms are located.
Lärm-Potenzial - This is a busy shared house with lots of guests here at once. There are squeaky old hardwood floors. The plumbing makes noise.
Haustier(e) leben im Gebäude - One female Boder Collie dog born March, 2017
Einige Räume werden gemeinsam genutzt - Dining room, Kitchen, Living room, outside deck, hallway
Einschränkungen bei Annehmlichkeiten - There is one 80 gallon hot water tank shared among all the occupants. Since I can have a dozen or more guests at once, the hot water can run out.
---
---
1 Nacht Mindestaufenthalt.
---
Preis-Leistungs-Verhältnis
Wir waren während unseres Roadtrips für 4 Nächte in SF und haben bei Kevin gewohnt. Kevin hat zur Zeit zwei Gästezimmer mit 4 und 6 Betten und wohnt selbst mit im Haus. Das Haus liegt in einer ruhigen, jedoch zentralen Lage direkt an den Twin Peaks, an den man den Sunrise/Sunset mit einem wunderbaren Blick über die Stadt betrachten kann. Mit Uber ist man in maximal 30 Minuten an den wichtigen Punkten der Stadt (10,00 / 15,00 $). Kevin hat uns eine Stadtkarte zur Verfügung gestellt und uns einige Tips fürs Sightseeing, günstiges Essen,... gegeben. Die Küche kann genutzt werden und Kevin stellt, Brot, Käse und Müsli zur Verfügung. Laundry möglich! Die beste AirBnB Erfahrung, die wir auf unserer einmonatigen Reise entlang der Westküste gemacht haben. Thanks for everything, Kevin.
---
Ich habe 3 Nächte mit meinen Freunden bei Kevin verbracht. Direkt nach der Ankunft haben wir viele nützliche Informationen über San Francisco, inkl Karte von ihm bekommen. Das Haus ist in einem ruhigen Wohngebiet und nur wenige Minuten von den Twin Peaks entfernt gelegen. Für das Frühstück gab es eine reichhaltige Auswahl und die Kommunikation mit Kevin war auch sehr gut und unkompliziert. Ich würde hier jederzeit wieder übernachten.
---
Kevin ist großartig!! Man merkt, dass es ihm Freude bereitet ein Gastgeber zu sein. Es fehlt einem an nichts in diesem Airbnb. Wir haben uns sehr wohl gefühlt! Alles ist sehr sauber! Die Lage ist ebenfalls super. Sogar mit den öffentlichen Verkehrsmitteln sind wir super klar gekommen. Wir würden jederzeit wieder hier übernachten :(URL HIDDEN)
---
Die Unterkunft ist großartig und Kevin ist ein wirklich toller Gastgeber. Er hat uns viele hilfreiche und spannende Sightseeing Tips gegeben und es mit seiner netten, hilfreichen Art sehr angenehm für uns gemacht, bei ihm zu wohnen. Das Zimmer war top sauber und ordentlich und das Haus liegt in einer sehr schönen, ruhigen Gegend. Gerne wieder! :)
---
Auf unserer Rundreise an der Westküste waren wir zwei Nächte bei Kevin in San Francisco zu Gast. Er hat uns freundlich und offen empfangen, uns sein Haus und alles was wir nutzen können super erklärt und viele hilfreiche Tipps gegeben, was wir in der Stadt unternehmen können und wo wir lieber vorsichtig sein sollten. Die Wohngegend dort ist wirklich toll, eine ruhige Nachbarschaft am Hügel in der Nähe von Twin Peaks. Kevin bietet alles das, was ein Hotel auch hat und vieles mehr... Fürs Frühstück gibt es eine riesige Auswahl (Eier, Toast, Bagels, Joghurt uvm.), tagsüber kann man sich an Nudeln bedienen und für selbstmitgebrachte Sachen steh die Küche den ganzen Tag zur Verfügung. Falls man noch kurz was ausdrucken muss, kann man auch Conputer und Drucker bei ihm nutzen. Falls wir wieder mal in San Francisco sein sollte, würden wir sehr gerne wieder bei Kevin wohnen.
---
Wir waren mit 3 Mädels für 3 Nächte bei Kevin ein Zimmer gebucht. Der Kontakt war sehr schnell und freundlich. Als wir am Flughafen ankamen, hat Kevin uns nach kurzer Zeit abgeholt. Nach der Ankunft in Kevins Haus, haben wir erst einmal eine kurze Einführung in allen Dingen erhalten, was alles zu beachten ist und was wie funktioniert. Wir möchten uns hiermit auch noch einmal bei den wirklich super Sightseeing-Tipps bedanken die wir sehr ausführlich von Kevin erhalten haben. Alles im allem, es war super und kann es nur empfehlen. Lasst Euch nicht davon abschrecken, dass es nicht direkt im Zentrum ist. Dieses kann man ohne Probleme sehr schnell mit "Metro" oder mit einer Fahrt über "Uber" erreichen.
---
San Francisco, Kalifornien, Vereinigte Staaten
Mitglied seit Dezember 2008
I love being a host. I have been happily inviting guests into my home since the dawn of airbnb, way back in 2008. It was so early that airbnb had no employees yet, and one of the three co-founders had to come to my house to take the 'professional pictures' that come with membership. Since I am a photographer, he didn't take the pictures because he thought mine were better than he could take. Instead, we spent 20 minutes talking about airbnb. I knew it was going to be huge even back then.

I hosted the first airbnb employee, Nick. The founders required potential employees to use the service, and Nick chose my house. He later got hired, stayed until he vested all his stock, and last I heard is now an investor, using the windfall he accumulated by being the first employee at what is now a company reportedly worth more than USD twenty five billion. You can find the review Nick left for me in the reviews section.

I have been to France, Germany, Austria, Jamaica, China, Japan, Thailand, Switzerland, England, Greece, Belgium, Netherlands, Czech Republic, Hungary and Italy, among others.

It's easy to get here. You can fly into either the San Francisco or Oakland International airports. From there you can take BART, the regional train that serves the San Francisco Bay Area. BART will get you into San Francisco itself, since the airports are not actually in the City. Once you exit the BART station, you hop on a MUNI bus #36, which you catch right at the exit of the BART station... no walking. Then, you get off the #36 and you are right at my front door, again, no walking.

There is plenty of free unlimited time parking in front of my house.

Prior to becoming a bed and breakfast host, I was a software entrepreneur and computer programmer. I have been in the tech field through two boom/bust cycles.

I am also an accomplished photographer and if you ask, I'll take your picture.

If you arrive on Friday or Saturday, I prefer you don't arrive after 7pm, so that I don't have to stay home waiting for you. I have a live in girlfriend and I like to take her out on dates.

Final thoughts: You can learn a lot from my profile here and from my hundreds of reviews. I strive to provide my guests with an incredible San Francisco experience. Almost every guest is happy, which shines through in my reviews I think.

But a rare few are unhappy.

If you think you'll be unhappy as well, perhaps because this is a traditional old house built in 1958 with oak wood floors that squeak, small original bathrooms with worn tile, original noisy plumbing, thin walls, and often a dozen or more guests per night... then please book somewhere else.

There are plenty of newer homes on airbnb. I have almost 100% occupancy, so I won't be offended or financially harmed if you book somewhere else.

Rather, I will be happy, because it pains me to read the rare review where someone complains about something that is entirely normal for most San Francisco houses.

What you get when staying here is a richly fascinating window into real San Francisco life, high on a magnificent hill with a stunning view onto acres of untouched forested land, a rarity in bustling and congested San Francisco.

You also get to meet me, one of the most experienced hosts on this platform. I signed up just four months after airbnb was founded, and I host over one thousand guests per year when I am hosting. Some years I take a break.

I will help you out more than most hosts, and the 'special features' of my six bedroom home should be viewed as perks not quirks... perks that will help you soak up the uncommon feeling of living in what many say is the best city in the United States.

In conclusion, I want to mention price. This is essentially a hostel in an old house with free food and a very attentive host to help you make the most of your visit.

So, the price should be affordable. Usually it is, but not always.

If you book during a special event, like the Super Bowl (held here in 2016) or the Outside Lands concert or Oracle World, the price could be double or quadruple the normal price. Remember, hotels in San Francisco that cost $200 a night can jump to $1,000 or $2,000 a night during one of the big events. While I don't ever charge $1,000, I do charge more when special events are in the area. Please don't pay my asking price, stay here and then complain when you leave a review that the price is not a good value.

I sell out nearly every night of the year, so that means I am pricing my rooms below market. Hotels strive to only have about a 70 to 80 percent occupancy, I have read, because that level of occupancy optimizes profit. I strive to optimize for 100 percent occupancy, even though it means lower profit per room. I like 100 percent occupancy because that way I get to meet the most people, which I enjoy. I also want to help my guests meet the most people from around the world as well. If I optimize for profit, my guests meet fewer people. So that's why I optimize prices to fill every room every night.

When you stay here, you can be certain you are paying a fair and market rate price that is lower than it could be if I tried to make the most profit.

In this profile I have disclosed clearly significant negatives to my listings - that this is a hostel with many guests per night, that the house is old and tired, etc.... But despite these negatives, I run a tight ship and my guests are very happy almost all the time, as you can read in my 400+ reviews.

I strive to achieve five stars across all the rating categories, and I am close to getting there, with a 92% five star ranking as of February 18th, 2016.

I am also an airbnb Superhost, which you can see by the yellow and red badge in various locations including just below this profile text. This status means the following: 1) I have never cancelled a reservation in the last year; 2) I reply to at least 90% of messages from prospective guests within 24 hours; 3) that I have had at least ten bookings in the last year; 4) that at least 80% of guests in the last three months prior to evaluation have rated their overall stay here with five stars out of a possible five stars. If you don't see the badge, that means I have temporarily lost my status and forgot to update this text. It is very difficult to achieve Superhost status in a shared house with so many guests, which I mention so you will appreciate why I have the house rules you see in my listings. If you are difficult to please in general, or find that you frequently leave tough reviews on review sites such as Yelp, please stay somewhere else. I work very hard to get and keep Superhost status, and for almost all guests, that work results in the sweet and heartfelt reviews you see. Note I exceed the Superhost minimum requirements because I reply to every guest message, I have hundreds of bookings per year and I have never cancelled on a guest ever.

Again, I urge you to stay somewhere else if you find yourself to be picky and/or think you'll penalize me for the qualities I have disclosed to you in this profile.

I will be grateful if you refrain from leaving a review where you repeat the negatives I have plainly disclosed here.

I really enjoy being a host. I want to meet you. I have wonderful guests, and I have made many friends over the years. People from over 44 countries have stayed with me. You'll meet people from other places... interesting people. If something goes wrong, I will go out of my way to help you. If you forget your toothbrush, I'll give you a new one. If you flight is delayed and you get to my door at 3am, I'll still greet you with a smile and show you around. If you get sick, I'll drive you to a clinic for healthcare. If you need to print something you can use my free printer I have for guests.

I will take care of you even more than the concierge at a five star hotel.

Here are two examples:

1) The father of my guest packed their prescription eye medicine in their checked luggage, and that luggage was delayed. The guest's father had to have the medication, and his doctor was overseas, so my guest could not easily get a new prescription to buy the same medicine locally. My guest also spoke English only at a basic level. He asked me to call the airline. I called them, and the next day I drove my guest and his father to an obscure business park in another city to pick up his bag in an unmarked office building. The medicine was in the bag and my guest and my guest's father were thrilled.

2) A family from the Netherlands visited to go tent camping for a few weeks. They had their gear shipped to my house before their arrival. I stored the boxes in my garage at no cost. Then when they tried to rent a van their credit card did not have enough available credit for the mandatory deposit they had not been informed about when they reserved the van. They called their bank in Holland and learned it would take five days to boost their credit limit, which would have ruined their vacation. I went with them to the car rental company and charged their rental to my credit card. When they returned the van, they used their newly capable card to settle the bill and I did not lose any money. I can't promise to do this for every guest, of course, but they were doctors with teenage kids. I evaluated the credit risk and felt comfortable helping them out. Of course, this family was extremely grateful, because otherwise they would have had to find a place to stay while they waited for their bank to raise their credit line. I was booked solid, so I could not have extended their visit with me.

I've been helping my guests like this for years now, and I have so much fun in the process. Hope to see you soon!

I reply very, very quickly to all inquiries and requests, usually within 5 minutes, 16 hours a day from 8am to midnight my time, 365 days a year. I don't allow Instant Book because I like to manually review everyone that stays here. This is a shared house and I take care to provide a great experience for my other guests. If I am uncomfortable with a potential guest I will not let them stay here. But just because I don't allow Instant Book, you may confirm your plans very quickly because I will reply quickly from 8am to midnight my time. Since I joined airbnb in 2008 my average response time according to airbnb is just five minutes. Note when I say 'uncomfortable with a potential guest' I am talking about qualities such as not following my 'house rules.' I am not suggesting I discriminate because I welcome guests from every country on Earth.

I am registered as a host with department of short term rentals San Francisco, and I have a San Francisco business license as required. I also pay Property Tax to San Francisco on all my airbnb household furnishings. And of course, I pay State and Federal income taxes on my airbnb earnings.
Sprachen:
English
Antwortrate:
100%
Antwortzeit:
innerhalb einer Stunde
Entdecke weitere Optionen in und um San Francisco
Noch mehr Unterkünfte in San Francisco: